NEW G4 6 year aged XA - Read all about it on Long Island Lou Tequila on Instagram or FB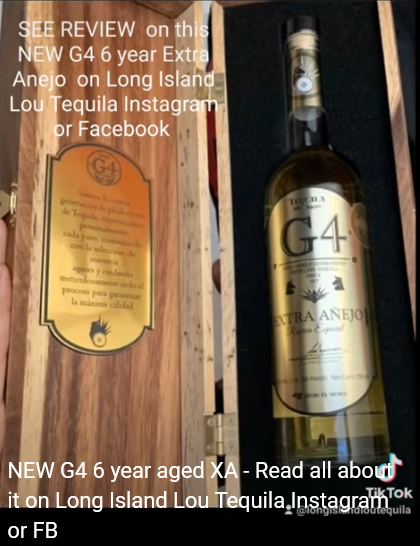 HERE IT IS -
G4 6 Yr 'Reserva Especial' Extra Anejo. I was very generously sent a sample of the soon to be released G4 6 year Extra Anejo. This is really some special stuff. Once again Felipe knocks it out of the park. It's nice and light in color, but so involved, layered and complicated with flavors. This was aged underground at El Pandillo, in George Dickel used whiskey barrels for six full years, and bottled at barrel strength at 86 proof.
I tried this tequila a year earlier, when it was at the 5 year mark, on its way to becoming a 6 year XA, while I was at El Pandillo with Felipe and Alan in his office. I loved it then, and I think it's even better now.
People that love G4 and Felipe's masterpieces, and the way he gets a lot of flavors out of light looking but complicated aged tequila, always keeping whatever agave available, as forward as possible.. better keep their eyes open. If this is something you could afford, you're going to want to pick it up as soon as you see it.
I understand it will be going for about $500 a bottle, and ONLY 1,000 bottles were made. It is presented in a beautiful Brazilian Parotta hand crafted wood box.
I picked up enticing aromas and flavors of fruit, whiskey, oak, honey, spice, light leather, floral, mint, light nutmeg, citrus, agave sweetness and more. The long finish is all fruit, spice, a clean sweetness, and some light heat.
thanks to Gregory (aged agave) for the bottle pix's from 2 months ago at the distillery)
Oh Wow.. this is fantastic!! - Long Island Lou Tequila