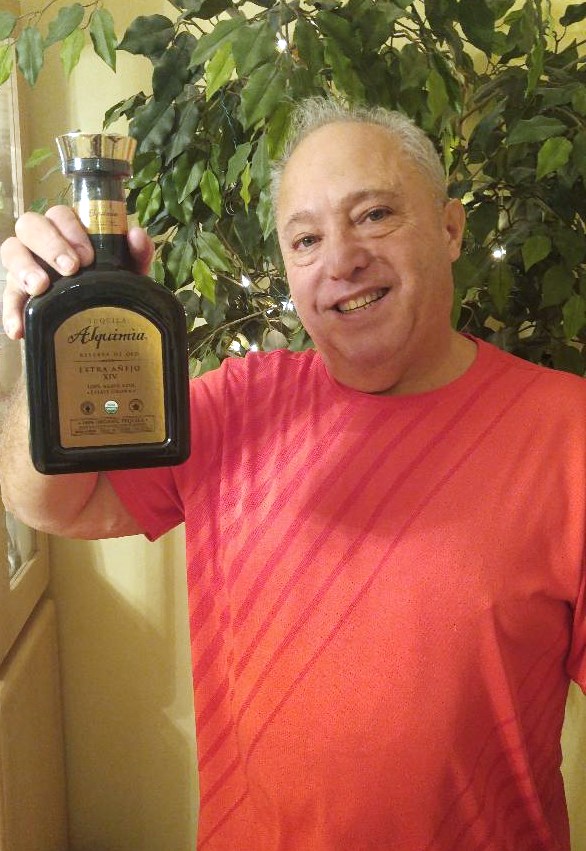 Adolfo Murillo has done it again. His brand 'Alquimia' (pronounced alkee-mia) has put out his second Extra Anejo, and this one is a super aged/over-proof, with plenty of agave notes and has a bold and feisty taste. Alquimia Reserva de Oro is made at Tequila Alquimia - NOM 1468 at Distillery Grupo Tequilero México, in Los Altos. Reserva de Oro is a 14 year aged, cask-strength (100 proof) Super Extra Añejo, and it's a limited initial release. Dr. Adolfo Murillo, who is a Doctor of Optometry and also has a Bachelor of Biological Science degree, is the Founder/President and CEO of Tequila Alquimia. Murillo was born on the ranch that he farms today, and Alquimia truly is a family-owned and operated brand. They only use agaves grown organically from Rancho Murillo's fields (single estate), near the village of Agua Negra. Four generations of Murillo's have farmed this land, and since Adolfo has been involved, he uses all-organic methods. He said his organic agave protocol has not only been improving his soil for the past 26 years, but it has yielded record-setting agaves in terms of weight and sugar content. He decided to do it all organically, without the use of chemical fertilizers, toxic pesticides, weed-killers, and fungicides. Some people seem to want to diminish the organic label, saying chemicals must be used, but Murillo says "I have to disagree, the CRT does monitor our fields, as they should, and for the past 26 years of our growing our organic agave, we have not had to resort to any use of pesticides whatsoever. Our naturally-grown agaves are allowed to develop their own defenses against any pests and diseases, and we had USDA Organic Certification way before most other organic brands, as we were one of the first to get USDA Certification". He explained to me that they have a 'buffer zone' of natural vegetation, all around their 125 acres, and any fields that are harvested, are allowed to lie fallow for 2 years. He said "to keep our planting area free of insects and possible disease, allowing us to not use any pesticides, this buffer zone of vegetation is an open invitation, for all the natural insect population to move in. Among the natural insect population are insects that are at the ready to attack any bad bugs we may encounter, so they would rather move onto other fields that are not well protected.... and not organic." There's no pesticides used in that buffer zone, so as to purposely attract the bugs to that section, and away from the growing area. An infected or diseased bug can cause a disease to the agave plants, along with a bacterium, a virus, or a fungus. Murillo (BELOW) believes in allowing a good balance, and in that population there are good bugs, and bad bugs, and he believes that if we nurture them, the good bugs will be on our side. This is all very interesting stuff, and seemingly necessary to have a fully organic planting area.
Dr. Adolfo Murillo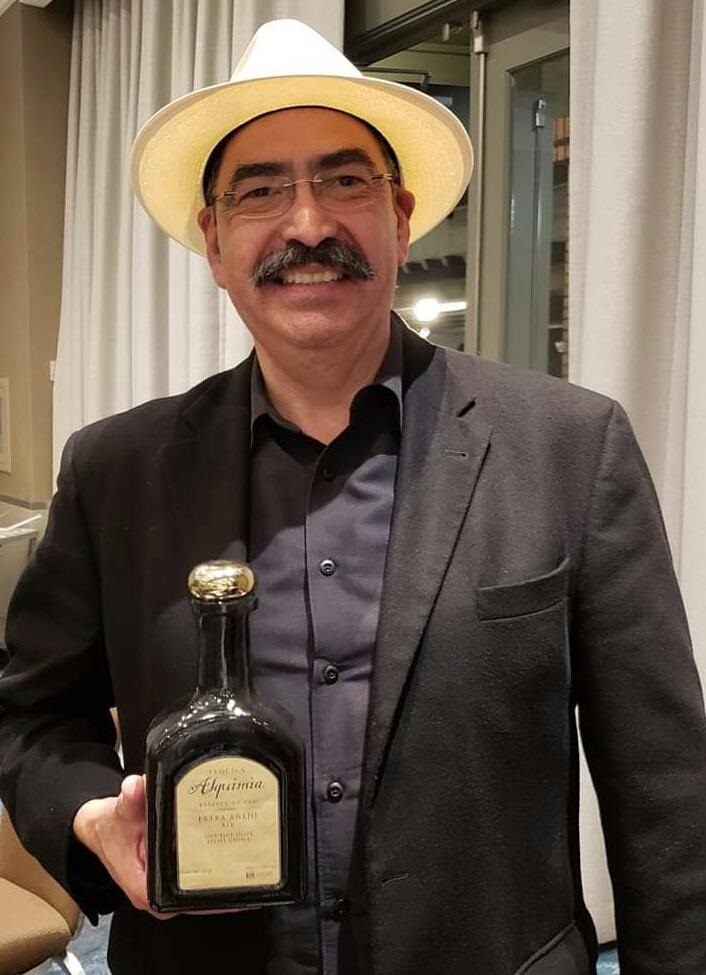 Murillo told me "this Extra Anejo is from our very own production of our own tequila, from our USDA certified organic agaves. We left a number of those barrels sealed (once-used Jack Daniels barrels), and they are now 14 years old. We bottled it at cask strength, in this case, 100 proof." We had a great long conversation, and knowing it's aged 14 years, my first question was "can you taste any agave at this point"? Adolfo Murillo was happy to answer, that yes you can... the agave does come through. Murillo explained that "the reason that so many years in oak did not overpower the sweetness of the agave, is because our organically-grown agaves have a much higher sugar content than conventionally-grown agaves. We are averaging 44 Brix units, measured in the field, and this gives us more of that agave sweetness and flavor in the tequila, and it still comes through after all those years in the barrels." Trust me when I tell you, that this is a tremendously high brix level (sugar content), and 44.5 is almost unheard of in the industry. Adolfo told me "what you see are 'sugars seeping', because when an agave has an extraordinarily high sugar content, the sugary juice begins to seep down the side of the plant, when fully ripe. This is a very rare sight to see anywhere else, but it is very common in our fields with our high sugar content." The pictures he sent me were unbelievable of the sugars oozing from the plants in the field, and the testing done out in the fields on these agaves. These are not pictures you see often of harvested agaves (SEE BELOW).

(Photo credit to Khrys Maxwell)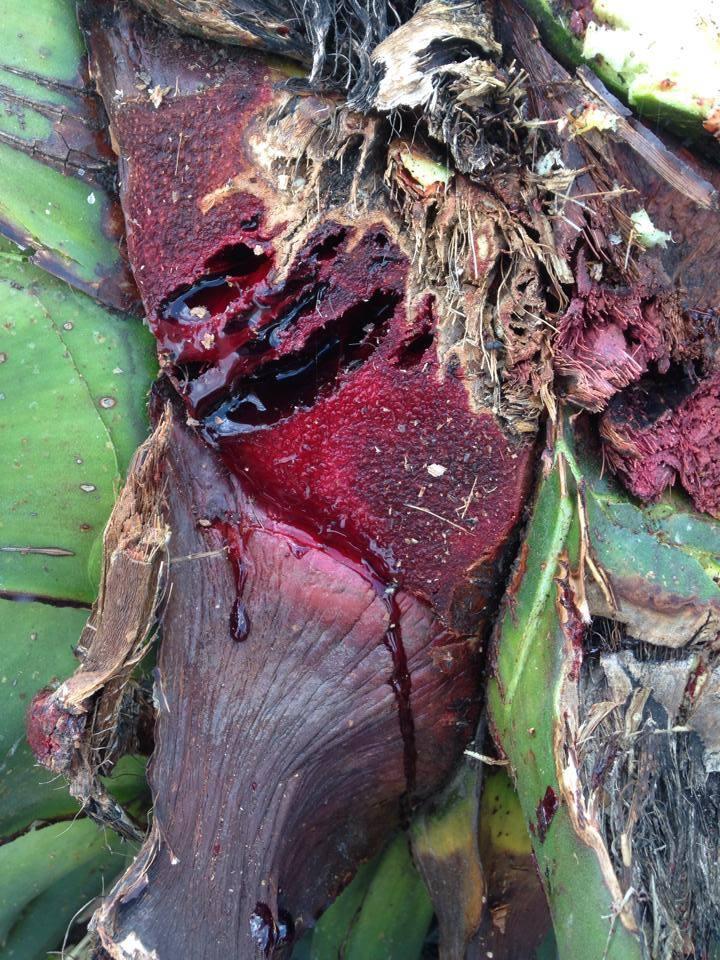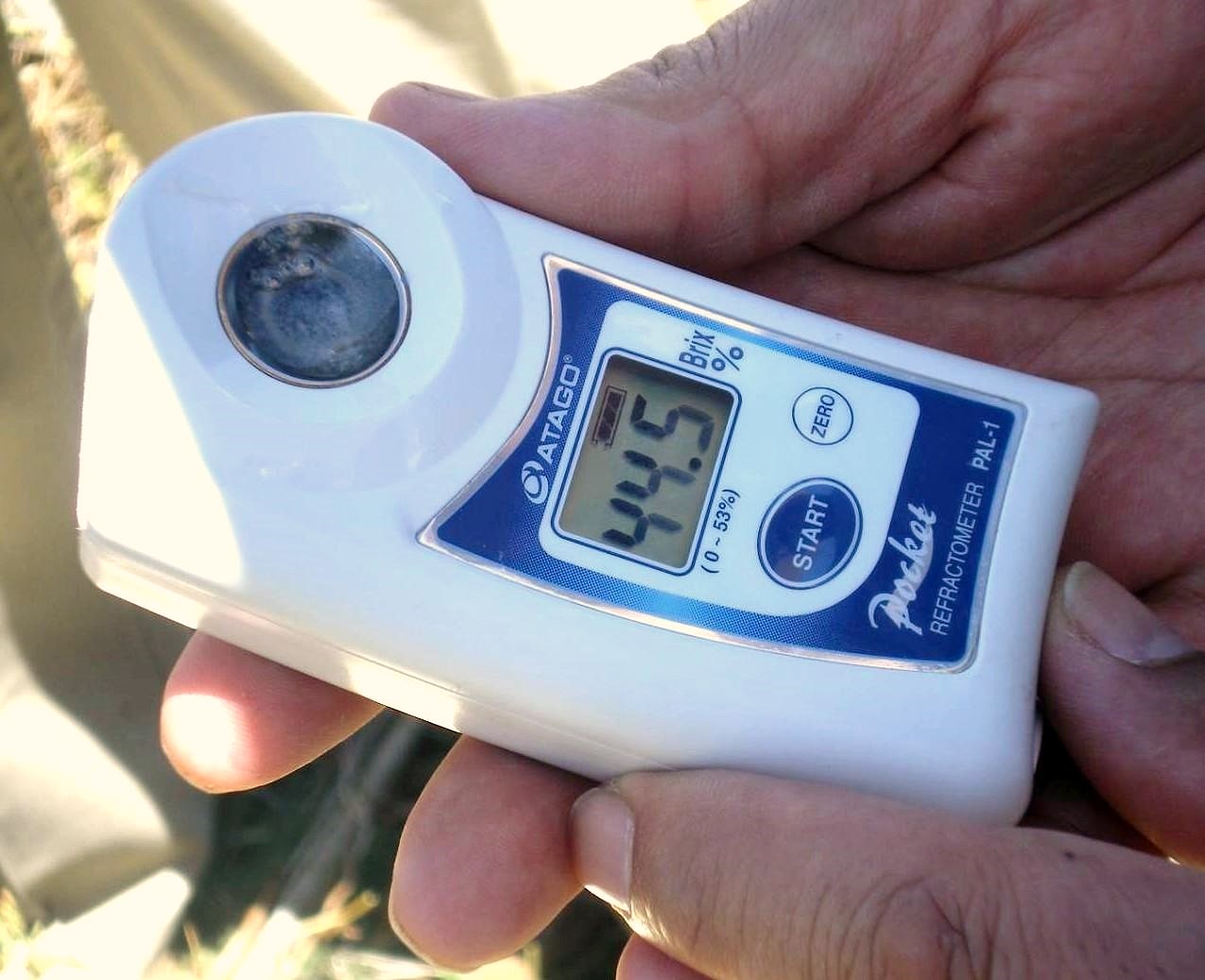 Keep in mind, Alquimia is all organic, not just the agaves. That means for the brand and distillery to be certified, they must clean the trucks spotless as well as the distillery he contracts at. Every spot an agave touches as well as all the production equipment must be cleaned. The American white oak whiskey barrels they use, were purchased directly from the cooperage that makes Jack Daniels barrels (owned by JD), and were 'first use' barrels. This means this tequila was the first tequila ever in those barrels, and these barrels were medium charred. Being that only Jack Daniels whiskey was in them prior, you will get some of the whiskey/bourbon barrel notes you find common, like sweet whiskey notes, stone or dried fruit, caramel, honey, toffee and vanilla. I think that this very high sugar level brings on additional flavors. I was also able to pick up cooked agave sweetness, and besides the obvious alcohol heat you would get, being 100 proof, caramel stood out to me, along with with apricot, honey, vanilla, spice, stone and dried fruit, some leather, cinnamon and smoke. I used a number of glasses and decided for me that Romeo H. Hristov's high-proof Jarrito glass (BELOW) gave me a lot more aromas of caramel, apricot, spice and brown sugar, and handled the bold and robust flavors well. For high proof spirits, try to use a high proof glass or a wider open top glass. Just look at the dark bronze color of this (BELOW).... WOW!!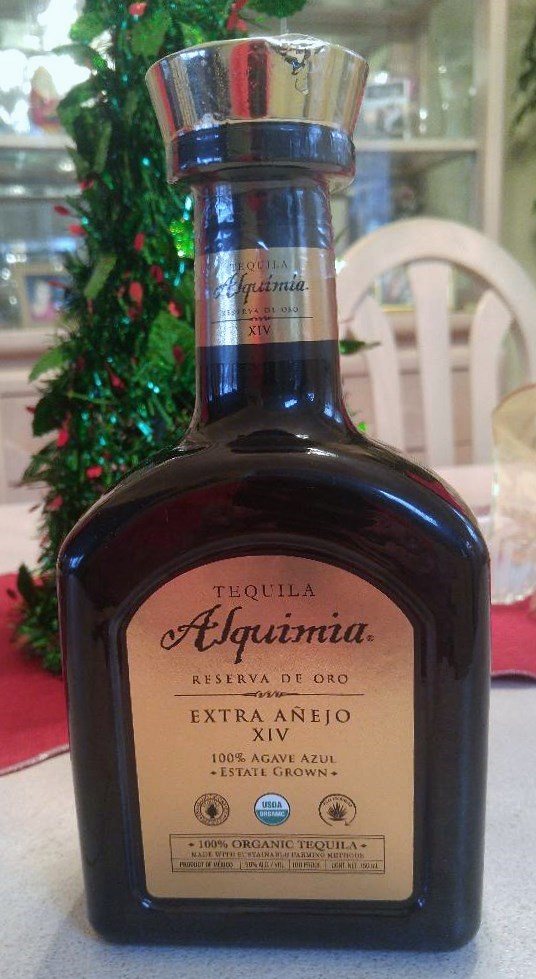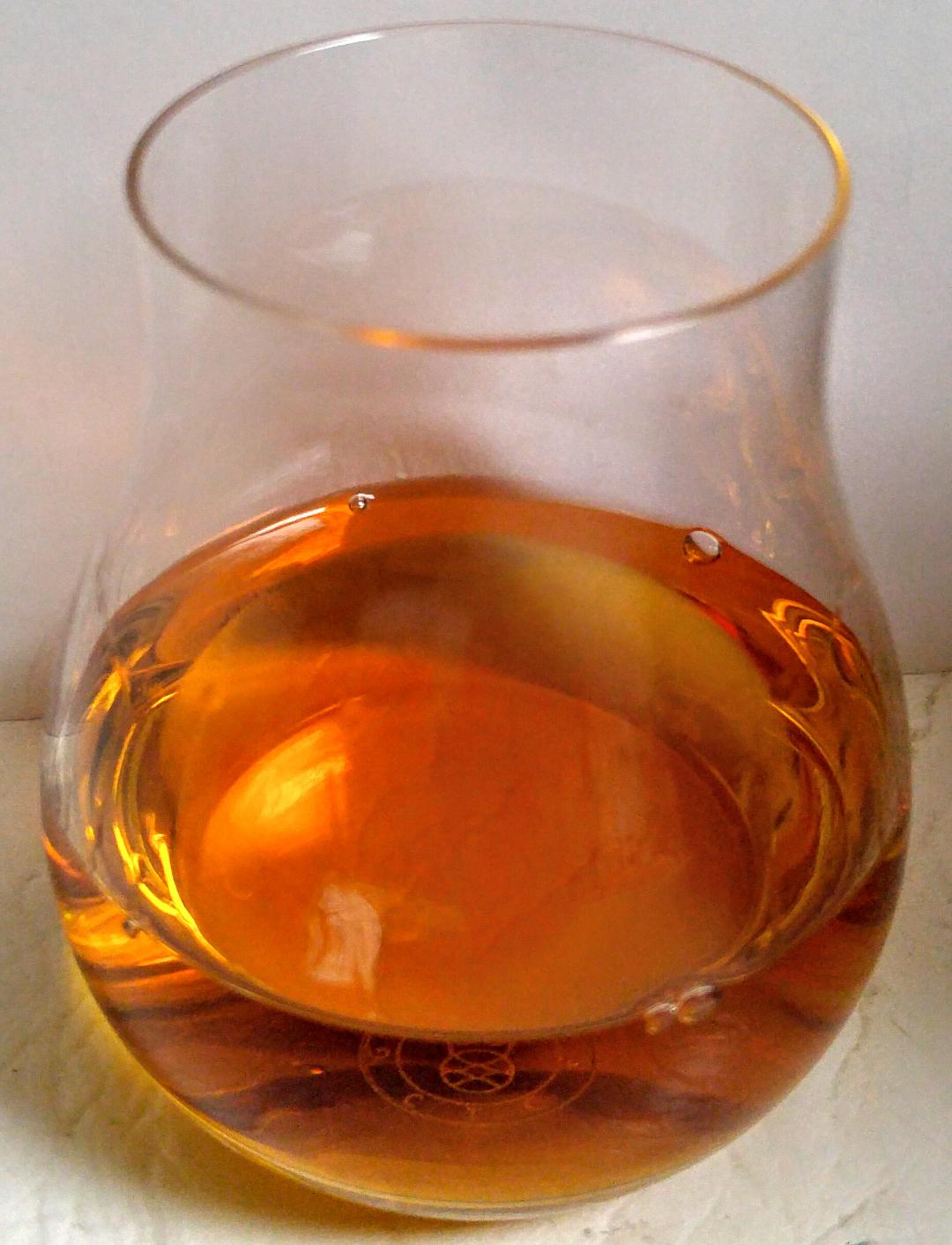 Alquimia Reserva de Oro-14 year/100 proof XA can be purchased on line at Blackwell's Wine and Spirits in San Francisco HERE- https://www.blackwellswines.com/products/copy-of-tequila-alquimia-extra-anejo-vi-reserve-de-don-adolfo OR at ZEE's Tequila Superstore HERE- https://www.oldtowntequila.com/alquimia-14-year-extra-anejo-tequila/. Southern Wine is Alquimia's distributor in California and now in Colorado. They will be adding the 14 yr XA to their system soon, as well as likely being added by the Oregon Liquor Commission who already carry the 6 yr XA.
Adolfo Murillo and his daughters- Eliana (L) & Paloma (R)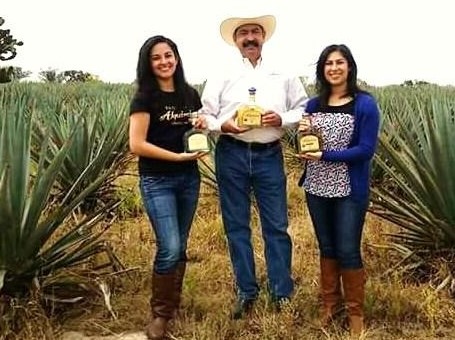 PRODUCTION- Alquimia Tequila is stone oven cooked, shredder/roller milled, and fermented in stainless steel tanks with natural airborne yeast, along with a proprietary organic-certified yeast made for them in Europe. It is double distilled to 100 proof in all stainless steel pot stills. An interesting tidbit is they wanted minimal filtration (as opposed to the trending carbon-filtered añejos), so in order to retain as much of the flavor profile as possible, they filtered it through a lady's silk stocking. Adolfo Murillo told me they barreled it at just over 100 proof, because the alcohol content can change over time, and from barrel to barrel. They blended the 200 liter casks together, getting a good cross-section of barrels (some higher, some lower in the stack). The initial release is 1,000 bottles from several casks, after losing a high percentage to the angels.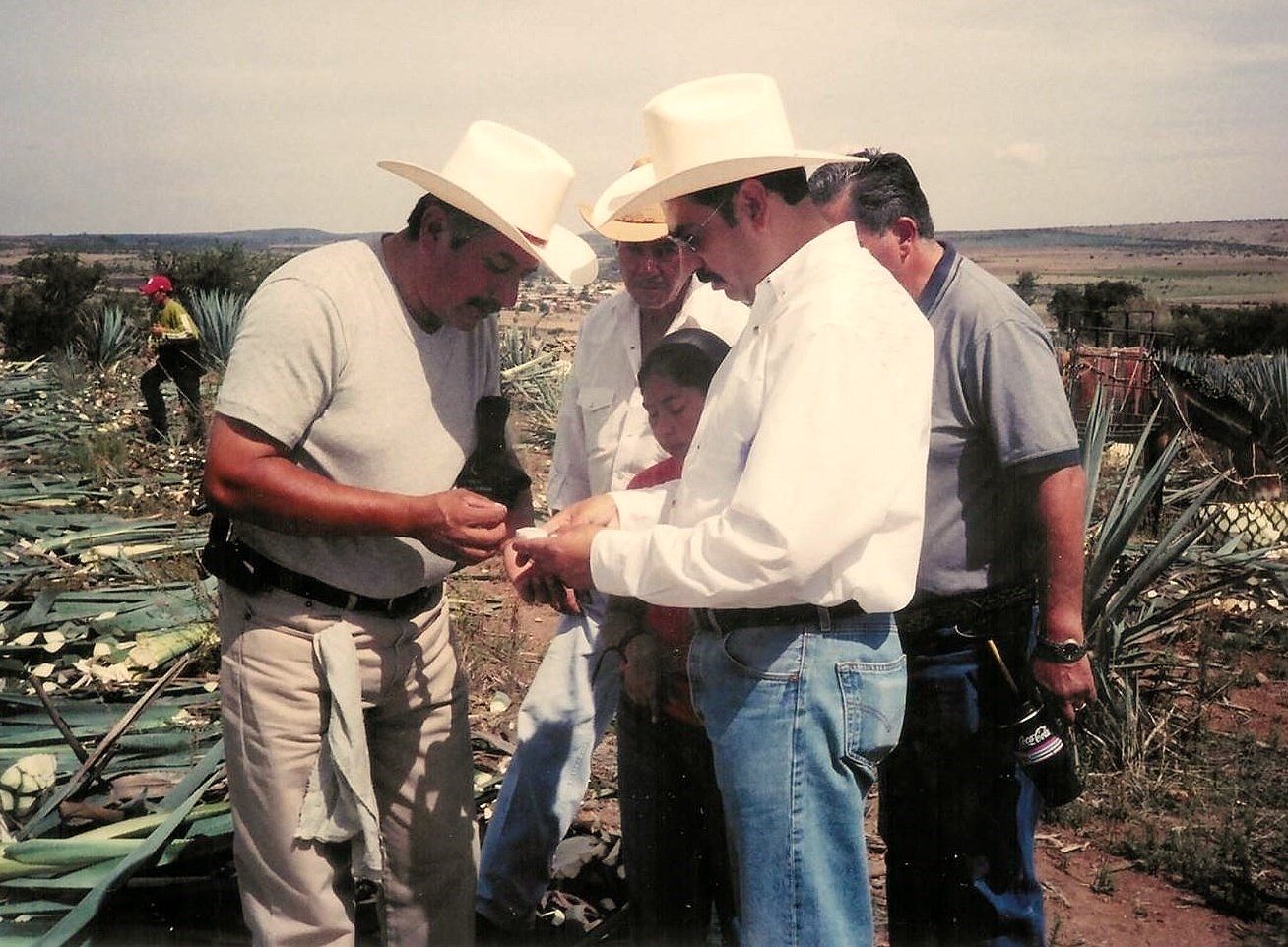 Organic agave field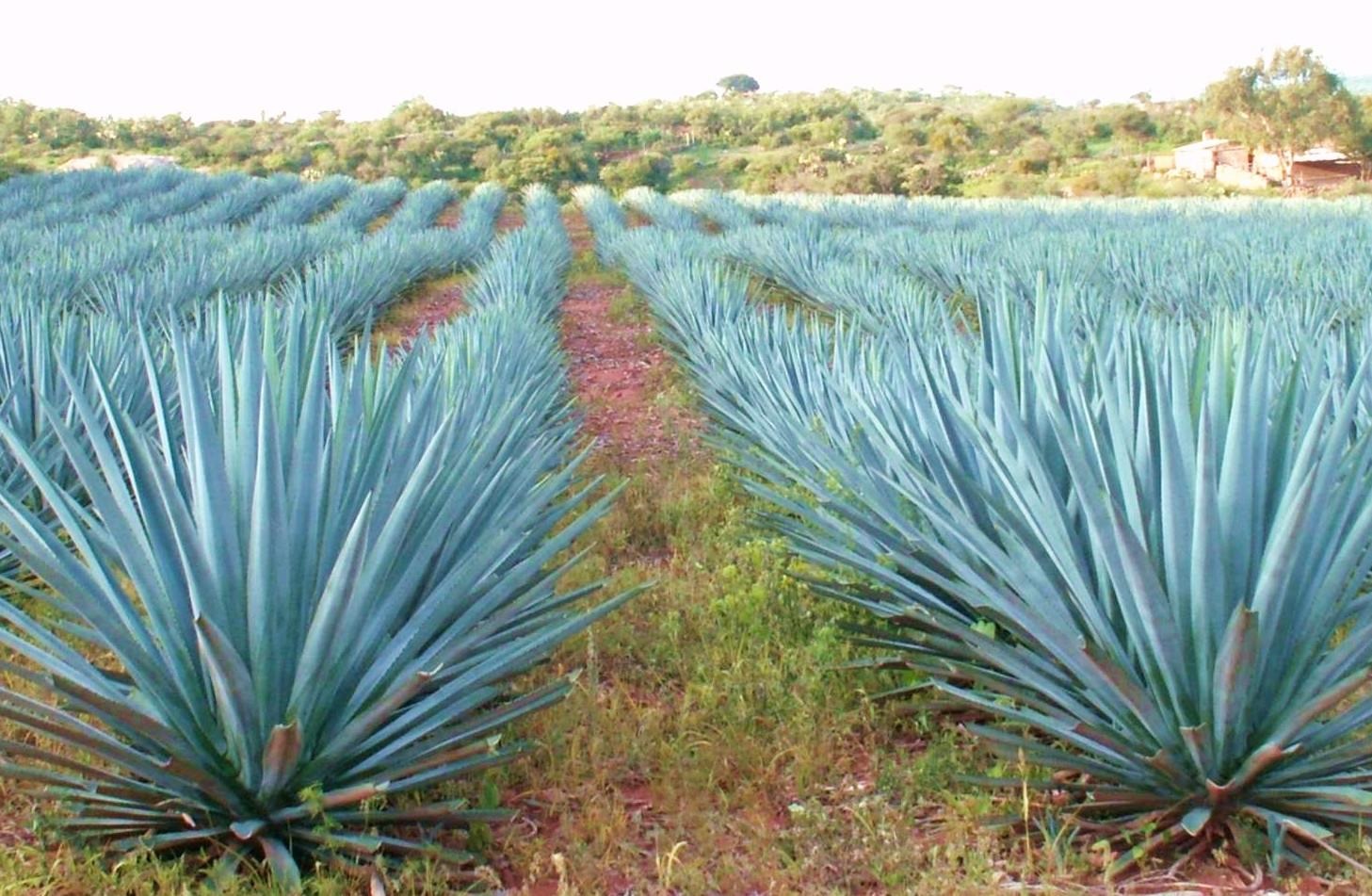 Alquimia Reserva de Oro is a 14 year old aged Extra Anejo, in medium charred Jack Daniels American white oak barrels, that have never had tequila in it. It is double distilled to 100 proof and costs about $235. Being 100 proof, it is best to use a wider top open glass, and let it sit for a good few minutes to mellow it. This has some backbone to it, and is a bolder and more aggressive high proof. It's different from many overly smooth XA's, and that's a good thing. The appearance is a very dark- brown/bronze color, has some definite cooked agave sweetness, a whiskey/cherry aroma, with honey, spice, light roasted nuts, brown sugar, toffee, and apricot, with light smoke and some definite vanilla and caramel. Taste is a nice medium oily mouthfeel, caramel, honey, light chocolate, spicy and some slight heat, which is understandable for 100 proof. Overall I have to say it goes down pretty nice and silky considering the proof, and it's very tasty for sure. The price is up there, but remember it's a limited edition small batch overproof XA, aged 14 long years, and many extra expenses go into making organic products. If you like Extra Anejo and enjoy over-proofs..... this is it.
NOSE- caramel, stone and dried fruit, a whiskey/bourbon oak presence and some agave sweetness coming through due to the extremely high brix level. Almost a light cherry aroma, pinch of cinnamon, toffee, light roasted nuts, brown sugar and apricot, honey, spice, light chocolate, light leather, vanilla, some alcohol, and light smoke.
TASTE- medium oils, caramel, some heat, honey, vanilla, roasted nuts, light leather, apricot, spices and dried fruit.
FINISH- caramel, spice, honey, fruit, vanilla and a nice appropriate heat taking you out in a medium to long finish.
I gave Alquimia Reserva de Oro XA an 88 rating on Tequila Matchmaker, as it is a bold and delicious high proof Extra Anejo, exploding with flavors- CLICK-https://www.tequilamatchmaker.com/tequilas/6513-tequila-alquimia-extra-anejo-xiv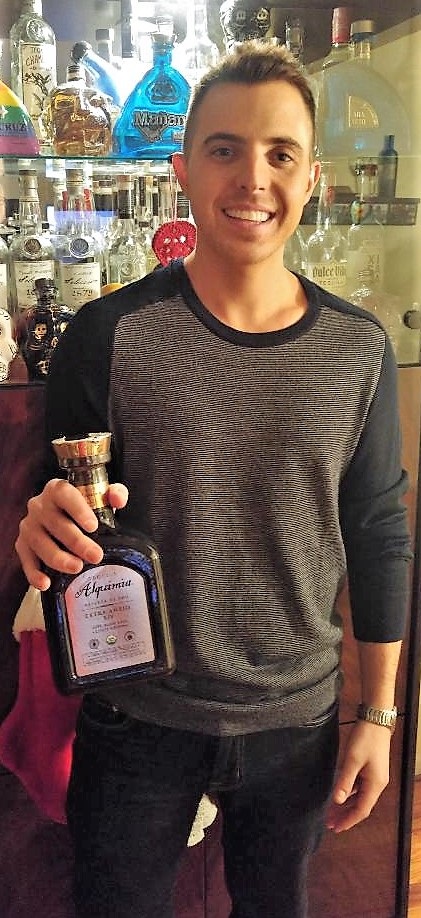 Alquimia Reserva de Oro is a clean, bold, flavorful and intoxicating Extra Anejo at 100 proof. Likely because of the amazingly high brix level, the wood presence is kept to a minimum, being that it was in oak for 14 years, and gives you a sweet, multi-level, powerful and bold experience. The more you sip it..... the more you will love it.
SEE More Honest Reviews and REAL Top Tequila Lists, and Please 'like' Long Island Lou Tequila on Facebook- HERE- https://www.facebook.com/Long-Island-Lou-Tequila-641682619241422