Tequila Arette is a 'Classic' Gem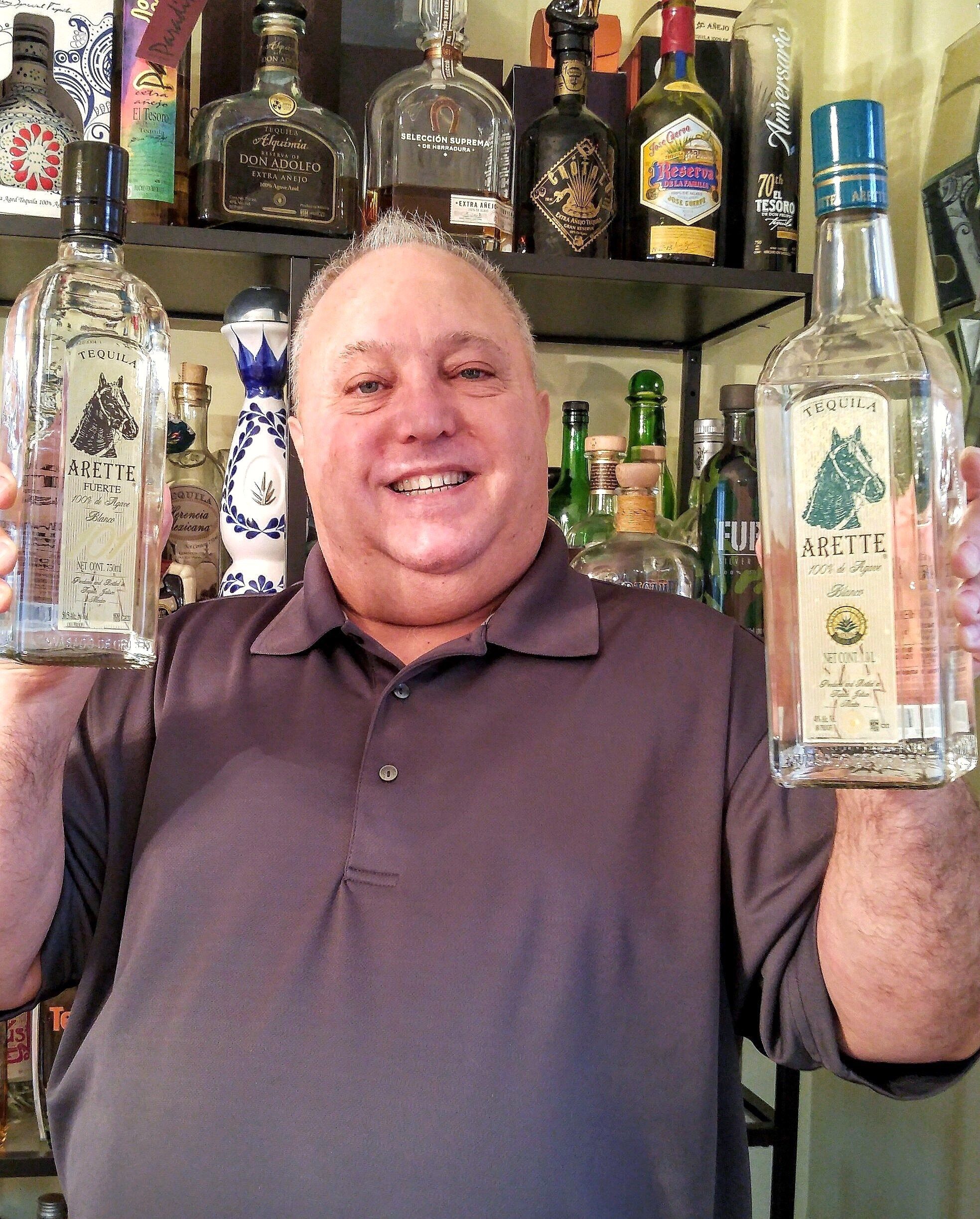 Arette Tequila has always been a favorite of mine. The blanco is a staple for me, as it's clean and tasty, inexpensive and definitely sippable. Without a doubt, it's also one of the best mixers you could buy, considering quality and price, and it's no surprise that many bars are now using it for their 'wells'. Trust me, it would be a big upgrade from the 'house' blancos I've tasted in many bars. This 'Classic line' blanco may actually be the best blanco available to sip neat at about $20, and I find myself having it often. This blanco is the star of the lineup of 'Classic' Arette, in my opinion. It has a full bodied feel, very flavorful and somewhat complex, and not too smooth and not too sweet.... which is the way you want things. I can't believe the price, and when I want to compare an expensive tequila in a blind test, I sometimes use Arette, and it often wins. Arette is listed as being made at Tequila Arette de Jalisco (El Llano distillery) - NOM 1109 in El Valle, Jalisco, and is one of a few brands still made in the town of Tequila itself. The Orendain family have deep roots in the Valley of Tequila. The brothers Eduardo and Jaime Orendain are fourth generation owners and distillers, who operate Tequila Arette, and both are the Master distillers for the 'Classic' and 'Artisanal' lines. Eduardo Jr works for them, and he explained to me that it all started with his Great grandfather Don Eduardo, who started making tequila in 1900 in Tequila town at the 'El Llano' distillery. El Llano is the 3rd oldest tequila distillery in town, after Cuervo and Sauza. Don Eduardo started Orendain Tequila, and passed away in 1988. He was followed by his son Don Jaime who served 8 terms as President of CNIT, and at almost 82 years old, still runs Orendain Tequila, which is a totally separate company from Arette. Don Eduardo was once the Mayor of Tequila Town, as was Eduardo Orendain 57, who has also served 5 terms as President of CNIT -the National Chamber for the Tequila Industry. There is without a doubt.... a lot of history here.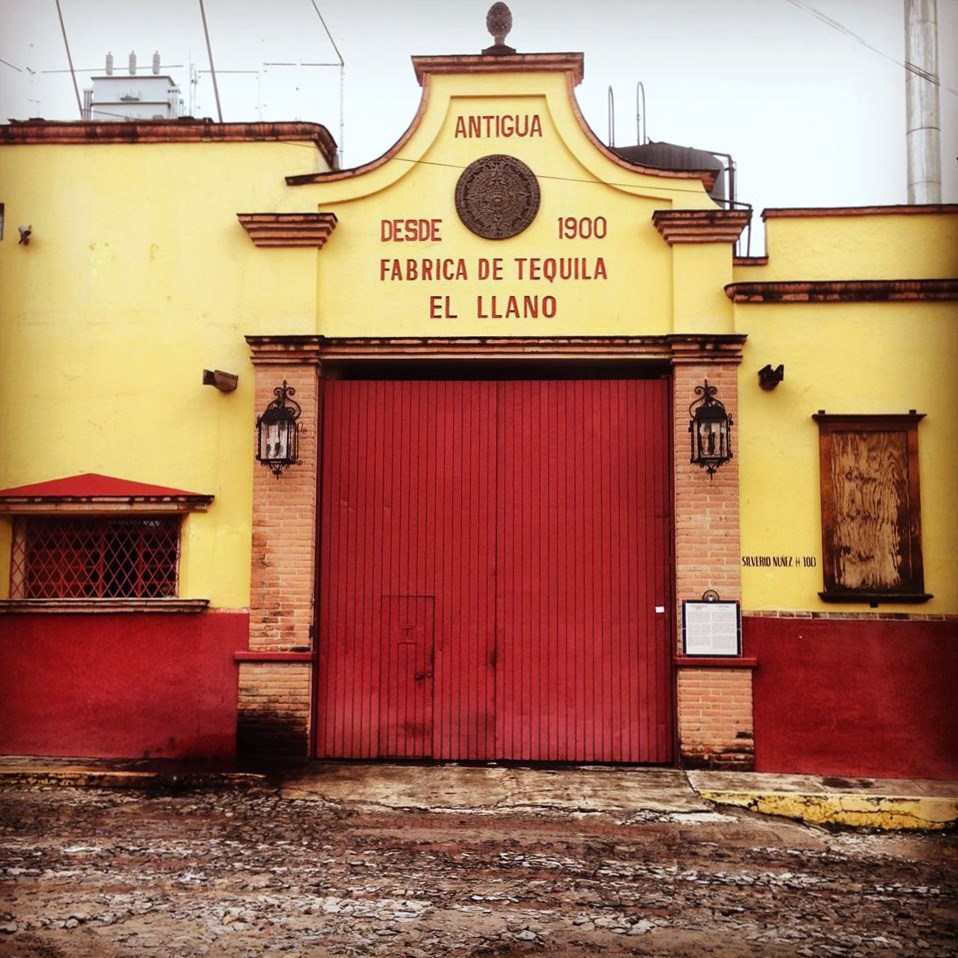 If you visit the CRT (Consejo Regulador del Tequila) lobby in the headquarters building in Guadalajara, they have 4 statues. Juan Beckman from Cuervo Tequila, Javier Sauza from Sauza Tequila, Eduardo Orendain and Gabriela de la Peña from Herradura Tequila. These families are all immortalized, and known as the 'Tequila Founding Families', which are the four oldest families who started making tequila. According to Eduardo Jr "out of those four, we are the only ones left, that remain 100% independently family owned." The respect continues as Don Javier, the loved bar owner of La Capilla and creator of the Batanga drink, has the name 'Orendain' written on the side of his building, simply as a sign of love and support to the family. Don Eduardo moved Orendain Tequila to a new larger facility and abandoned El Llano in 1960, but Eduardo Sr and brother Jaime Orendain rebuilt it in 1978, and returned to the original building where the family history of Tequila production began in the early 1900's. Tequila Arette was born in 1986, named after the champion Mexican horse- 'Arete', which won the first Gold Medal for Mexico in the 1948 London Olympics. The Arette brand is a small batch production and all agaves are estate-grown. Eduardo Orendain Jr told me that "we don't like to see ourself as a distillery that just makes tequila for anyone who wants it, although we have in the past and currently have just one, called Tres Agaves." He went on to say "the reason we have accepted to make tequila for other brands always went beyond just making it, as it has only been done with really close friends of the family in special occasions". Orendain continued "my father and his brother have made an agreement where no more brands other than our own will be made at El Llano, and we have said no to many people asking in the last few years."
Eduardo Sr. and his son Eduardo in the agave fields.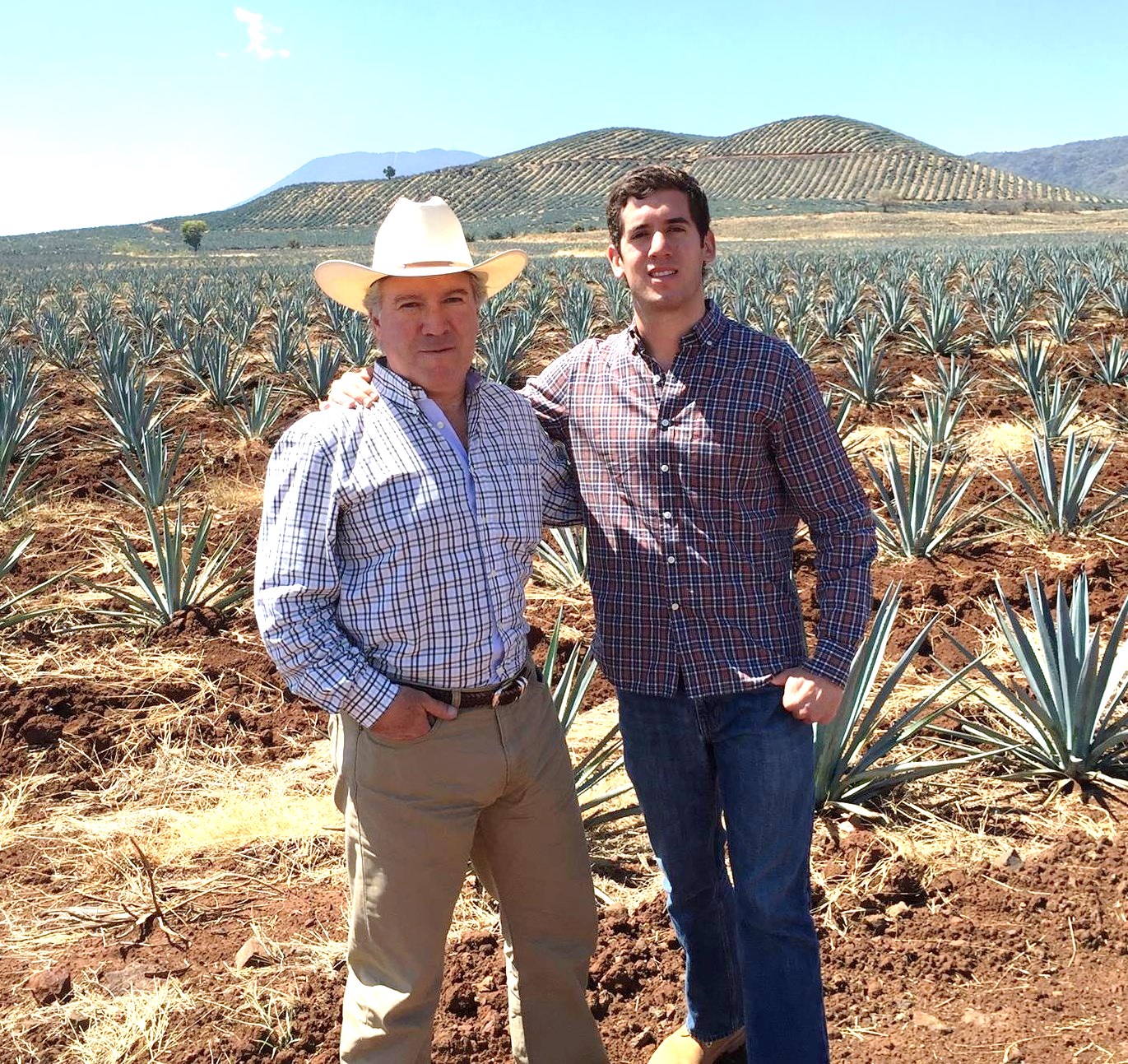 Brothers/Owners of Tequila Arette- (Left to right)- Jaime and Eduardo Orendain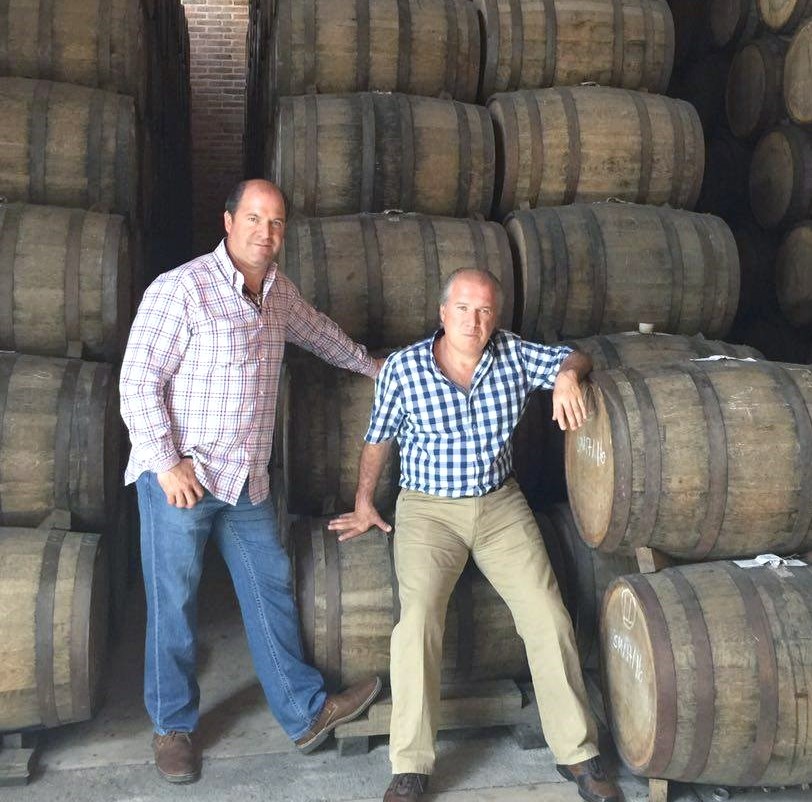 Concerning the solid and tasty 'Classic' Arette blanco, Eduardo Jr told me "we are working hard on trying to get bars/restaurants to care more on what they pour in the 'well' and not just the back bar, and we are having great success in major cities like NYC, LA, San Francisco and Chicago, where they are willing to pay a few extra dollars for a way better quality house pour". He explained "not so long ago many places had the idea that if you're mixing drinks you should look for the cheapest product available, and for them it made sense, but that is not the case." He added "I am confident to say this is the best tequila a bar/restaurant can have as its 'well', at that price. If you are making a good cocktail, your base spirit obviously is important, especially if you care for the person that will be drinking it." I agree that when a bar uses the cheapest products in their 'well', it's showing that they only really care about the money and not their patrons. I prefer this 'Classic level' blanco over the other expressions myself, including the Fuerte 101 high proof blanco. If you don't want to drink all your expensive blanco so quickly, try this as a 'go to' inexpensive blanco sipper. It's a great value and a totally solid blanco.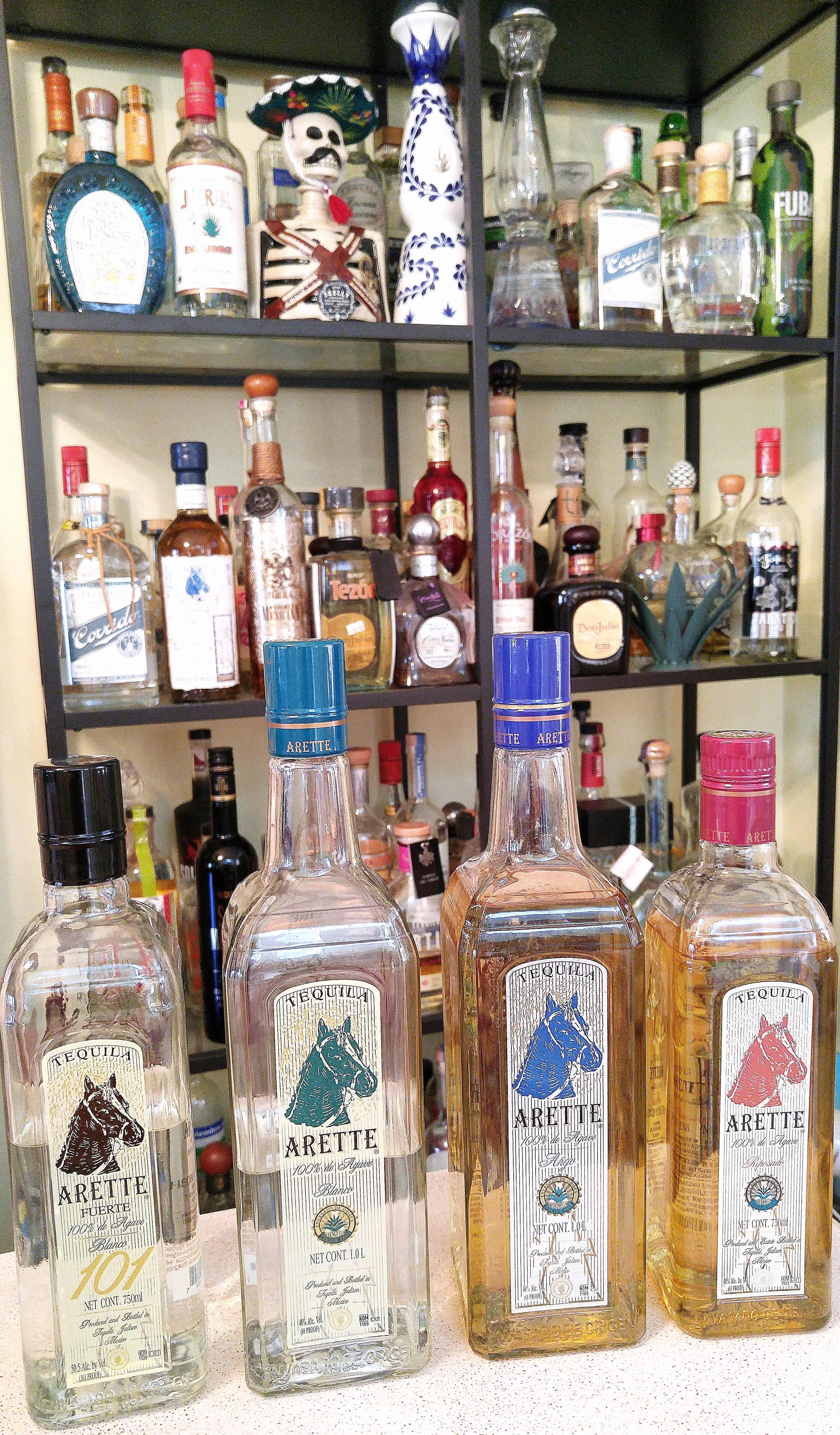 Of the 3 lines of Tequila Arette, the 'Classic' is the basic and bottom line, followed by the Artesanal Suave line. At the top and most expensive overall is the hard to find, very small batch 'Unique' line (only sold in California).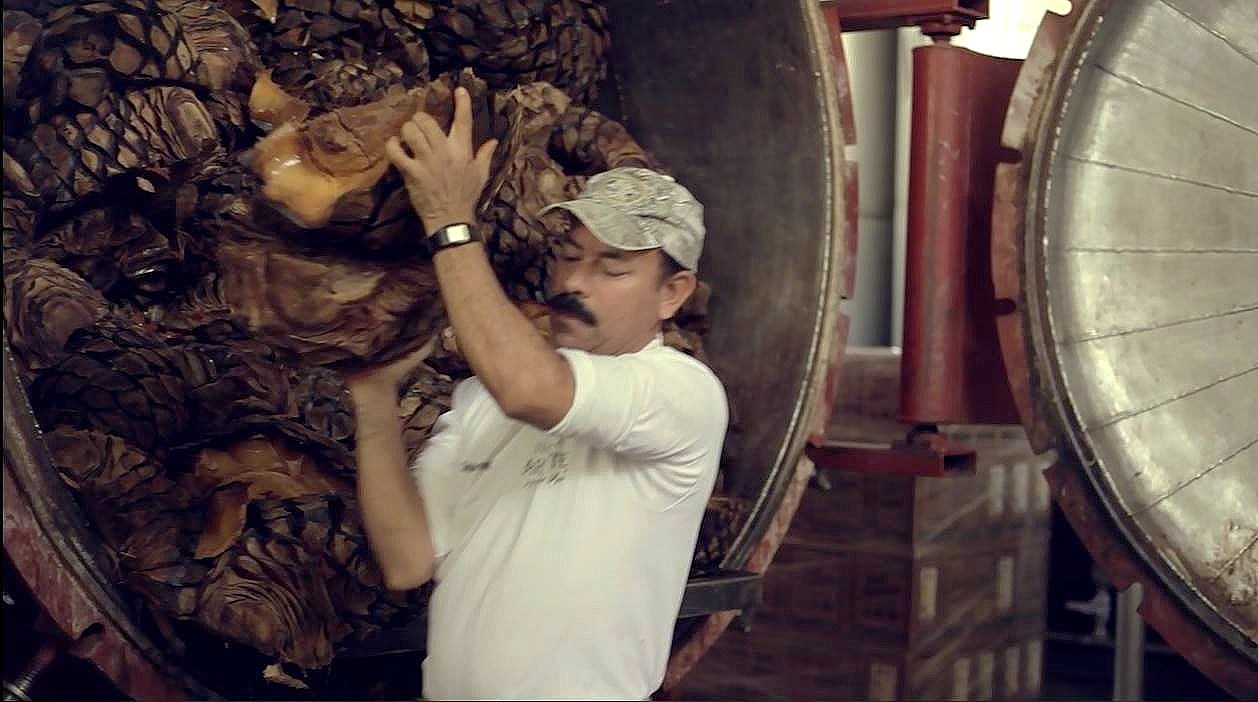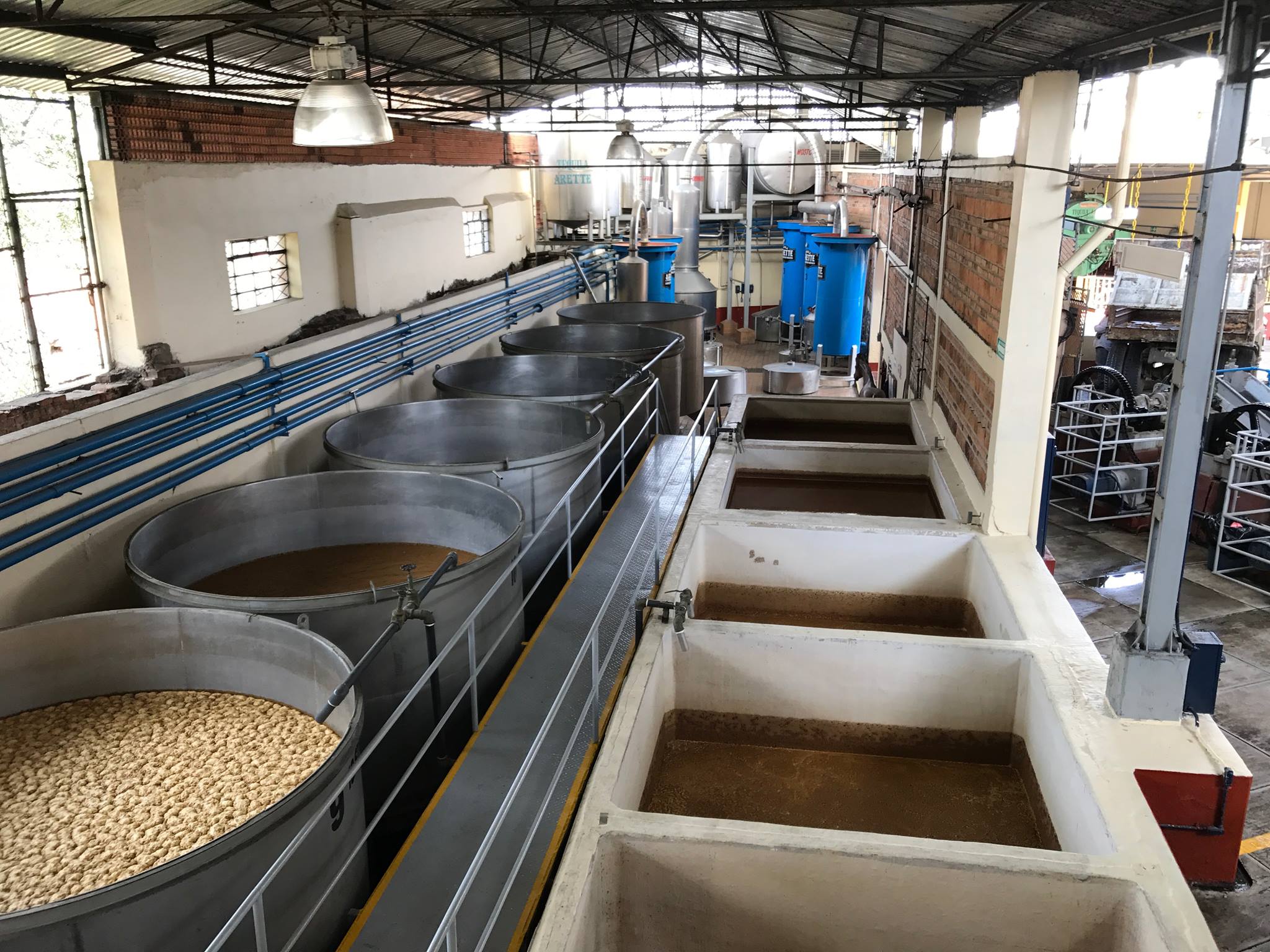 PRODUCTION- estate grown agaves are slowly cooked in autoclave ovens at 120° C for 15 hours, then rested for another 15 hours in a 14 ton stainless steel autoclave. (SEE ABOVE- unloading of cooked agave). Next up is shredder roller milling followed by fermentation in 19,000 Liter stainless fermentation tanks for 4 days with natural house yeast that Arette conserves and reproduces naturally, and according to them- without the use of any chemicals or accelerators during fermentation. El Llano has different types of fermentation tanks- (SEE ABOVE), but uses only stainless steel for the 'Classic' line. It is double distilled in small batches in SS pot stills with copper coils for both distillations and carbon filtered right after distillation. Arette told me they cut heads and tails in distillation, but not as much on the 'Classic' line, and that may be why I like it so much, with a less sweet and smooth profile. All of the water used is from the wellsprings of the Tequila volcano, which adds to the mineral presence. All barrels are 'used American bourbon barrels' for the 'Classic' aged expressions, from Brown Forman and Four Roses. According to Arette, the Reposado and Anejo are blended, with no coloring added to balance the barrels before bottling. The 'Classic' Reposado rests 5 months while the Anejo ages one year.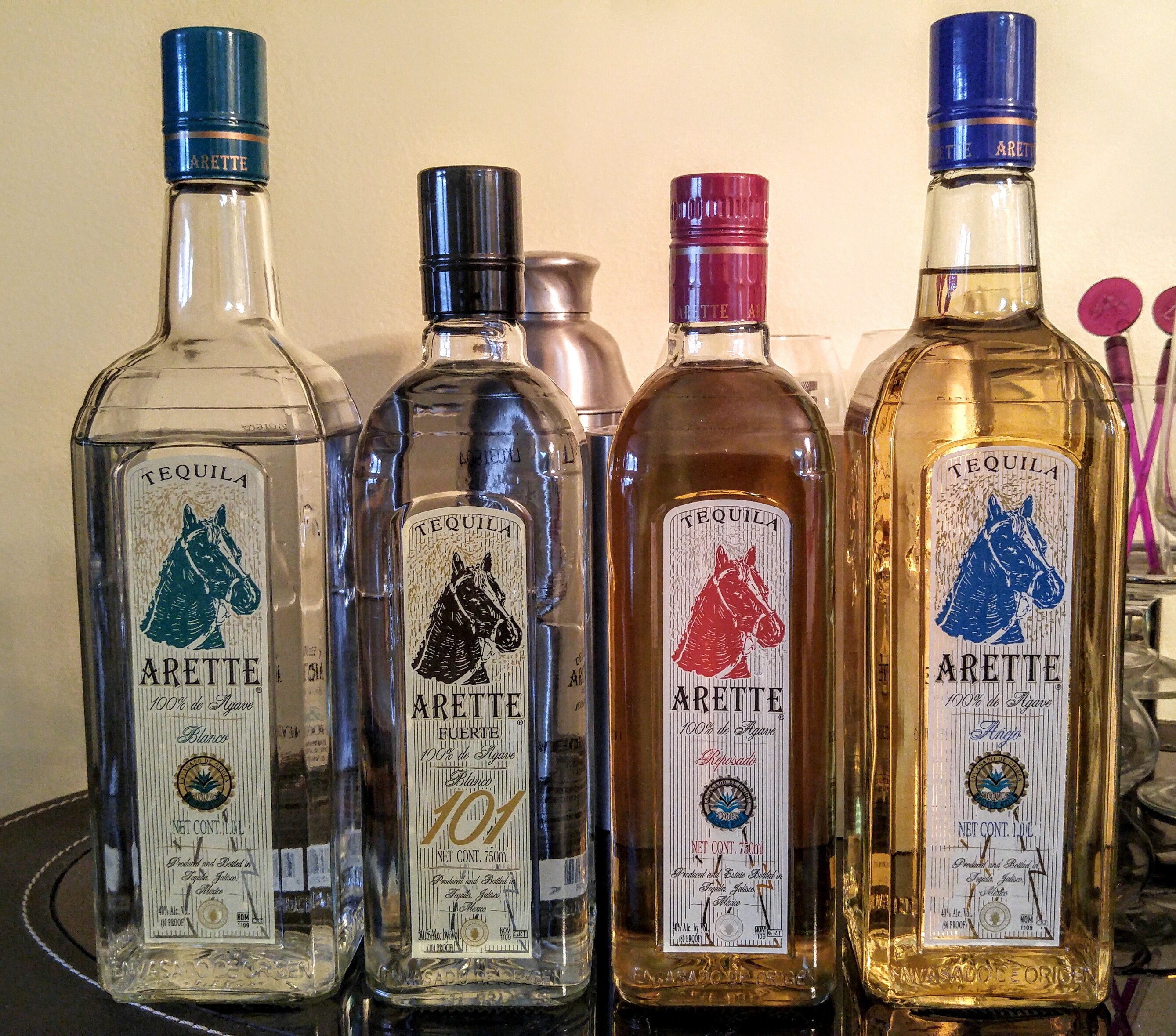 Classic Blanco- 40% abv and double distilled, with prices as low as $18.99 (Total Wine). Arette is a well made and tasty blanco, that gets bottled after sitting in SS tanks. I always loved Arette blanco, and have placed it at the top of my 'Lou's Best Blanco Brands under $25' -SEE HERE- GHOST_URL/best-blancos-under-20/#.WRXYOvkrLAU. It is so much more than a great solid-value mixing brand, and I sip it neat all the time and absolutely love it. It has full, bold, intense, aromatic and fresh aromas, with notes of anise (licorice), pepper, butter, a pinch of cheese, light smoke, fruit, spice, grassy and earthy with mineral notes. It's somewhat smooth, with a good amount of agave flavor, but pleasantly not too sweet, with some light and earthy notes, some nice heat, pepper, vegetal and some zesty fruit and herbal qualities. It's highly sippable, flavorful, gritty and never boring, and at this price, it's more than just hard to beat....it's almost impossible to beat.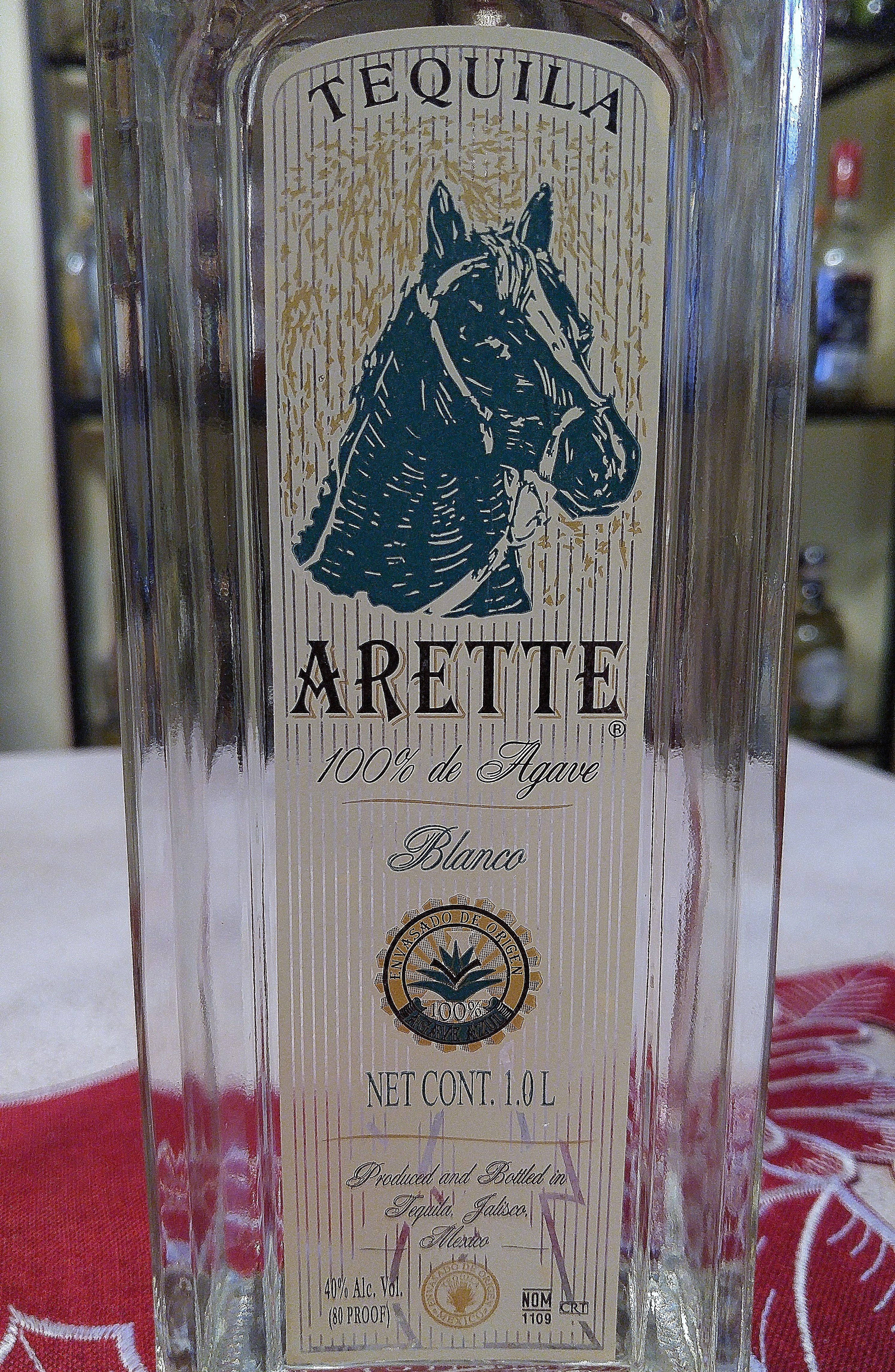 Being a 'Lou's Top Tequila' please see Tequila Arette's logo on the side of this page, click and visit Tequila Arette's website.
Classic BLANCO
NOSE- spice, pepper, anise (licorice), zesty fruit, butter, cooked agave, earthy and minerally. It has a lightly salty, grassy, slight parmesan cheese and mildly smokey presence, with hints of floral.
TASTE- light/med oils, some heat, spice, pepper, light smoke, earthy, salty and vegetal, light anise (licorice), some fruit, some citrus, a pinch of cinnamon, and some agave sweetness with a nice bite.
FINISH- a medium exit with a mild tingle, earthy, spicy, mild smoke, anise and nice agave notes.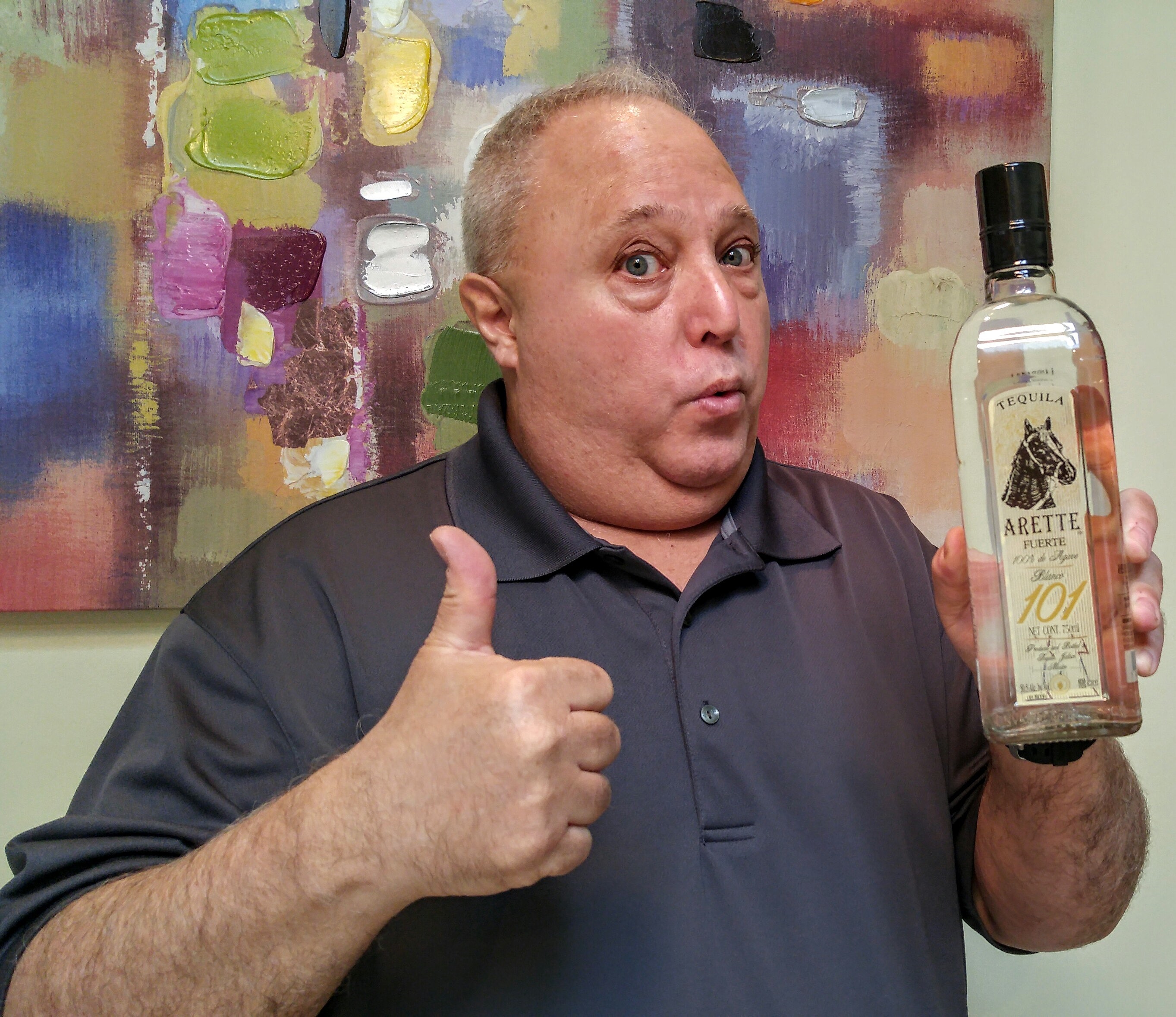 FUERTE Blanco 101- Overproof blanco at 50.5% abv, for as low as $29.99 and double distilled to 101 proof. Fuerte means 'Strong' and this stuff at this unbelievable price, shows a lot of strength. Although Fuerte is still strength tequila, where the liquid goes directly from the pot still into the bottle, it is tasty and easy to sip and not overly hot, maybe slightly bland compared to the classic blanco, but delicious all the same. I think as higher proofs go, this is a fine contender, especially for the price. It's bright and crystal clear, with a nice agave taste. It has aromas of pepper, spice, anise, smoke, earth and cooked agave. Some citrus and earthy notes along with a slight vanilla presence. It has a nice agave sweetness, some obvious heat, and is spicy, peppery, earthy and fairly smooth, with anise (licorice) and citrus. For this price, it's a total steal and may actually be smoother than the classic blanco. Although these notes were found, the 'Classic blanco' had a more pronounced, complex and 'lasting profile', in my opinion. As I discussed with Eduardo, since bartenders really like to use high proof tequila because the flavor has a stronger play against the juices, bitters and sweeteners that they use in cocktails, this is perfect for a high quality cocktail. This would especially play well in a cocktail bar where they charge more for a better quality drink, and 'Fuerte' is perfect for that at only about $30 a bottle. This is a high quality higher proof, clean blanco. It's fine to sip, but could be part of an amazing high end and inexpensive mixed drink.
Fuerte 101 BLANCO
NOSE- spice and pepper, slight vanilla, honey, leather, earthy, sweet, cooked agave, anise (licorice) and smoke.
TASTE- smooth (especially for an overproof), earthy, slightly smoky, spice and pepper with some anise (licorice), honey, some citrus and some heat. A slight sugary sweetness is present.
FINISH- a medium/long exit, slightly hot at first but becoming smooth at the finish, with some mild sweetness, anise and light spice.
The Reposado is rested only 5 months, while the Anejo is aged for 1 year. The Reposado is especially lively and flavorful and is my pick of the two.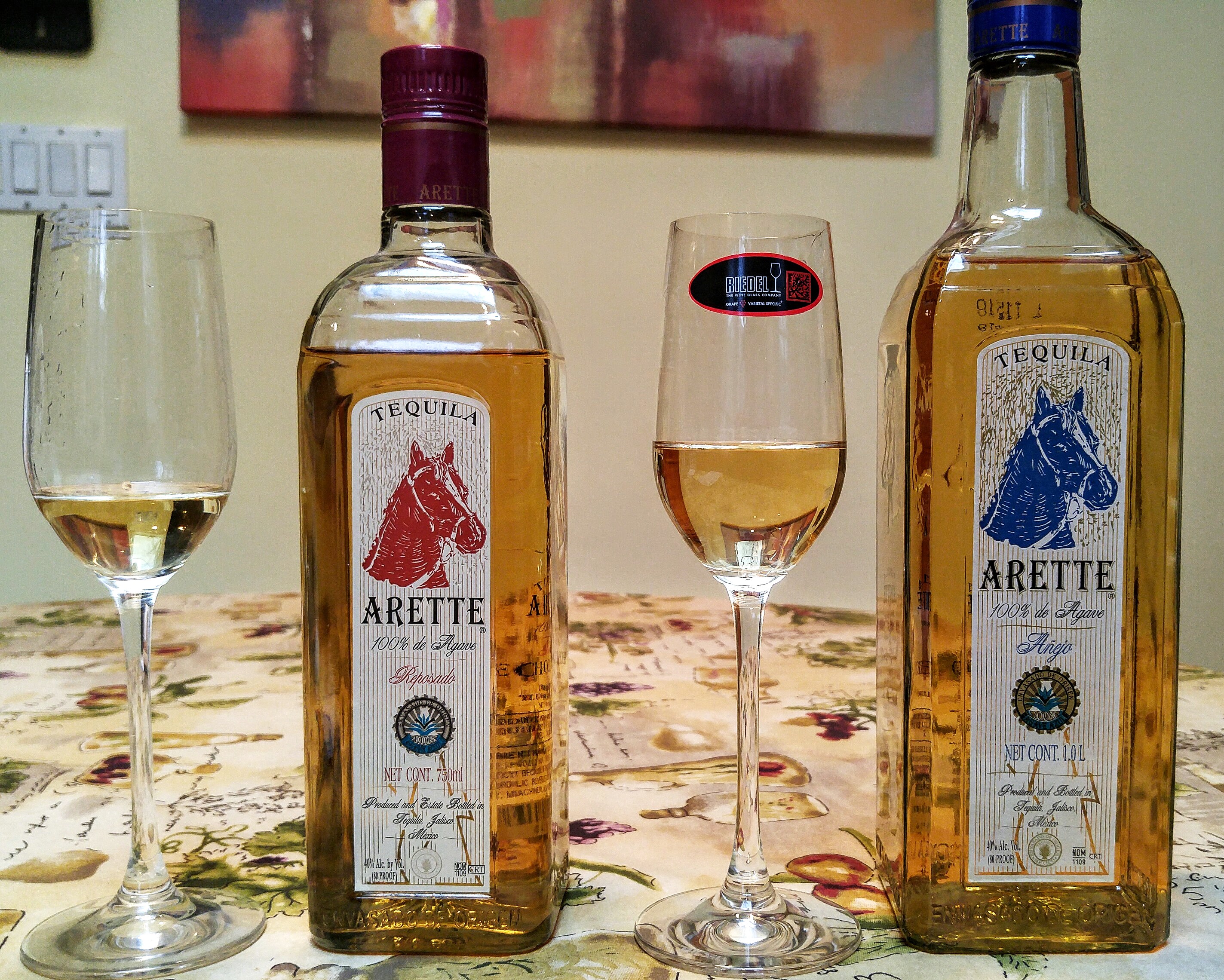 Classic REPOSADO- about $27.99 but as low as $19.99 (Total Wine). I prefer this over the anejo, and although it can be a good sipper for the price, it would be excellent in a mixed drink as it's fairly light all around, and would be a repo I would consider in a mixed drink. Some nice mild spice hits you right away, followed by caramel, honey, floral, and some light vanilla notes. For a light color and only rested 5 months, it has a lot of vibrant flavors and has a stronger wood presence than I expected. Taste is spice, some sweet agave, some anise (licorice), whiskey, caramel, sweet and mildly peppery, earthy with some alcohol bite.
NOSE- light spice hits you right away, cooked agave followed by caramel, honey and very light vanilla. Whiskey, some light floral and grassy notes are present.
TASTE- medium oils with a mild heat, earthy and fruity, light spice and pepper with caramel, honey, floral, a pinch of vanilla and almost a cream soda note and a light herbal sweet taste.
FINISH- a short exit of light spice, somewhat smooth, a pinch of fruit and some heat.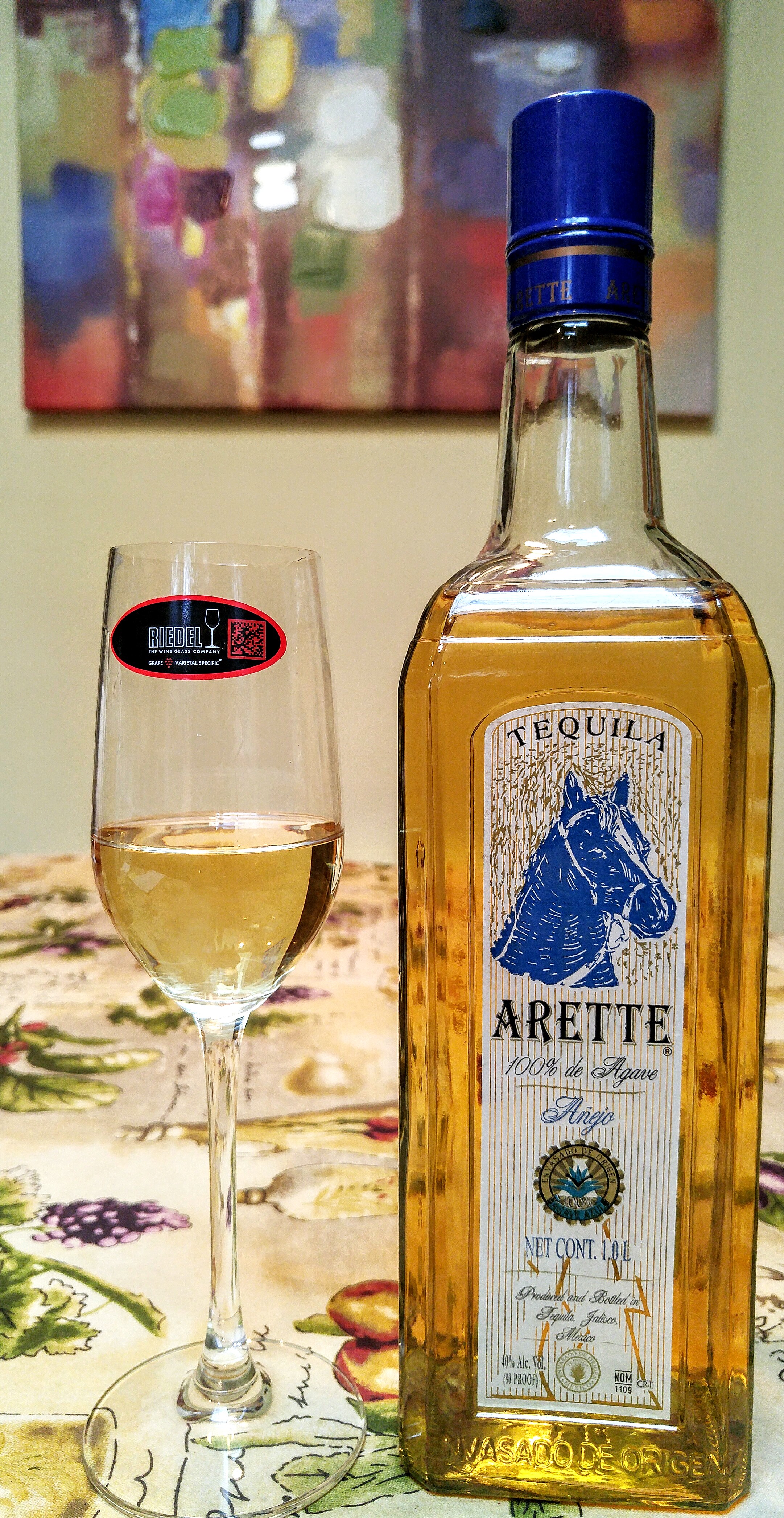 Classic ANEJO- $34.99 This Anejo is nicely balanced and definitely more pronounced over the lightly rested reposado. Aromas of oak, spice, honey, caramel, vanilla and whiskey. It is smoother than the Reposado, but in some ways at least equally hot. Spicy on taste with some honey and caramel.
NOSE- sweet whiskey/bourbon, with honey and caramel, some vanilla, spicy, a pinch of leather and maybe a touch of nutmeg.
TASTE- medium oils, hot at first then finishing smooth, spicy, some honey and caramel.
FINISH- spice and honey with a bit of heat to a medium/long smoother finish.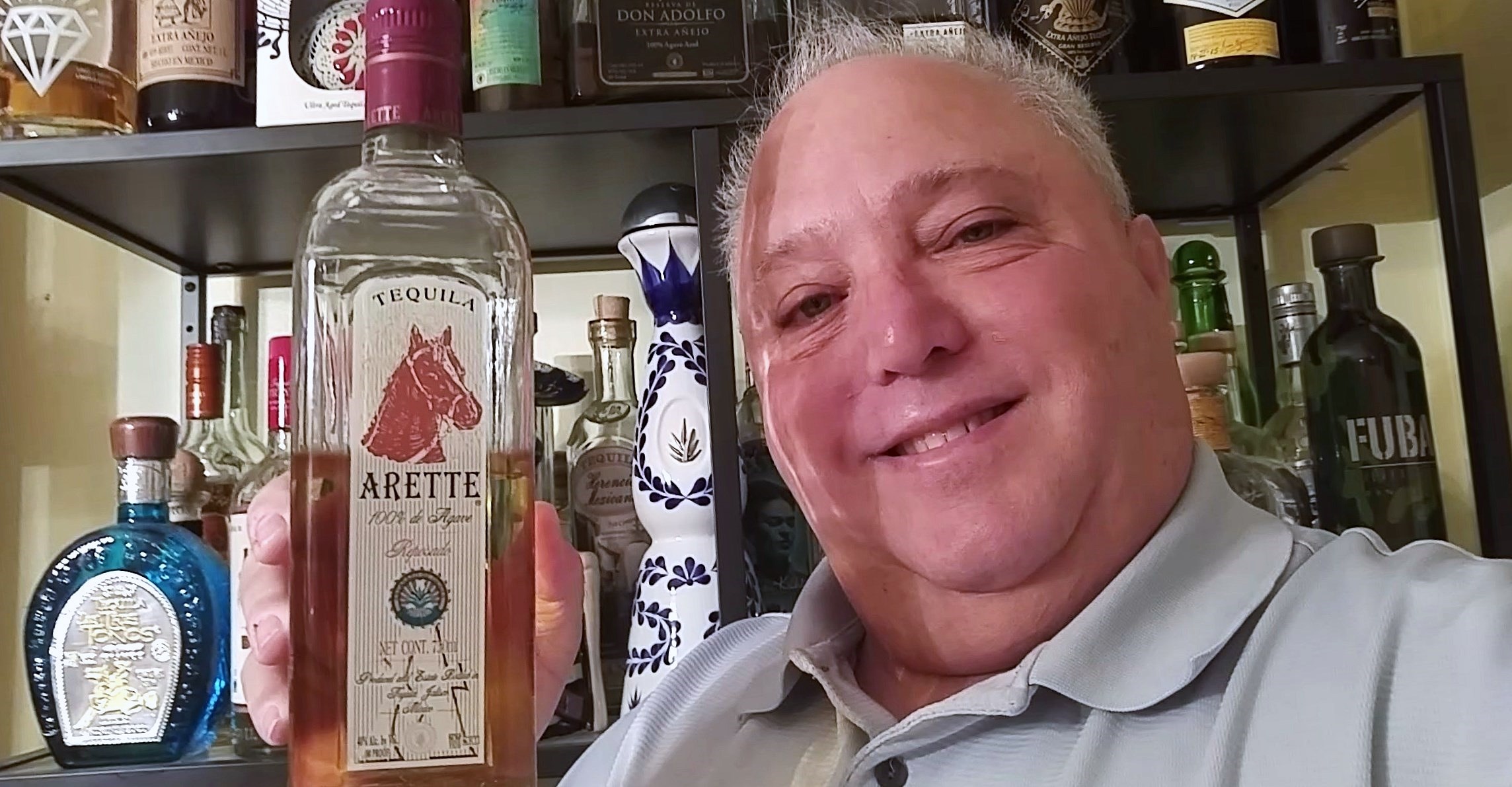 Arette Tequila is a low cost, quality tequila brand. You won't find better blancos for the price. Versatile as sippers and great mixers, the blancos and the tasty Reposado, are all vibrant, tasty and enjoyable. As Arette's basic line of 'Classic' tequilas, these tequilas are the perfect foundation to build upon.
Look for my review of the 'Artisanal' and 'Unique' line of tequilas from Arette in the near future, here on Long Island Lou Tequila.
SEE More Honest Reviews and REAL Top Tequila Lists, and Please 'like' Long Island Lou Tequila on Facebook- HERE- https://www.facebook.com/Long-Island-Lou-Tequila-641682619241422/