Astral Tequila - It's 'Interesting'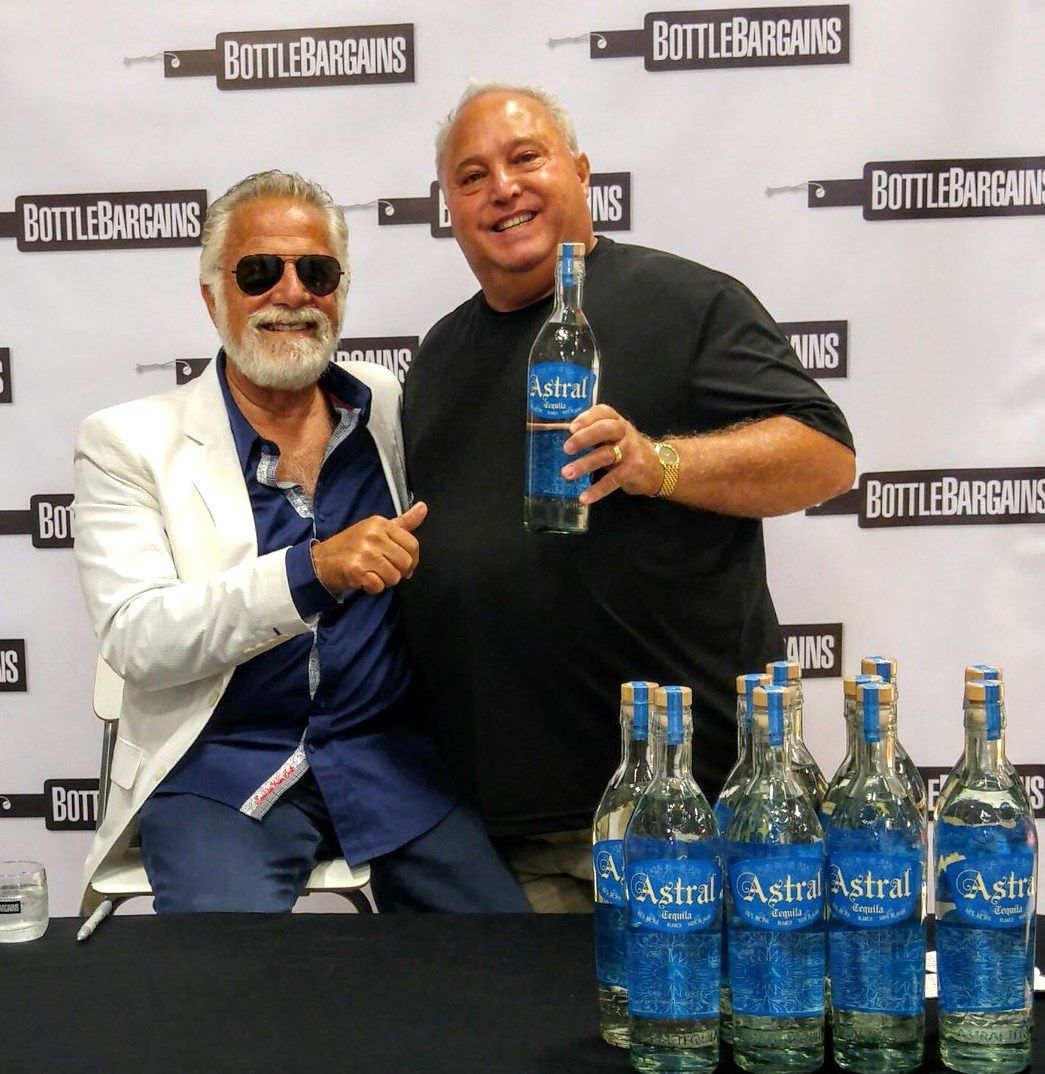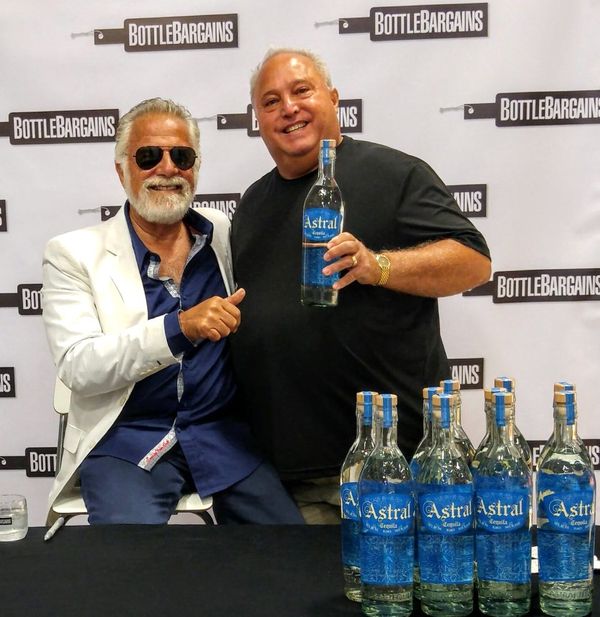 The 'Most Interesting Man In The World' has a new job, and it's fronting Tequila. Tequila is the fastest growing spirit, and his timing is, well, .... very interesting. Astral blanco Tequila is made at La Cofradia- NOM 1137 in the Tequila Valley of Jalisco. I had heard good things about this inexpensive high proof blanco, so I went to meet and discuss it with him recently. As many know, Jonathan Goldsmith, known as "The Most Interesting Man In The World", was the face of Dos Equis beer, but now is the face of Astral Tequila. He seemed to know the product well enough, when we discussed it's production procedures, and he seemed very comfortable in his new role. He seemed like a real nice guy, and was surprisingly knowledgeable about the cooking, and distillation methods used here. I knew how it was made, but hadn't tasted it at that point. This high proof tequila is very sippable, slightly 'musty' and has a spicy cinnamon heat. It's good enough to sip, but it's a little rough around the edges. It had some similar notes of many of the products made at La Cofradia, which at this point is sixty-five brands and counting. I will say that Astral grew on me as the bottle got lower, and although I have no problem sipping this myself, just because I had a nice talk with him.....it doesn't make this tequila any better. I'm going to tell it like it is, like I always do. Although sipable, Astral would probably be better suited in making a delicious high quality mixed cocktail drink, and that may be the way to go for most people buying this. I guess when Johnathan used to say, "I don't always drink beer".... he wasn't lying. It's by far not a world class blanco, but for the price it is definitely worthy of your attention.
I prefer Astral over some of the more popular products made at La Cofradia. Many of the products there all seem to have a common denominator, concerning aroma and/or taste, be it the water source, the barrels or maybe the fermentation used. In my opinion this musty, moss-like, mineral and earthy profile is prevalent in many of the La Cofradia distillery products, and some even have a mushrommy presence as well. If that doesn't bother you, you're good to go. Some of the brands made here are Casa Noble, Dos Almas, Tequila 512, Senor Rio and tons of lesser known brands. Astral makes a point of broadcasting the fact that they use the bagazo (the fibers/pulp) left over from the crushing that is not liquid, and use it in the fermentation process to 'add' to the pungent aromas and flavors. This is not anything too unusual, and this may be adding to the bold and somewhat smooth funky profile. Their agaves are organic, and grown at high altitude which often can add to the character and flavor. Astral was named one of the 'Top 10 Blancos in the World' by Food & Wine, has the 'Highest Rating from the New York Times', and was awarded a 'Double Gold Medal from San Francisco World Spirits Competition'. Sorry.... I like the tequila, but not THAT much. This is NOT a Top 10 blanco tequila by ANY means, but it's solid, sippable, great for mixing and inexpensive.... so you might want to give it a shot.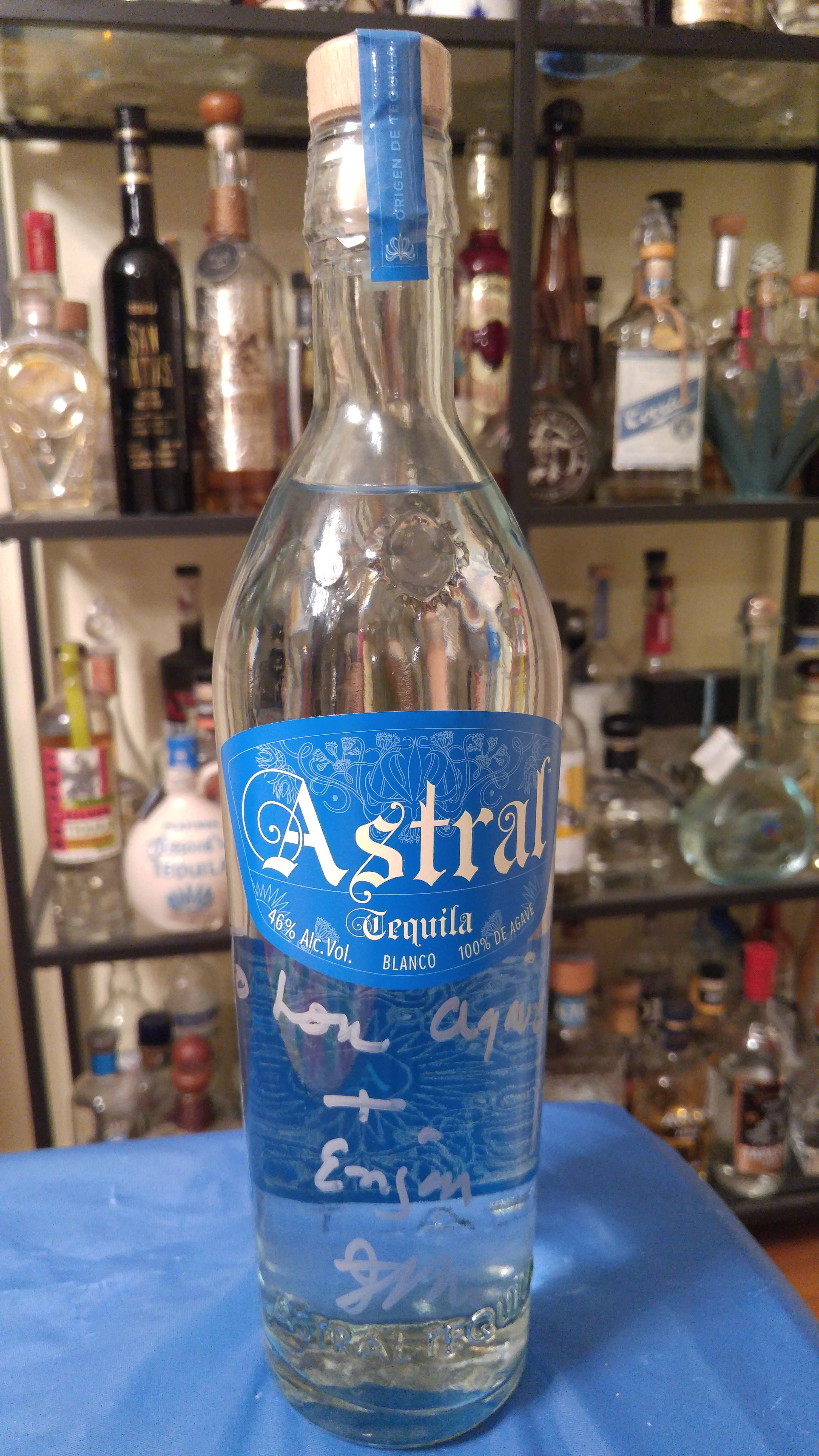 Astral Tequila was founded by Master Sommelier Richard Betts, and is now owned by New York-based spirits company Davos Brands. Betts's first journey into agave spirits was with Sombra Mezcal, and this high proof bold and very pungent tequila has some similarities to Mezcal. Distilled to 92 proof, Betts calls it "a more honest proof". At this time Astral has only this blanco on the market. I'm sure Davos Brands, is very excited about hiring Goldsmith, who is a very recognizable face. Davos Brands also owns Tyku Sake and Aviation American Gin, but they remain a very small player in the spirits industry. When an actor leaves one product for another, it can get dicey if he tries to resume the same role. Legally if an actor performs 'in character', then that would be infringing the rights of the advertiser, but actors are 'free to reference their old roles', so it's obviously a fine line. It appears that Heineken, owner of Dos Equis, is fine with the way he has handled it, after they replaced Goldsmith with with a younger actor. Astral also released a statement saying "Astral Tequila has obliged by all trademark legal requirements". Heineken said "we thank Jonathan Goldsmith for his long-time contributions to the brand, and wish him the best in his next endeavors." However, a lawyer for The Association of National Advertisers did say "it's unlikely the lighthearted references to his old character, rise to an actionable cause, but they are on a slippery slope, and should be cautious of going too far." It is said that Goldsmith, who was intrigued by the tequila process, calling it somewhat "romantic", didn't want to just get involved by becoming the spokesman, but he also took an equity stake in the company. Betts, the founder of Sombra Mezcal and Astral Tequila, will remain a significant equity holder in Davos, and will continue to play an active role in the company as it's founder and global brand ambassador. Davos Brands, established by an ex-Goldman Sachs banker, Andrew Chrisomalis, launched the company in 2014 with the founder of Svedka Vodka- Guillaume Cuvelier.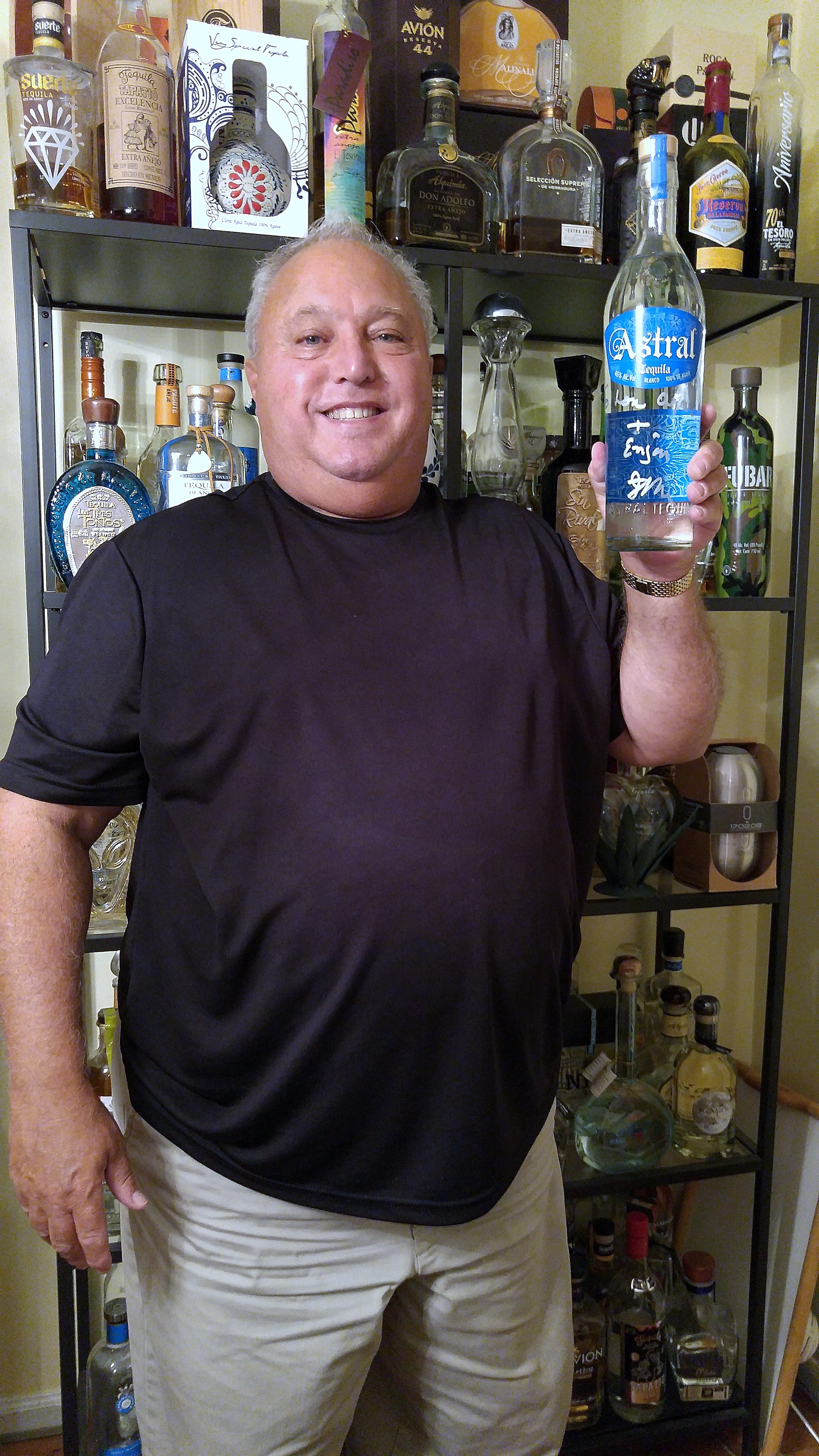 PRODUCTION- The organic agaves are grown on mountainous slopes on a single estate at the western edge of Jalisco, Mexico. These locations make the plant work harder to get nutrients and the deeper roots can give the agaves more character from having to work harder to grow. Astral cooks in traditional stone ovens, and uses a screw press to crush and shred the cooked agave. They use natural/wild yeast during fermentation, adding the bagazo to the process utilizing stainless steel vats. The brand says they do not use any chemical accelerants, which is always a good thing. Astral double distills in stainless steel pot stills with copper coils to 92 proof and bottled in hand blown bottles (recycled glass) made in Mexico. There is no doubt that there are many strong aromas and flavors, and I suspect this bagazo adds to it.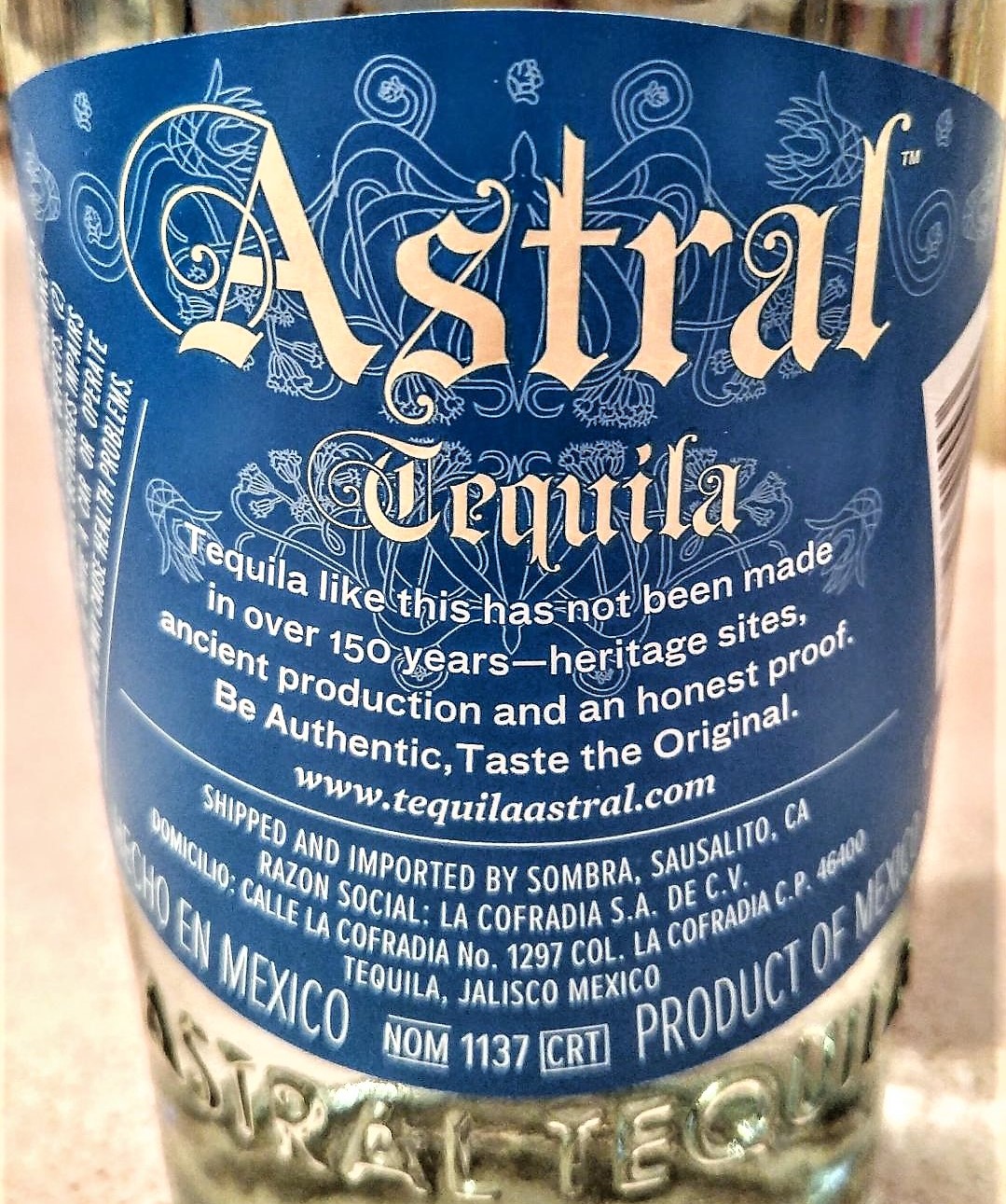 ASTRAL BLANCO- about $37 and doubled distilled to 46% abv/92 proof. This is a bargain, and I must say that it was smoother than I expected for a 92 proof Blanco. It's clear as water, it has aromas of cinnamon, pepper, and spice, with minerals, and a musty or moss type aroma, with citrus, vegetal, floral and some anise (licorice) notes. It has a potent taste with a hot cinnamon presence and a musty, sharp, mild fruit, citrus and spice presence, along with some sweet agave notes. It is pleasant enough to sip, but in a hi-proof cocktail, this agave sweetness and alcohol punch, would cut through the mixed flavors and add a tasty zest. This is a tequila that needs to open up a bit, so swirling it in a glass for a few moments definitely can't hurt.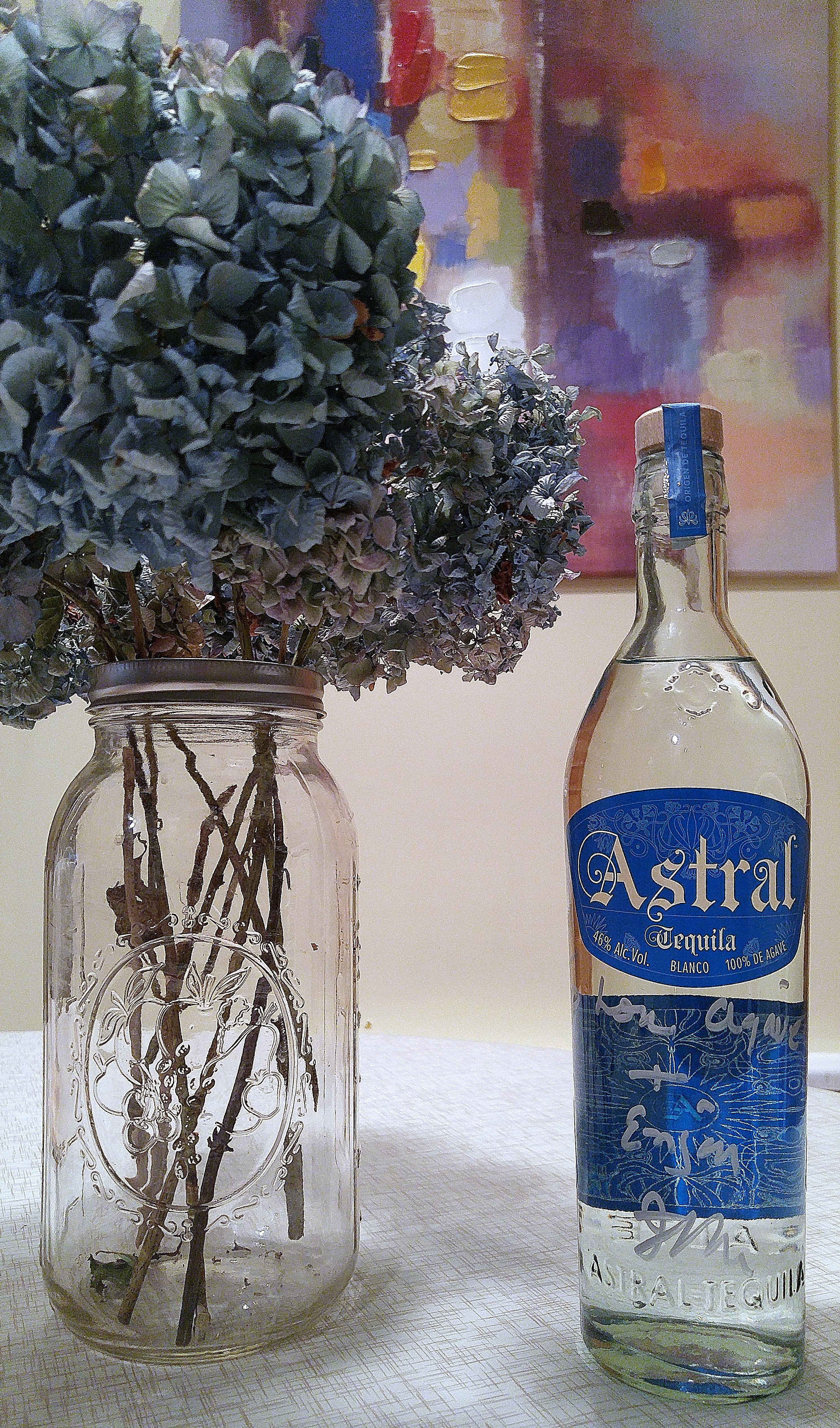 NOSE- spice, cinnamon and some alcohol (as its's 46% abv), and a very mild rubber aroma at first. Bold and sharp with notes of pepper, grass, spice, minerals and slight butter. It's earthy (almost clay) and vegetal, with some floral, citrusy and a touch of mint, and a drop of cocoa. A slight musty/mossy aroma is noted, along with a sweet agave presence and some melon and anise (licorice).
TASTE- sweet agave with an alcohol tingle, medium oils, spicy heat, black pepper, cinnamon and citrus. Some fruit, and fairly smooth for the over-proof with a slight musty taste and bold overall.
FINISH- a warm mouthfeel, with some alcohol heat, peppery, spice and cinnamon, in a medium to long exit.
I gave Astral Tequila an 82 rating on Tequila Matchmaker, as it's okay for sipping, but maybe even better for mixing.... and at a good price for an overproof. CLICK-http://tequilamatchmaker.com/tequilas/4610-astral-tequila-blanco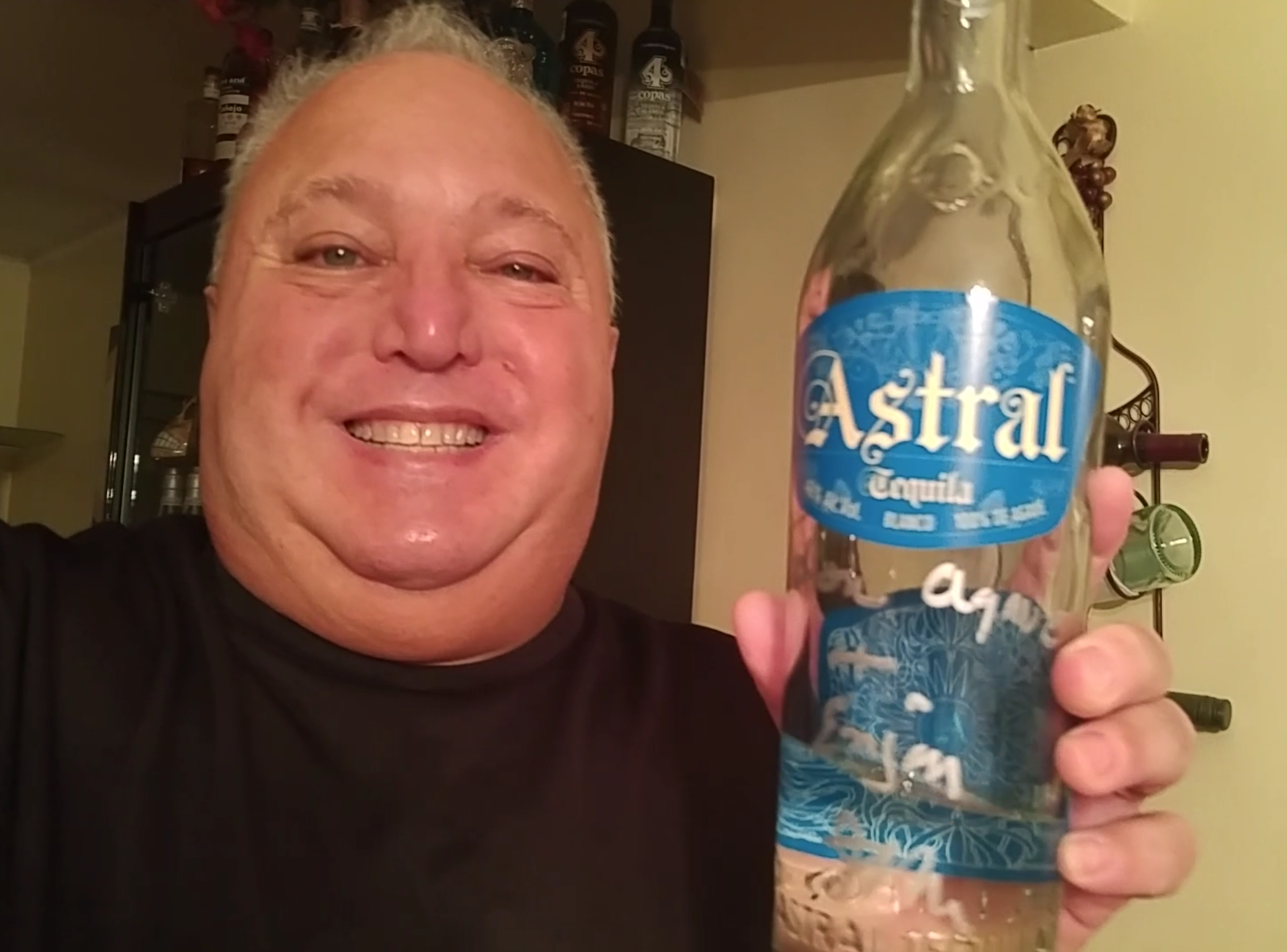 For the money, Astral Tequila is a good high proof, clean blanco. As a sipper it could be a little rough around the edges, but perfect for a high quality mixed cocktail. So keep drinking tequila, and as Jonathan would say.... Stay thirsty my friends.
SEE More Honest Reviews and REAL Top Tequila Lists, and Please 'like' Long Island Lou Tequila on Facebook- HERE- https://www.facebook.com/Long-Island-Lou-Tequila-641682619241422/