AZUÑIA Blanco & 'Black' Anejo Tequila - A solid light blanco and an Unbelievably Delicious Anejo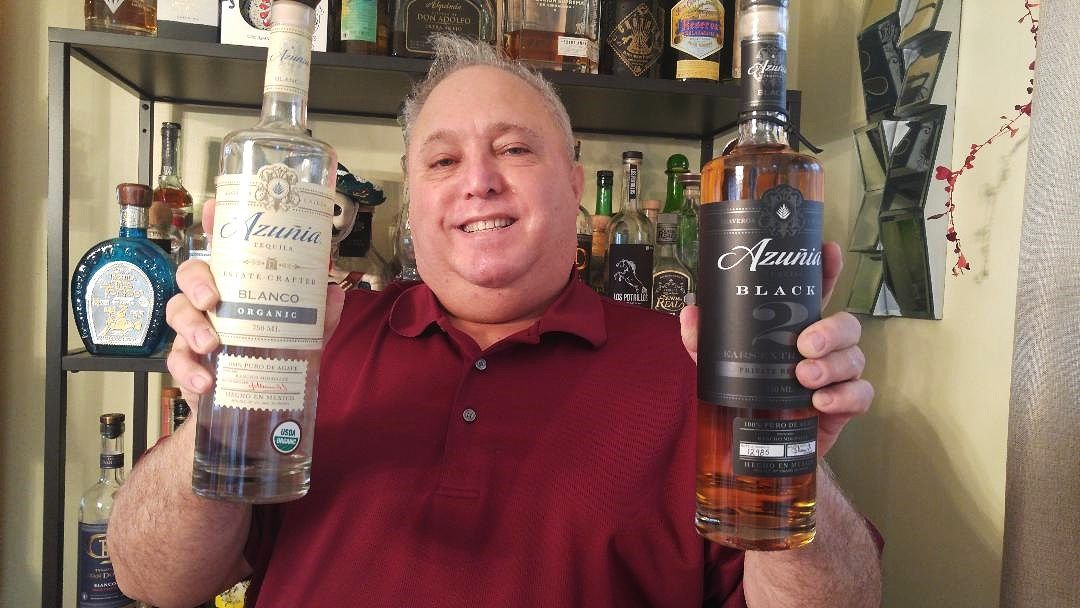 Azuñia Tequila is made at Distillery Agaveros Unidos de Amatitan (Rancho Miravalle), in the El Valle region of Jalisco- NOM 1426. Originally a Texas based company, it is now owned by the Kilkenny family in California, and they have a solid and interesting line of tequilas. The expressions I tried, were the Blanco and the 'Black Label' Anejo. They also make a Reposado and a lesser aged Anejo. Azuñia Tequila's founder was Jim Riley, but he is no longer involved, and Alex Baca is the President, and manages all sales operations and distillery relations. Azuñia Tequila is a small privately owned brand, started in 2009, and is distributed in all 50 states. I haven't seen Azuñia in my parts of the country yet, but Kailee Asher the National Brand Ambassador said "with our recent partnership with Total Beverage Solution, Azuñia now has distribution in all 50 states, and Eric Lorenz continues to be our distributor in Canada." With the recent expansion, Azuñia should be easier to find soon, and is worth tracking down whenever you can. NBA Hall of Famer, former sports broadcaster and successful business entrepreneur, Bill Walton is a small equity partner, and is considered a 'friend of the brand'. Azuñia is 100% organically grown estate agave, from the tequila valle in Amatitan, owned, grown and harvested by the Partida and Rivera families, who are connected by marriage and considered partners. The families are members/owners of Agaveros Unidos de Amatitan, a group they formed to manage both their lands and Rancho Miravalle. Each of the partners have an interest in Miravalle, and they each own their own lands. Azuñia tequila is the only export from NOM 1426. Azuñia is all about organic agaves, and Kailee Asher told me that the Partida and Rivera families are committed to only harvesting ripe agaves. Asher said "Enrique Partida told me just last week, that although most people are harvesting agave at 3-4 years old right now, the average age for our agave is 7 years, even with the recent agave shortage." I suppose it would be so easy for them to do as many other producers are doing, and blame it on the shortage, but this shows you something about this brand.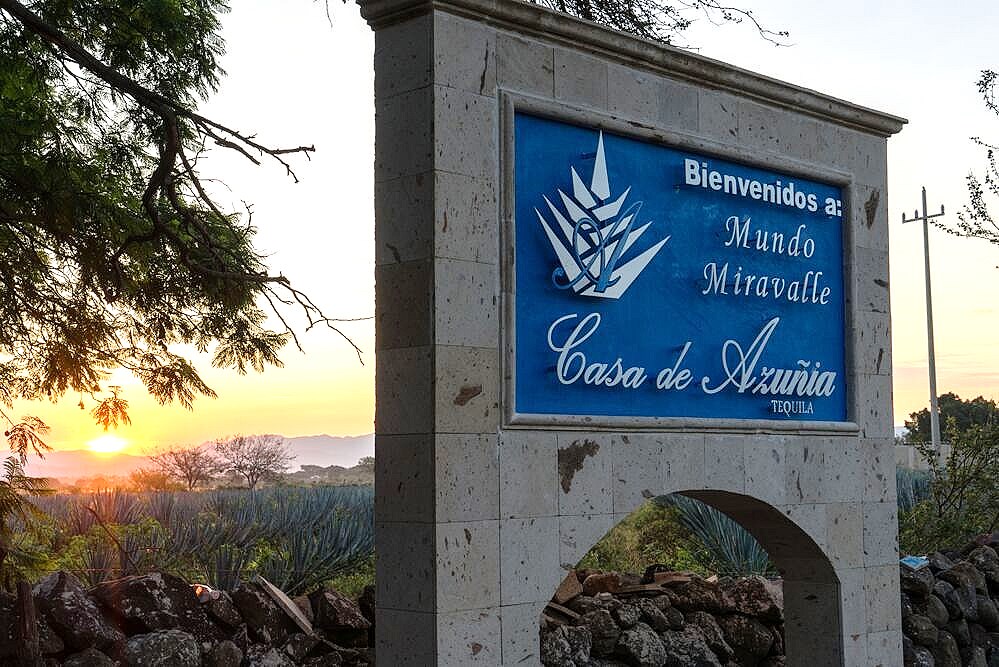 Some people seem to be confused with past production, so simply put, Azuñia was always made at Miravalle, but bottled at Regional, NOM 1503- Empresa Ejidal Tequilera de Amatitan from 2009 to 2011, so it had that NOM for this time. Since 2011 Azuñia is made and bottled at Rancho Miravalle- NOM 1426. According to Alex Baca "the agave has always been from the partners fields, and we have never bought agave from anyone else, nor do we plan to." Azuñia is grown USDA/BioAgri certified Organic, and although they have fields right near Miravalle, the partners also have fields throughout the Tequila Valley. I have been assured by the President of the brand that "Azuñia is completely additive-free, including coloring for rectification, for all expressions." That is one thing I love to hear.
SEE BELOW- Kailee Asher- (National Brand Ambassador) on left, Sergio Zuniga Partida- (Partner) next to her, and President Alex Baca in the middle.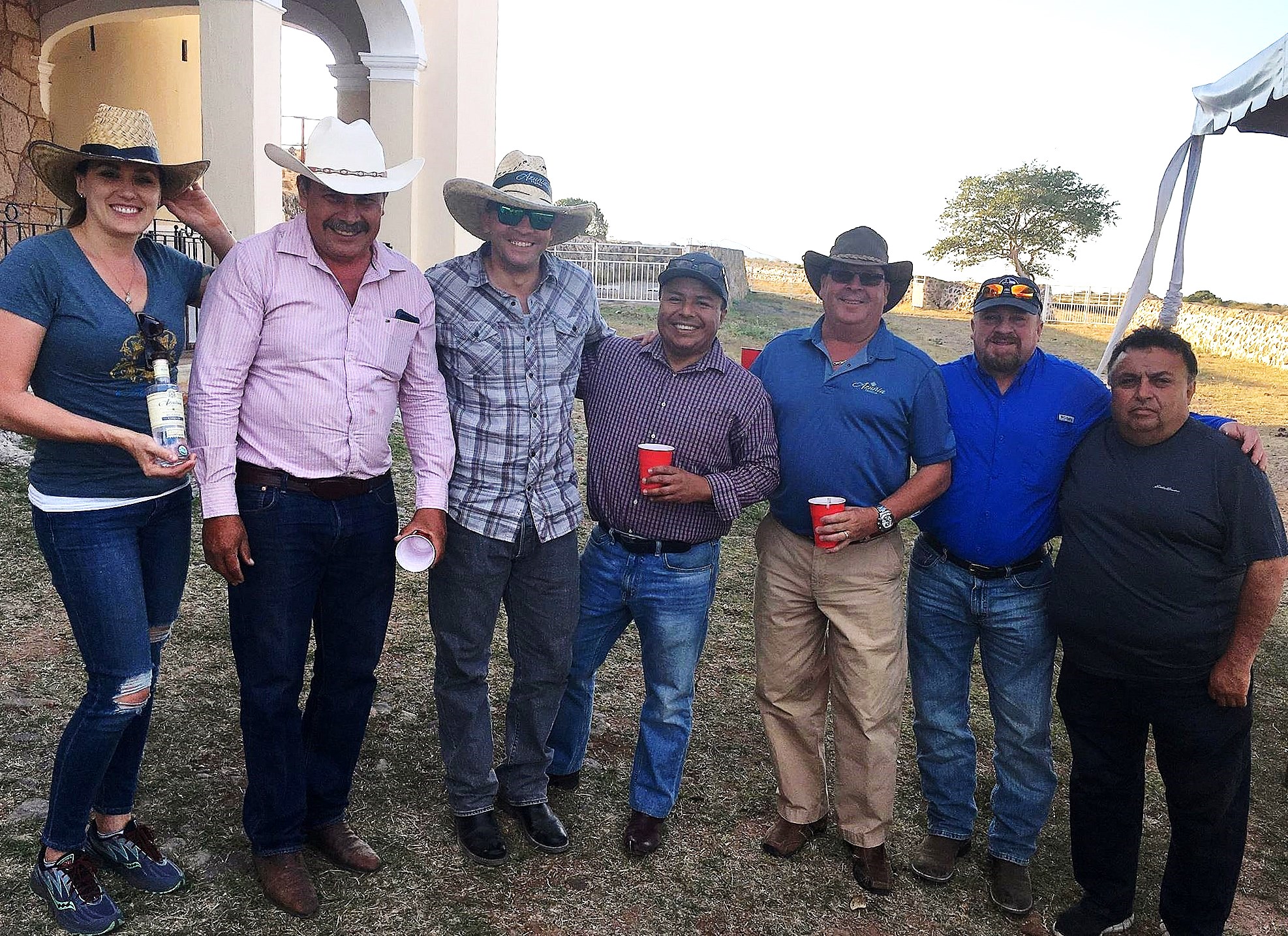 Of these two expressions, although I liked the blanco and it was solid enough, I wouldn't put it in the very top echelon of tequilas, and the real star is the Azuñia 'Black' Anejo. It blows away Don Julio 1942 and tastes more natural as well, and yes.... it's even cheaper. This is more a full flavored, dark and bold anejo, and as such, may be my favorite in this end of that expression. Some brands go for neutral worn barrels, not giving much oak or added flavors, and although that is perfectly fine..... this is not that. This is a creative two barrel aging procedure, and it is a full bodied, flavorful and a tasty heavier anejo. Many anejos are not aged two full years, and you can surely notice that difference here. This is two full years of aging, with the last barrel being their 'secret special barrel', which seems to add another layer of flavor, over the American oak, and to me compares to some lighter aged extra anejos. This 'Black Anejo' is special stuff. It is smooth and silky to sip, with nice caramel and vanilla, but it's not overpowering and very balanced. I even get a delicious cherry and honey aroma, with light smoke, roasted nuts and fruit. Azunia Black is not cheap, but well worth owning as a sipper, that can rival some extra anejos. For people like my friend Warren, who can drink extra anejo's all the time, which gets expensive, this heavier aged anejo may do the trick, as an everyday sipper....... saving the expensive extra anejos for other times.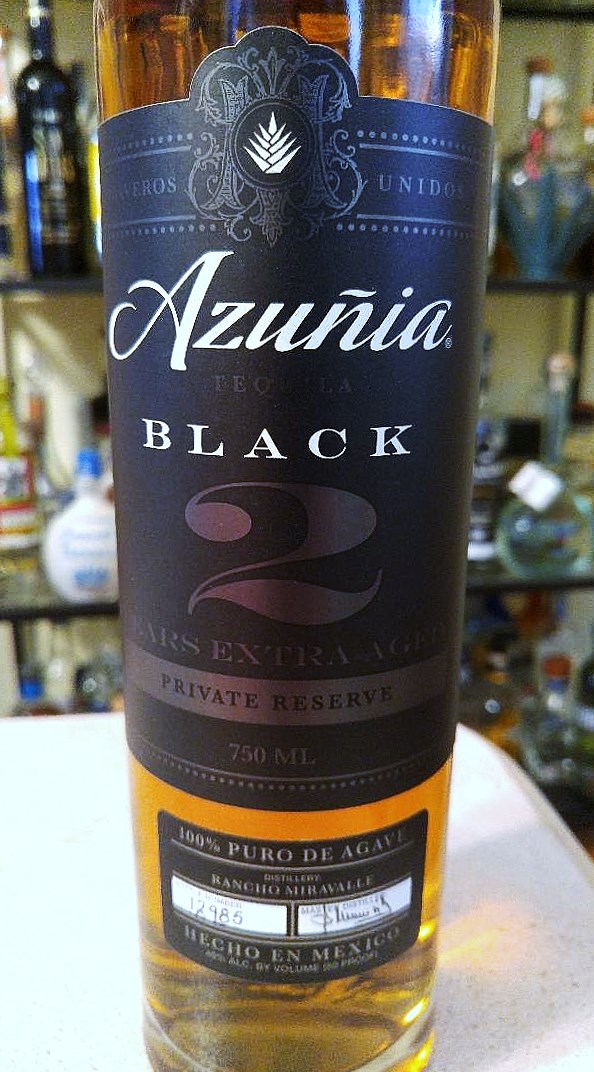 Azunia blanco ($36.99) and 'Black' Anejo ($89.99) can be purchased on line from ZEE-HERE- http://www.oldtowntequila.com/search.php?search_query=azunia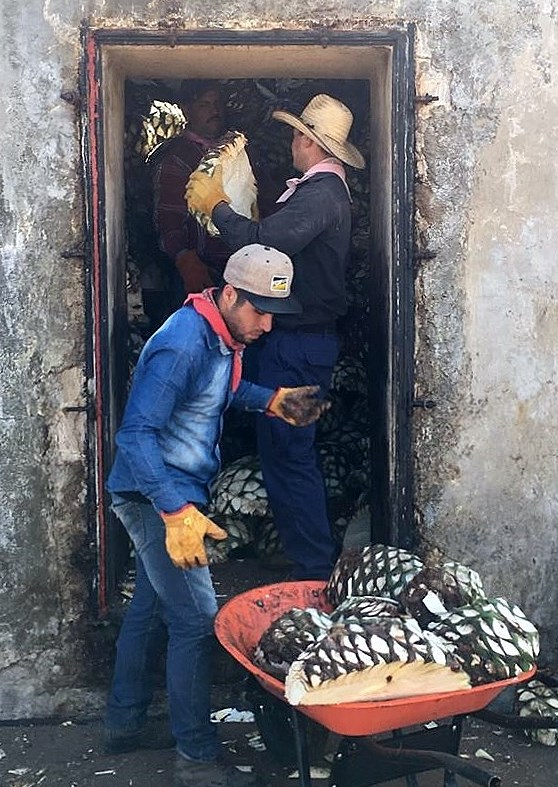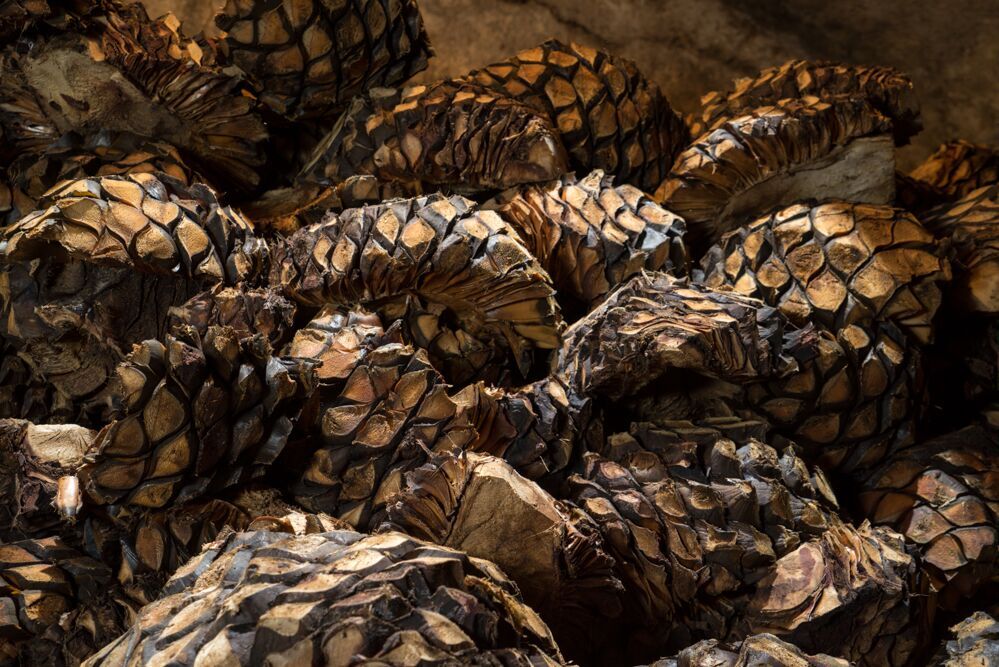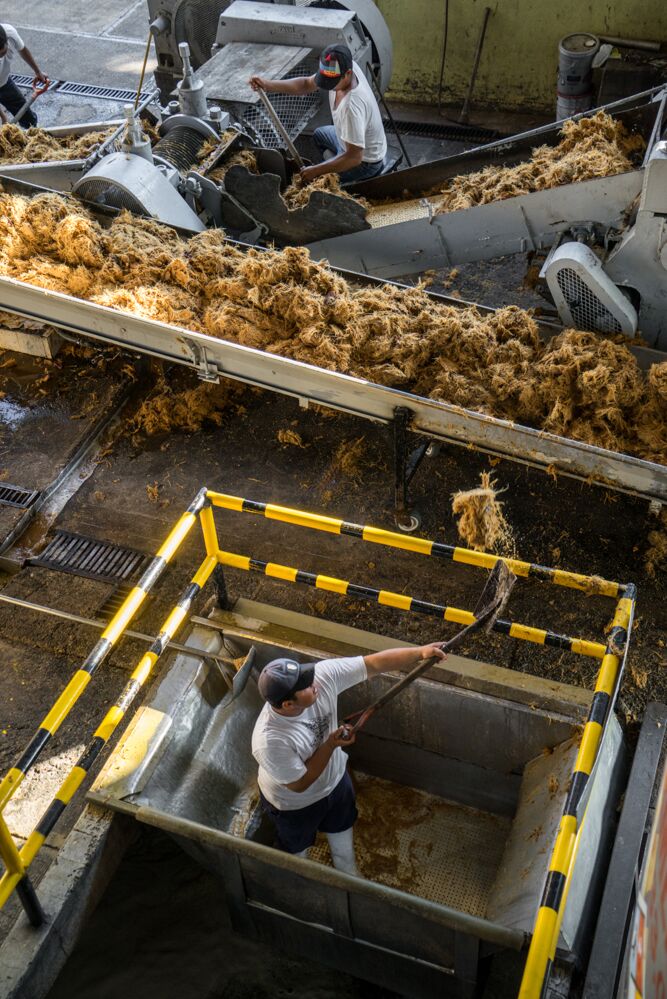 PRODUCTION- Kailee Asher told me they harvest only hand selected agaves at about 31 brix, and use only 100% Tequila valley USDA certified organic estate agave from Amatitan, in relationship with the Partida and Rivera families. They do a normal shave (jima) and cut out the cogollo from the male plants. The brand told me they only replant the healthiest select hijuelos and in regards to wide crop rotation, they replant corn and peanuts until the fields nutrient content is regenerated, and ready for new agave. They also grow citrus, mango and peppercorn trees throughout the fields, so the blanco has that sweet agave note, with bright citrus and some hints of pepper. The pinas are cooked for 36 hours in traditional brick hornos, then the cooked agave are crushed in pressing mills to extract the juice. They use this roller mill to do a 3 time juice press extraction, and as the agave fibers may reabsorb much of the juice, the fibers are then also rinsed, in order to obtain the optimal amount of juice from each press. Azuñia uses 100% natural yeast fermentation (instead of faster commercial yeast) with open stainless steel tanks, which takes about 5-7 days, depending upon outside temperature and humidity. No bagasso is added, and they compost all the bagasso. The double distillation is done in stainless steel pot stills, cutting and discarding about 10% of the heads and tails in the second distillation. The final distillation comes off at 46-47% before they cut to 40% abv. Asher tells me that it has the same flavor profile from the still, and being most brands come off the still higher at 55%, before cutting to 40% with a lot of water, Azuñia is richer and creamier, as it needs less water at this point. All the water used is an on-site well water source from Salvador Rivera's property, that is naturally filtered through volcanic rock, and is so high quality, that Asher tells me "the water company in Amatitan even uses it to sell to people in town." They charcoal filter after distillation and aerate the blanco, which then is bottled. The 'Black' anejo is aged in used re-charred Jack Daniels barrels for 18 months, plus 6 months in a secondary Top Secret finishing barrel.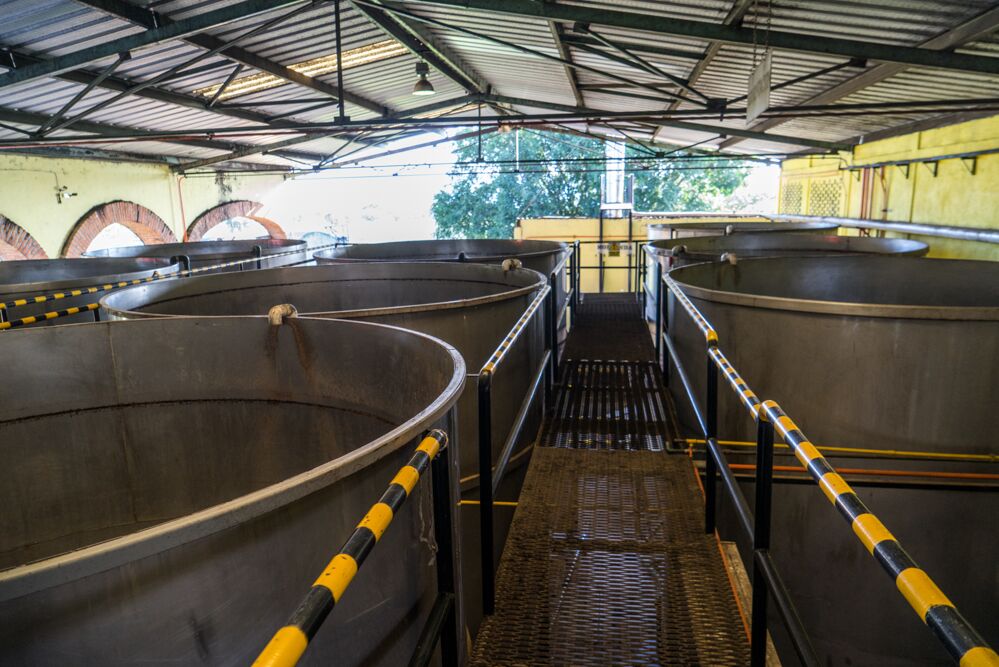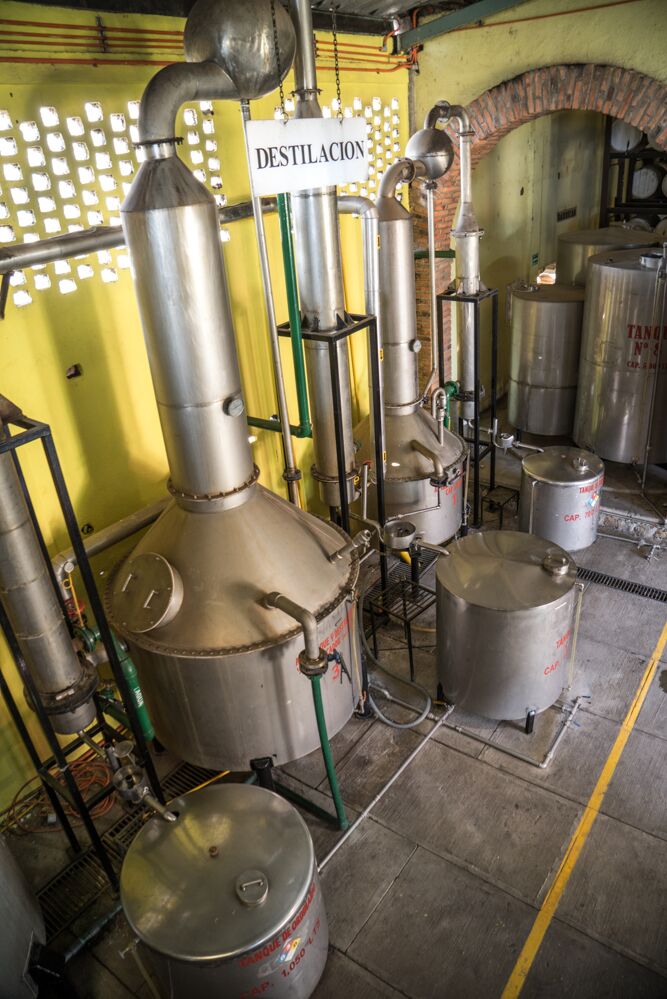 Azuñia Tequila is bottled, labeled by hand, numbered, and signed by our Master Distiller, Salvador Rivera Cordona. SEE PICTURE BELOW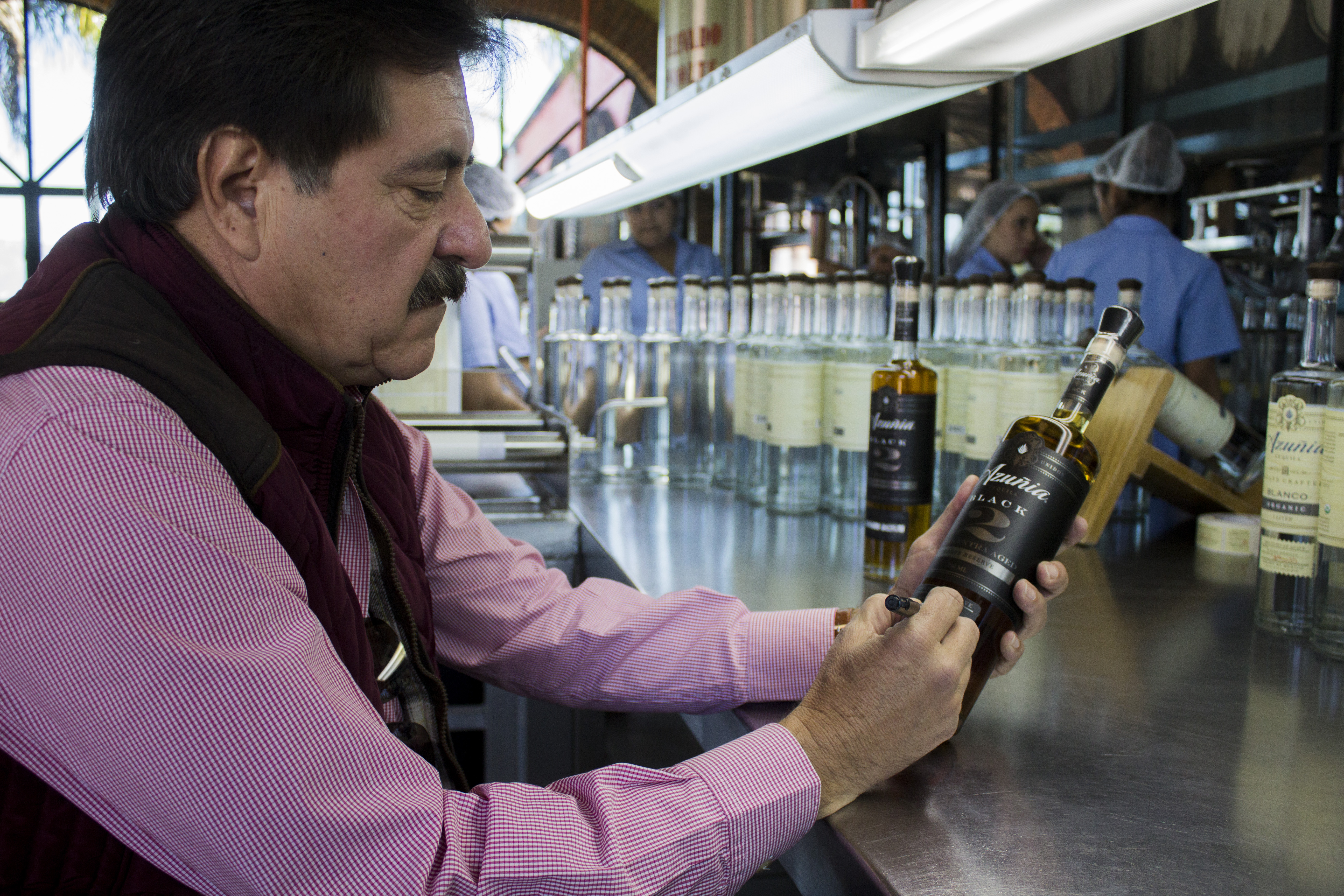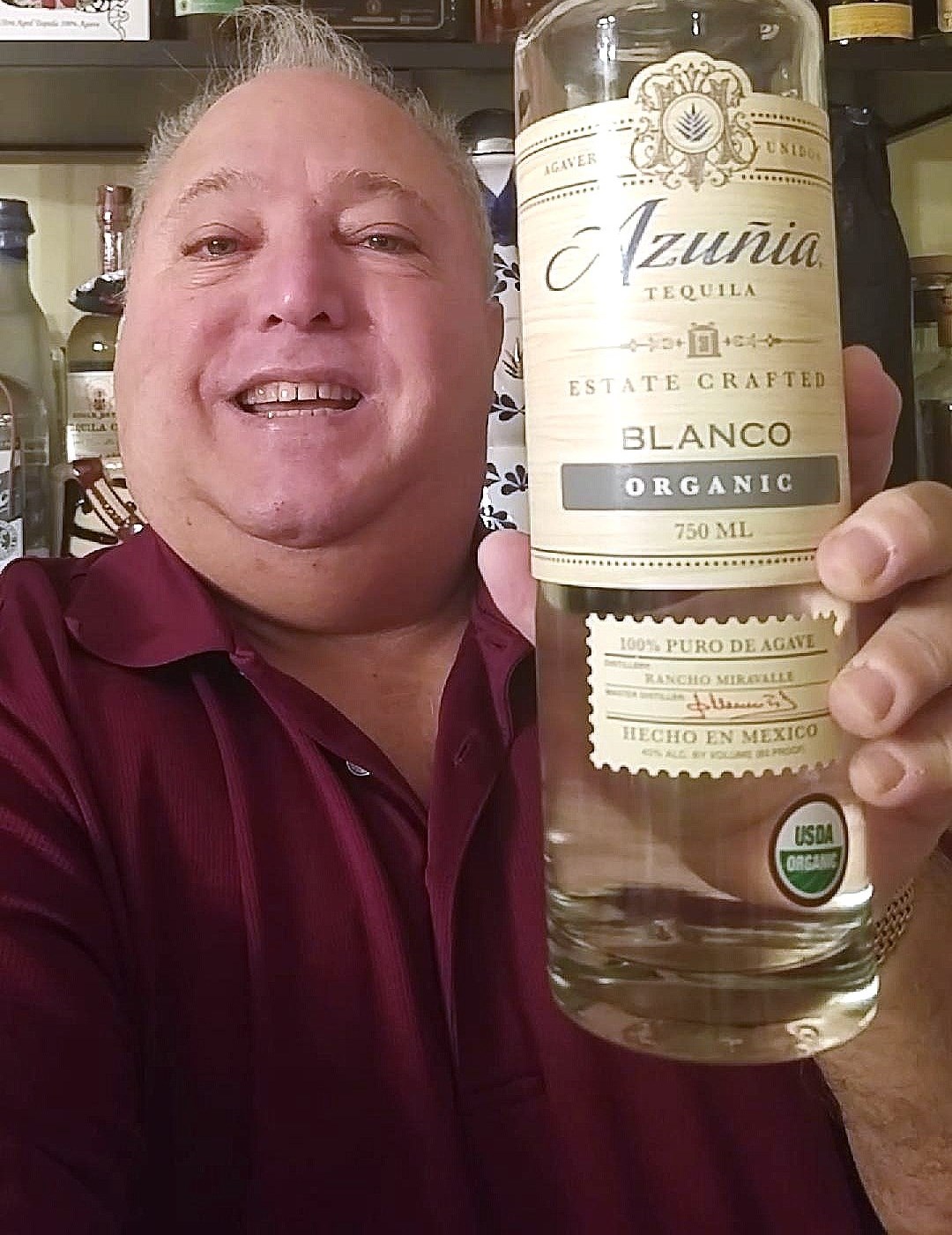 BLANCO- approx- $34.99-39.99, doubled distilled and unrested at 80 proof, organic Azuñia Blanco has a clean, soft and creamy presence, with a spicy, slightly minty and somewhat fragrant floral aroma. On taste, there is some agave sweetness and an apple/melon presence, with some alcohol, a cool and mint mouthfeel, with some spice, mild vanilla, some light smoke and olive brine. Compared to other blancos, this is a light, simple and mild blanco. Azuñia Blanco is smooth and solid to sip, with a valle taste for sure, and this would really be excellent in a quality mixed drink. It is aerated, making it creamy and soft. This is an inexpensive daily sipper, not too bold or complicated..... but very easy to sip.
NOSE- some alcohol, light, soft, creamy and almost woody, with light vanilla, spearmint and fruit-(green apple/pear and melon), earthy, light anise, some citrus-light lemon, light agave sweetness, spice and herbal, light olive brine, some light smoke and some floral fragrance.
TASTE- thin to medium oils, some alcohol heat, a cool mouthfeel, not that sweet, a touch of vegital, spice, mild vanilla, some olive brine, light smoke, and a backend presence of mellon.
FINISH- light numbing heat, pepper and spice, some citrus, melon fruit and mint, ending in a medium length exit.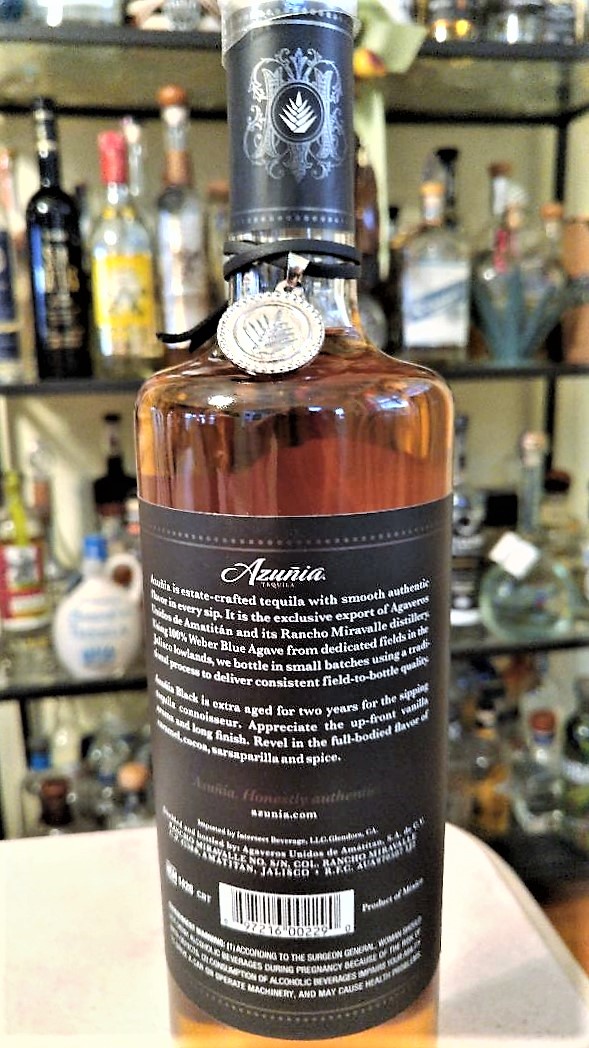 'Black' ANEJO- Azuñia 'Black'- approx- $89.99, 'Black' is estate-crafted, 2-year aged, Special Reserve anejo, for the tequila connoisseur. It is exceptional, even at the price. The aromas of cherry, honey, smoke, sweet whiskey oak and caramel is balanced and pleasant. Some light vanilla, a pinch of butterscotch and fruit, with roasted nuts round out the aromas. The bold, delicious and silky taste has a nice small bite, with oak, a whiskey/bourbon presence, some honey, vanilla, smoke, roasted nuts, and is so silky and amazing to sip. This is a special anejo aged in two barrels, first in used recharred Jack Daniels barrels, then in a secondary top secret finishing barrel. I am told by the brand that this is a 'passion project' for Salvador Rivera. This is one of the best anejos I have ever had, not a light bland anejo.... but a heavy, complicated, tasty and balanced fantastic sipper. I highly recommend this.
NOSE- cherry, caramel, light vanilla, honey, a pinch of butterscotch and smokey, with a sweet whiskey/bourbon oaky presence. Nice roasted nuts and some fruit aromas. A great nose!!
TASTE- thin to medium oils, a nice small bite, and a delicious, balanced, sweet whiskey/bourbon oak mouthfeel, along with honey, some vanilla, roasted nuts, some smoke, and is silky smooth.
FINISH- sweet whiskey and woody taste, silky, with honey and roasted nuts, ending in a dry and very pleasant medium finish.
I gave Azuñia blanco an 80 rating and the 'Black' Anejo a 91 rating on Tequila Matchmaker, as the blanco is solid and inexpensive. The 'Black" Anejo is an excellent, tasty, bold anejo. The price held the rating back slightly. CLICK-http://tequilamatchmaker.com/brands/455-azunia
Azuñia Blanco is light and a bit plain, compared to other blancos, but it's very clean, inexpensive and well suited for an everyday sipper. The 'Black' anejo is outstanding. I could sip this every day- no kidding, but at $90, I'll reserve it for occasional use. It is absolutely stupendous, and even at this price, it compares to some Extra Anejo's I have had, and Azuñia 'Black' is without a doubt......... a double barreled treat!!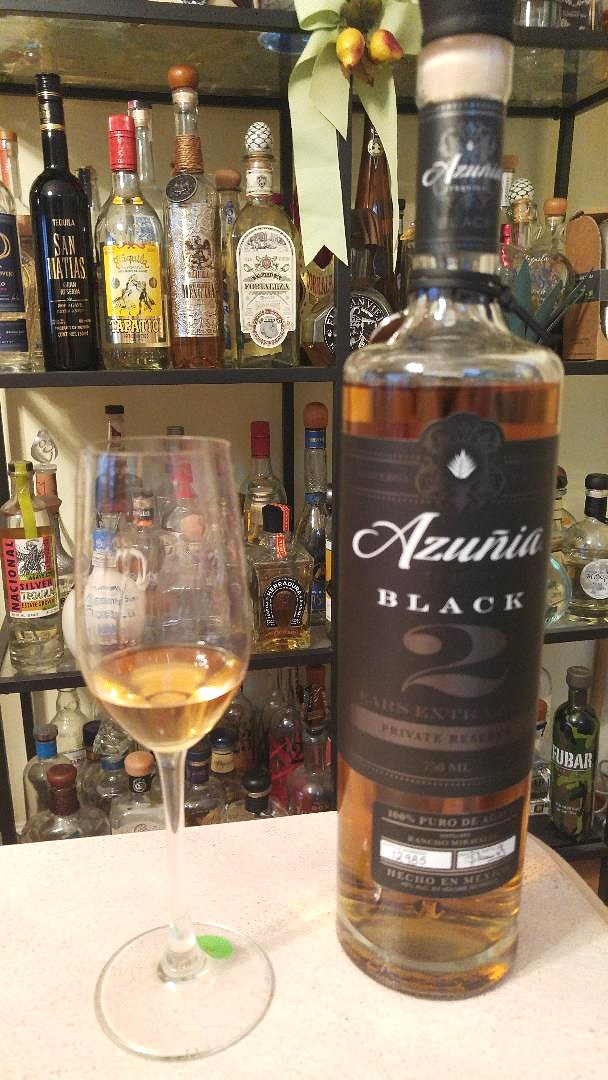 SEE More Honest Reviews and REAL Top Tequila Lists, and Please 'like' Long Island Lou Tequila on Facebook- HERE- https://www.facebook.com/Long-Island-Lou-Tequila-641682619241422