Calle 23 Tequila - Possibly The Best Quality You Can Buy For The Price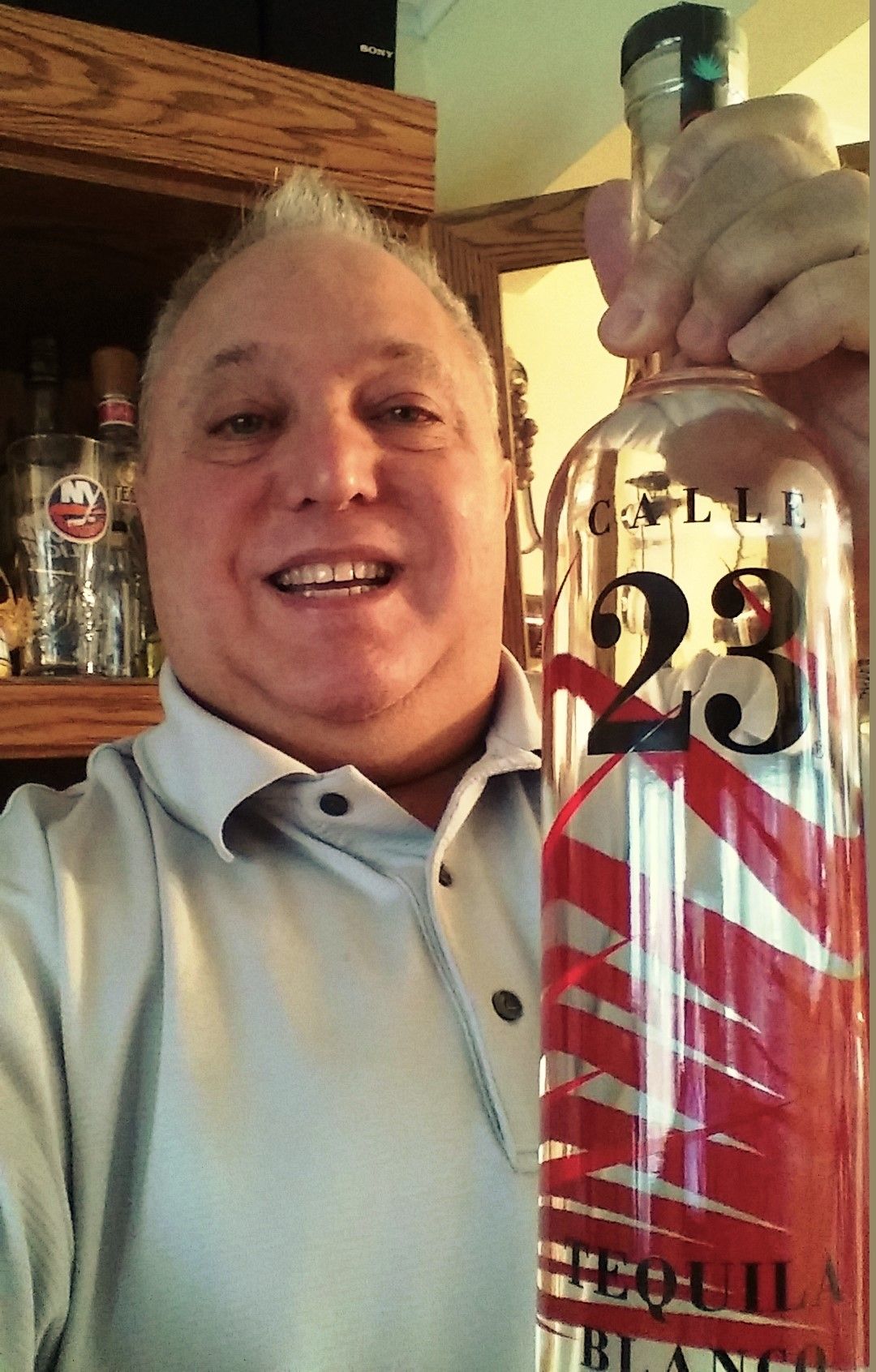 Calle 23 (pronounced 'Kai-Yay') is the brainchild of Sophie Decobecq, a French-born biochemist and engineer, who worked in France's cognac industry before falling in love with agave. After graduating from a prestigious university in France, she moved to Mexico where she spent 7 months working in the research center at Polytechnics Institute of Mexico City. She studied the art and science of fermentation, and during this time, she made visits to Guadalajara and Tequila. She fell in love with all the history, the details, the sights, sounds and smells of the distilleries. Sophie later honed her agave skills, concerning fermentation and distillation in South Africa, followed by returning and spending years helping distillers perfect their own tequilas in Mexico. It was at that time, that Sophie decided the time was right to create her own brand. She brought her years of experience in yeast and microbiology to the arts of fermentation and distillation to make one of the most delicious tequilas on the market today, and for the price.... it can't be beat. Concerning the name Calle 23, one night after celebrating with friends over perfecting her skills on fermentation and distillation, and after making her first batch of what would become her new tequila, she looked across the street and saw a sign Calle 23, (meaning 'street' in Spanish)... and the name was born. Sophie's passionate reputation is well known, and when she happened to meet Julio Bermejo, another passionate agave lover, known as the US tequila ambassador and creator of the Tommy's Margarita, a lasting friendship was forged. She made her first visit to the US in 2001 to visit Julio in San Francisco.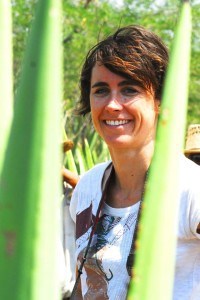 Sophie Decobecq is different from other female tequila brand owners. She is not only the owner, but the master distiller, and also a foreigner, who is deeply involved in every aspect of the procedure and in love with everything Mexico. She is smack in the middle of a male dominated world, and she survives with a smile on her face. She said it was frustrating at first, but she became totally addicted to it all, and I can see how her friendly and compassionate attitude helps her break down barriers, as Sophie puts her heart and soul into everything she does, and always with an infectious smile on her face. She fell in love with Mexico, the culture and it's history, and moved there in 2003 where she set up her company- IMEX International. Sophie has so much respect for the knowledge Mexicans have about making tequila, and it's connection with their heritage. Having launched in 2009, Calle 23 has already won awards including Double Gold for the Añejo at 2009 San Francisco Spirits Competition, along with gold medal for the Reposado and bronze medal for the Blanco, as well as numerous other awards. There are other great value brands out there, and I use those for my mixing, but Calle 23 has the feel of a well made quality product, and it won't break the bank, at prices as low as $22.99. It's perfect to have in the house as a staple. I love to sip all the Calle 23 expressions neat. Between the fruity and citrusy/agave forward Blanco, the robust, vibrant and lively Reposado, and the soft, smooth and tasty Anejo.....you will not be disappointed.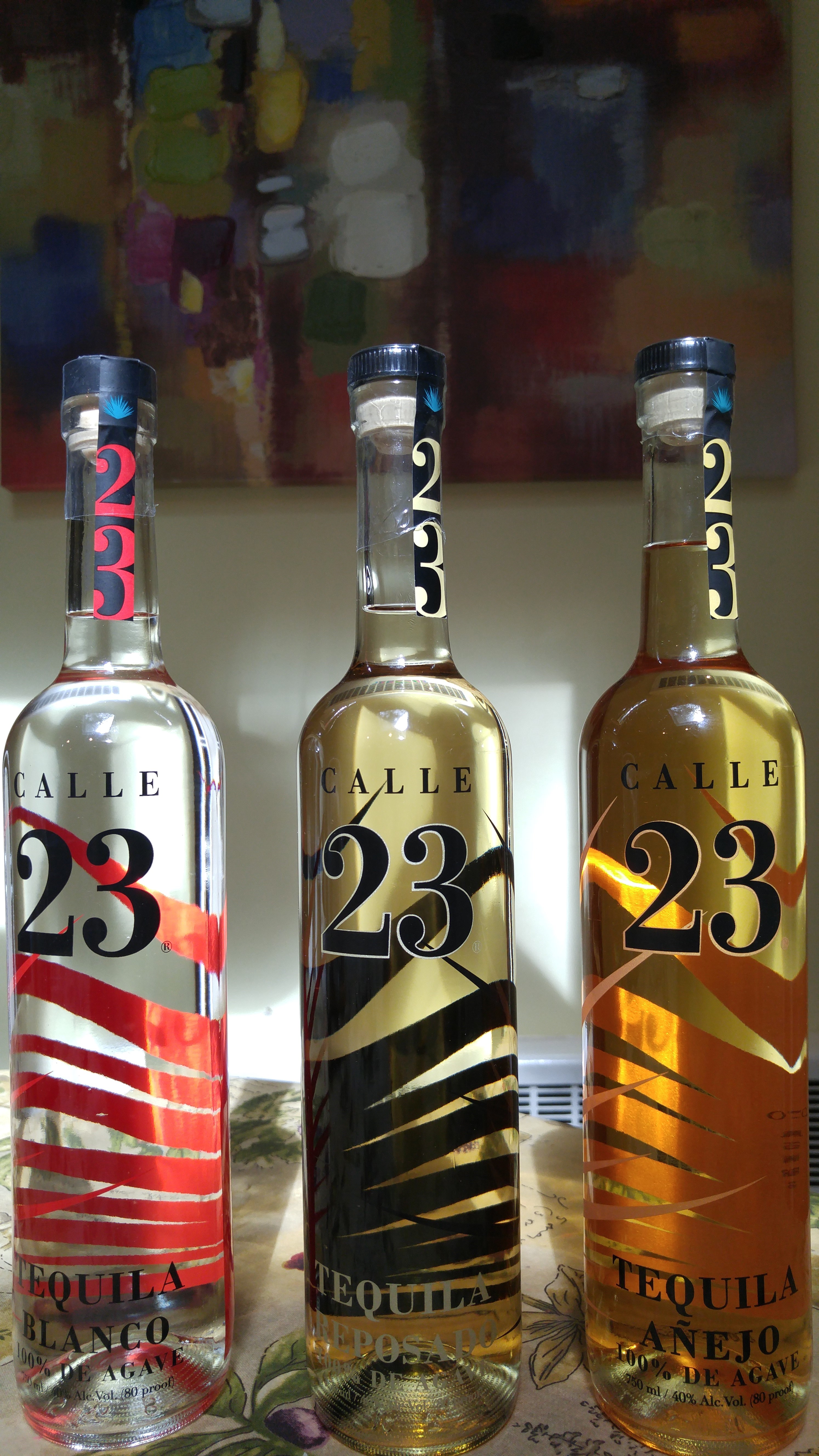 Calle 23's slogan is "Tequila makes us smarter, so drink smart". It's hard to argue with that one. Calle 23 Tequila was originally produced at Agaveros y Tequileros Unidos de Los Altos in Zapotlanejo, Jalisco- NOM 1529, but Decobecq has recently moved her company IMEX International, to Tequila Quiote, S. A. de C. V.-NOM 1433 in San Francisco de Asis , also in the Los Altos highlands. As Sophie told me in one of our numerous conversations, her relationship was great with the original owners and still is, however approximately two years ago, the facility had been shared with a new owner, and "it was just time to move elsewhere in order to keep growing the right way for the future." She explained to me her arrangement with the new distillery, in that she is not simply a contract brand there. Decobecq said "it is not a proper contract, Calle 23 uses distillery NOM 1433's facility, using its own process, and we do not buy a final product made from distillery 1433." She continued, "it means that we bring our own agave to the distillery, and then run the process following our own rules." She went on tell me "we have decided to move our production, yeasts and barrels into the new distillery called Quiote, which is located also in the highland region of Jalisco, in a town called San Francisco de Asís, (usually called San Pancho), which is very close to Arandas. Sophie told me that it's been a smooth change, and she is working hard at the new distillery, which has a very similar setup and equipment to the original distillery, making it easy to have such a consistent profile, as in the past. She said she is keeping the same characteristics for each expression, allowing mother nature to give it's little "touch of the chef".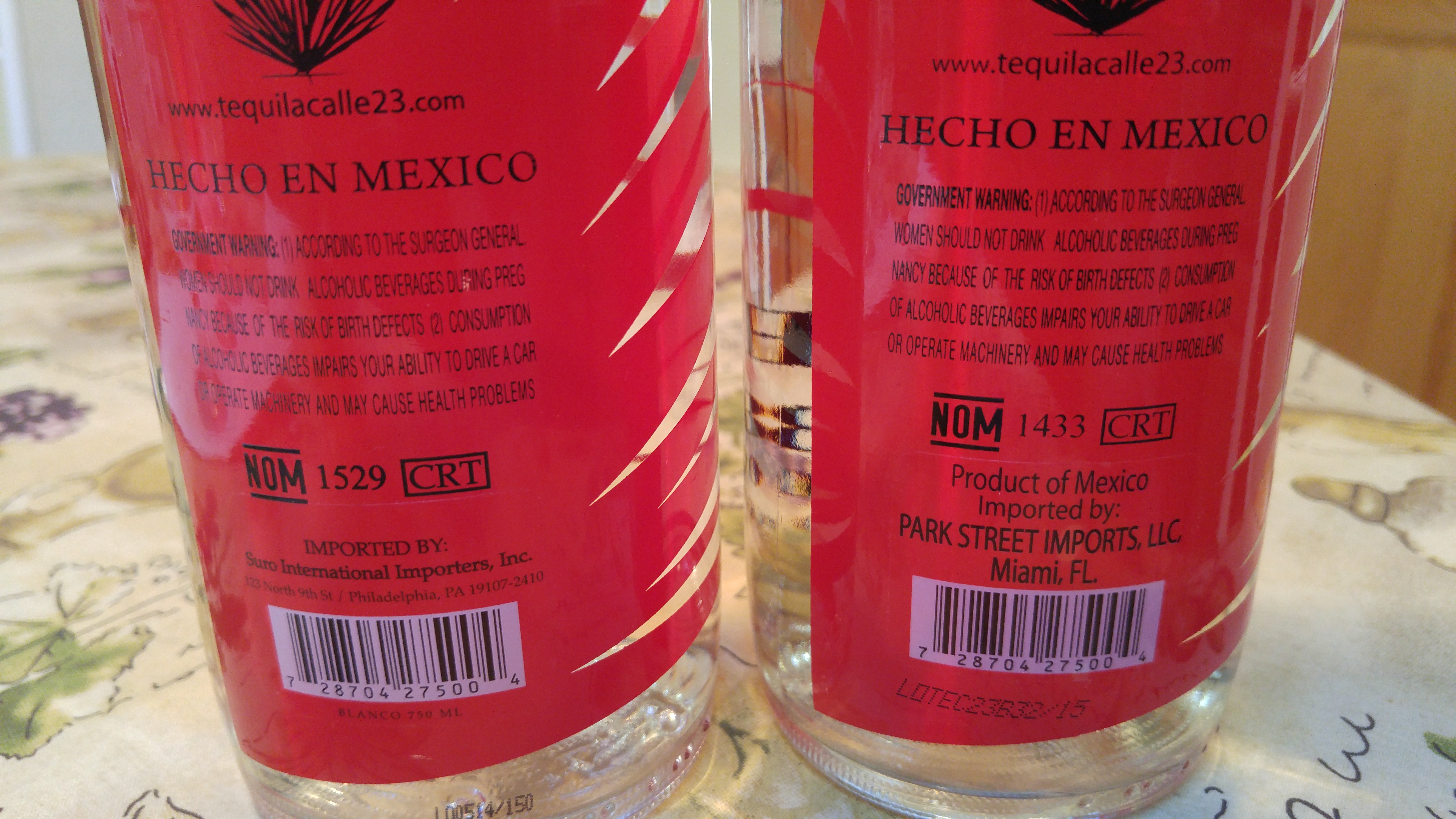 Decobecq told me "at this time all blanco and reposado on the market is from NOM 1433 and the anejo will be NOM 1433 in the next batch, which should be ready early 2017." Her anejo is already aged 15 months, but she prefers to let it age a little longer in barrels to get more roundness. I have a NOM 1433 bottle of Calle 23 blanco (shown above in the picture), that she was kind enough to send from the new distillery. Both are fantastic and very similar in taste profile. Sophie told me, she is determined to keep the profile the same, and she seems to have done a great job on that. Sophie Decobecq has extensive background in yeasts and microbiology, and she is very creative with the way she ferments, mixing different yeasts to achieve the taste she desires. This procedure greatly contributes to the taste profile of her line of tequilas. Calle 23 comes in 3 classes- Blanco, Reposado and Anejo, and the back of each bottle shows the blue agave pencas (leaves) in different colors. Red for the Blanco, black for the Reposado, and Gold for the Anejo. For the love, research, experience and creativity that she puts into every drop of Calle 23 ..... it's a no brainer to buy this quality line at this unbeatable price.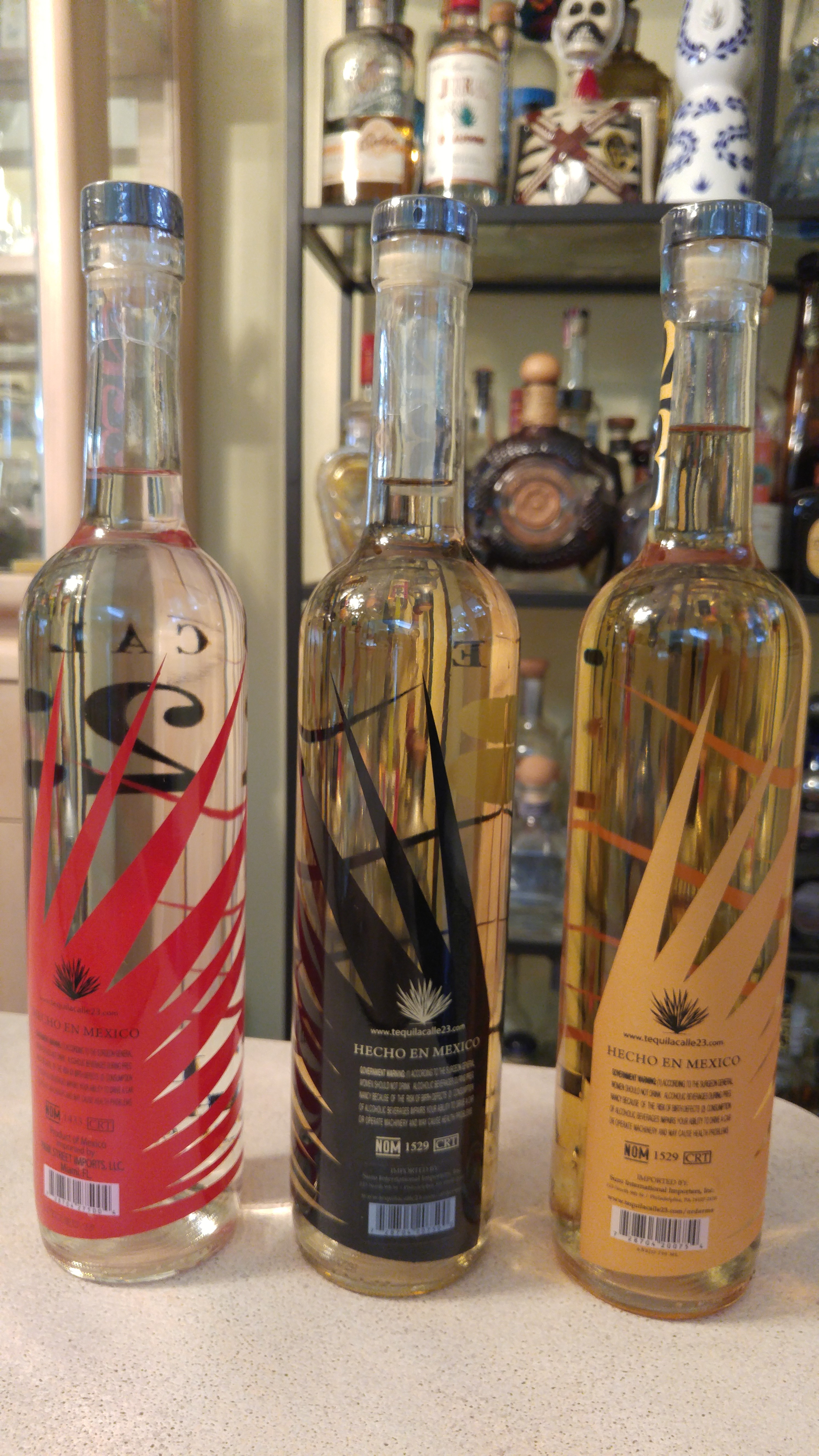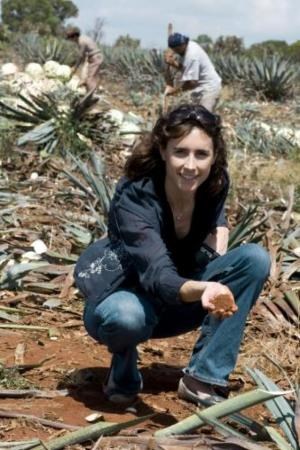 Being a 'Lou's Top Tequila' please see Calle 23's logo on the side of this page, click and visit Calle 23's Website.
PRODUCTION- Calle 23 starts with the careful selection of blue agave plants, sourced from Los Altos (Highlands) area, between the town of Tepatitlan and Arandas. This has not changed with the move to NOM 1433. In this area, the agave plants benefit from hot and sunny dry periods, followed by heavy rainy seasons, with mineral rich fertile soil, which produces richer and higher quality agaves, taking 7 to 9 years to reach full maturity. Many believe, at this altitude of 2,000 or more feet above sea level, that the thin air and the difference in temperatures between night and day can stress the plant, causing it to build and store energy, giving the agave more fermentable sugars. Calle 23 Reposado and Añejo get rested and aged in used American whiskey casks. The Reposado rests for 8 months and the Anejo ages for 16 or more months, in 200 litre used American whiskey casks.
COOKING- done at low pressure in stainless steel autoclave ovens, the agave pinas go through a total cooking time of approximately 16 hours (this time includes warming and cooling times). This manages to get the agave heart cooked, but the outside of the plant is not overcooked or burned. Sophie uses a detailed process, where she applies steam to the agaves, then does a purge, which allows the dust and wax to run off the outside of the cut pinas. After cooking more, another purge is done to allow the bitter juice to exit, followed by 5 more hours of steam after a long and slow cooking, with the heat already present in the autoclave. Sophie has a very elaborate procedure, concerning the cooking of the agave. She has said that she is aware of traditionalist concerns with autoclaves, but believes they are only a detriment, when cooking at high pressure. The new distillery (NOM 1433) having very similar equipment, uses almost an identical procedure as before, in the cooking process.
MILLING- (Grinding)- Calle 23 uses a rollermill which produce high sugar (brix) juice, called aguamiel (sugary juice), which is then diluted back for the next step of fermentation. Sophie told me "we adjust the milling, according to the season (rainy/dry season), so as not to dilute our sugars too much."
FERMENTATION- It is here where Sophie's biochemistry background, and fermentation knowledge and experience, help her do her magic. Decobecq uses three different natural yeasts, that she isolated from raw agaves in the fields, and cultivated at the distillery. Decobecq said "I am using 2 different yeasts for both the blanco & añejo, let's say A + B, and for the reposado, I am using 2 yeasts as well, A + C, as one of them is different than the ones used in the blanco & añejo." She has back up cultures of these yeasts, stored in laboratories in both Paris and Mexico City. The choice of yeast greatly affects the flavor in tequila, and Sophie has this down to a science. Fermentation is done in 25,500 litre stainless steel tanks. This process takes 72 hours to get a mosto of 3.8- 4.5 abv, and Sophie constantly checks yeast cell amounts and bacteria under microscopes. Sophie's experiments have led her to make two spirits with different profiles, according to whether they will go on to be blanco, reposado or añejo. Sophie says she feels "fermentation adds to the flavor, as yeast breaks the sugar chains, to create new chemical components, giving the alcohol the aromatic taste and smell." She feels this procedure is more important than distillation, which only takes things away. She has a point, and if you're getting the idea that she is completely hands on, detailed oriented, ambitious, meticulous, motivated, experienced, excited and proud of her work ...... you're right.
DISTILLATION- double distillation, is done in 5,000 litre stainless steel pot stills, with copper serpentine coils inside the still. Decobecq explained that the copper coil is the way to go. Sophie told me "as important as copper is as a catalyser, and important during the distillation process, having more copper inside the pot, may give you some copper in your final product, that you would need to quit through a stronger filtration." The first distillation goes for 3-4 hours, producing the ordinario (first distillate). It is filtered before going to second distillation in 4,000 litre pot stills with the "heart" for 12 hours, and with the head and tail cuts recycled back, to the next first distillation. The 54-56% abv is then filtered and chilled before being filtered again and mixed with distillery well water, to reach 40% abv. The blanco is then hand bottled without any resting.

BLANCO- for the unbelievable price of 21.99-24.99 this crystal clear and unaged blanco is quality made and great tasting, and is an absolute steal. What a bargain!! It's hydrated slowly in steps, in an aerated tank, then left to settle. It is smooth, clean, light, fresh and subtle, but vibrant, with noticeable cooked agave. Calle 23 is flavorful with a lot of character. Definite notes of green apple (Granny Smith) and pear, with a pinch of lime citrus zest, cinnamon and pepper/spice aromas. The cooked agave stays through the taste and finish, along with the fruit, citrus, slight mint, pepper and spice. Both the NOM 1529 and the new NOM 1433 have extremely similar, but ever so slight differences on comparison, basically negligible. Calle 23 blanco has been created with 2 specific yeasts, allowing the agave flavor to express itself the best. Sophie's choice of these yeasts and the fermentation process, makes this blanco shine, and gives it this wonderful flavor profile. This blanco is my favorite expression as it really expresses the agave. I can't speak higher of this easy drinking, tasty tequila. The quality here is unusual for a sipping tequila that is priced under $25. Calle 23 is a great sipper, and I enjoy it neat. This blanco having a mix of fruity and crisp flavors, only needs a simple mixer like orange juice, to make a tasty drink. Interestingly, the two yeasts used in the blanco, are the same ones used in the anejo. Let it open up for a moment to dissipate some minor alcohol heat. I would say, even at double the price, this is an excellent blanco.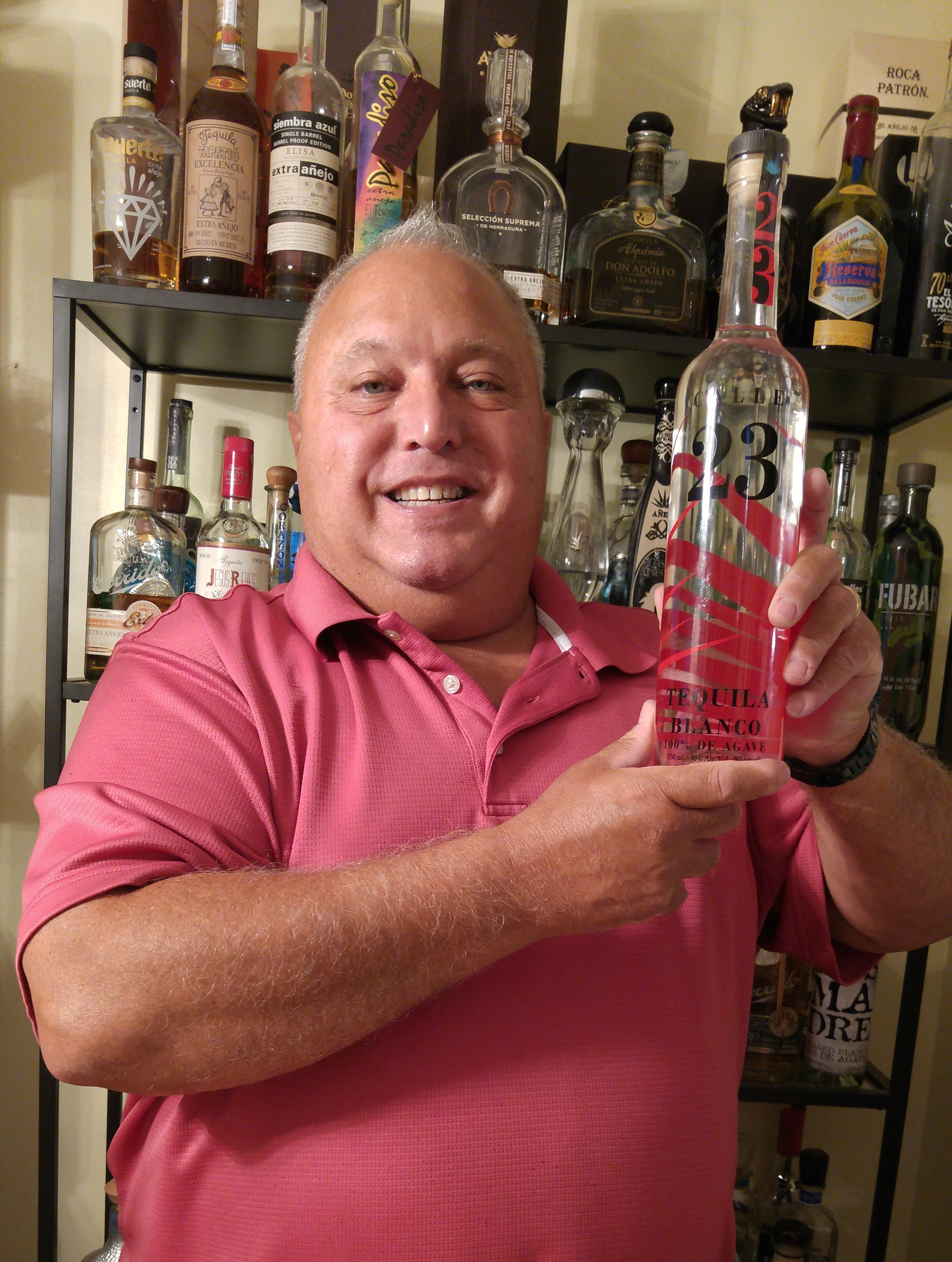 NOSE- light, clean, fresh and subtle, but vibrant and fruity aroma notes. It clearly has aromas of cooked agave, mild sweetness and a pinch of floral, mint and smoke, with some citrus and spicy notes. Definite aromas of apples (granny/green) and pears, with some minor alcohol presence.
TASTE- light to medium oils, fresh, light, and fruity with apple, pear, and a pinch of smoke. Some minor notes of anise (licorice), mild pepper, citrus and spice. It has a smooth creamy mouth-feel and a light sweetness.
FINISH- slightly sweet and fruity lingering aftertaste. A lively, smooth, creamy, balanced medium length exit, with a nice pinch of pepper and a mild alcohol tingle, which is pleasant.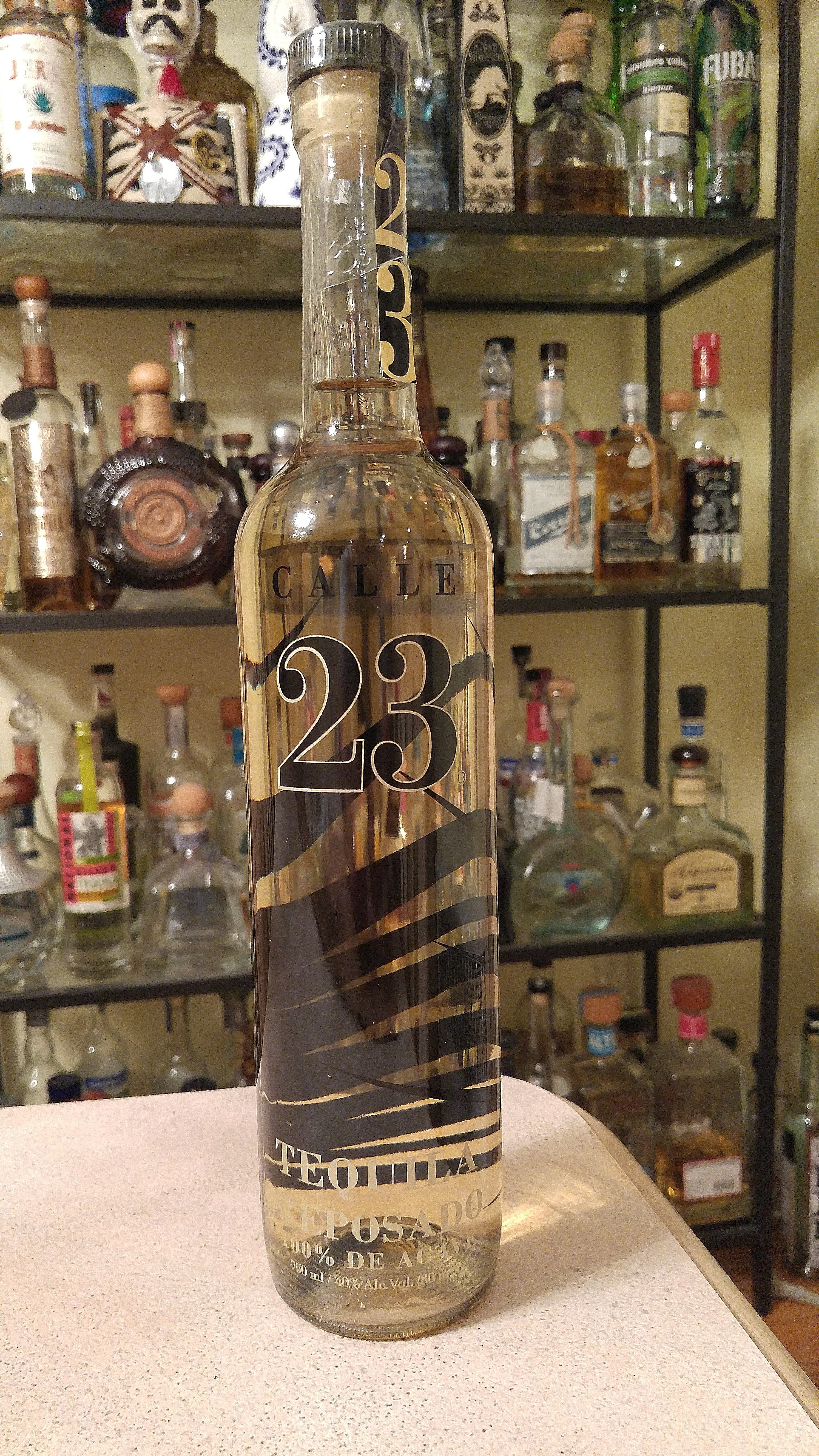 REPOSADO- NOM 1529- at approx $26.99 this reposado is robust and lively, and as Sophie put it, "has its own personality." With this Reposado, one yeast is in common with the Blanco and Anejo but the other is different. This is done to bring out the balance within the agave, and the spices from blanco, along with the light wood elements. Rested in ex whiskey oak casks for 8 months, and although I don't have a ton of favorite Reposados, **this Repo is spectacular.**This is simply perfect as far as I am concerned, and if I wasn't such a blanco lover, THIS would be my favorite of all the Calle 23 expressions. It is so vibrant, bright and lively, and not full of oak, sweetness or vanilla.... thankfully. It is light in color but strong in taste. It has nice aromas of light smoke and tobacco, a pinch of caramel and honey, and maybe a touch of nuts and cream. It has just the perfect touch of oak. It's smooth to sip, silky and buttery, and has tasty spice notes, but like the wood- it's not overbearing. There is some fruit notes, but less than in the blanco. Decobecq used a special mix of yeasts for this, showcasing the agave and not the wood, and that's what I love, as it is perfect for sipping.
NOSE- bright aromas, light oak, cream and honey with some light smoke/tobacco. Balanced spice, mild fruit and some sweetness with very light vanilla, some citrus, caramel, and a touch of pepper.
TASTE- light to medium oils, some agave sweetness and light oak, smooth and buttery. There is a pinch of honey, smoke and mild fruit, with some pepper and spice. A nice touch of of mild heat.
FINISH- smooth and buttery, some nice spice and a short to medium finish. Some mild sweetness, light oak and a mild pleasant alcohol tingle.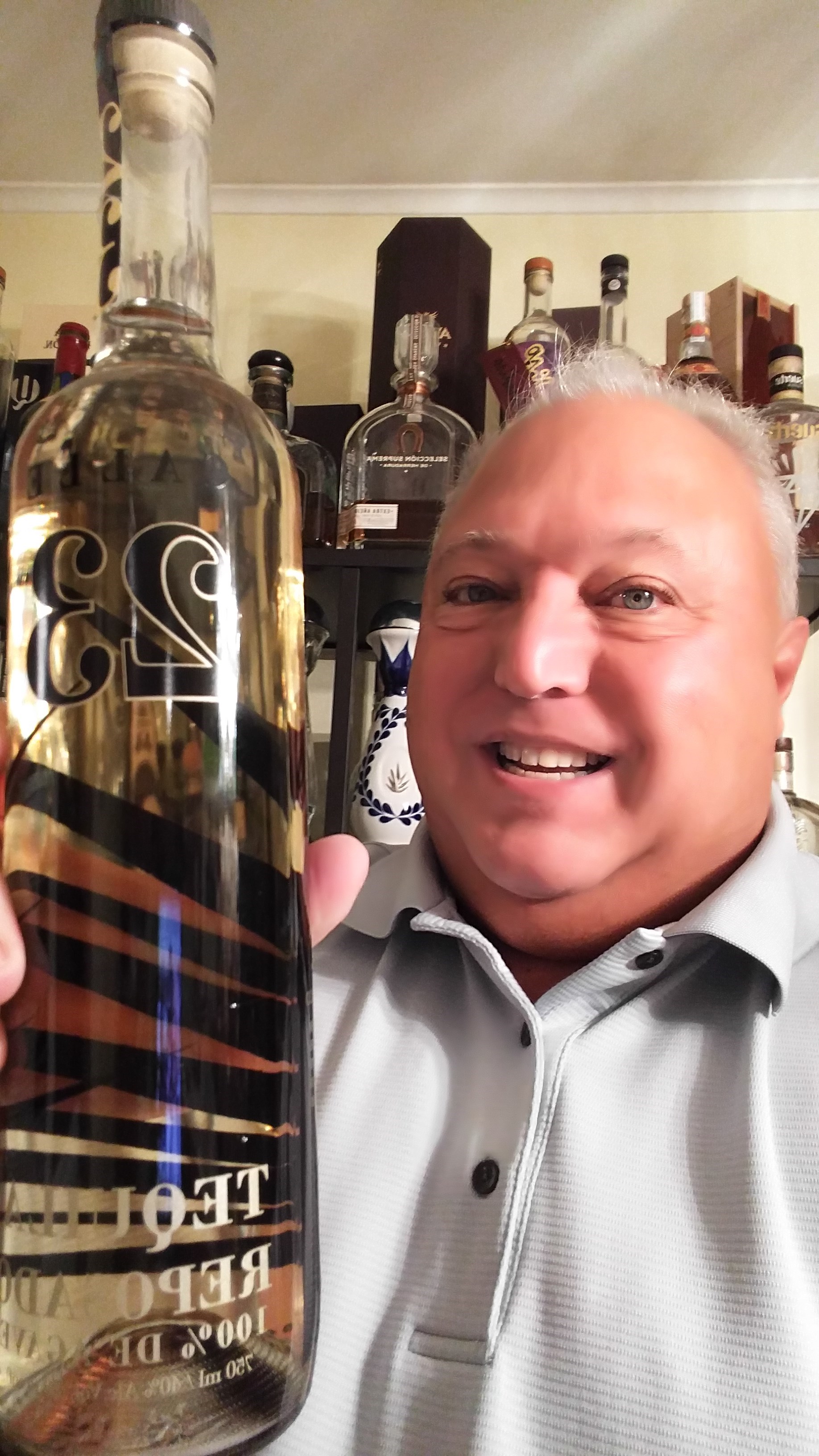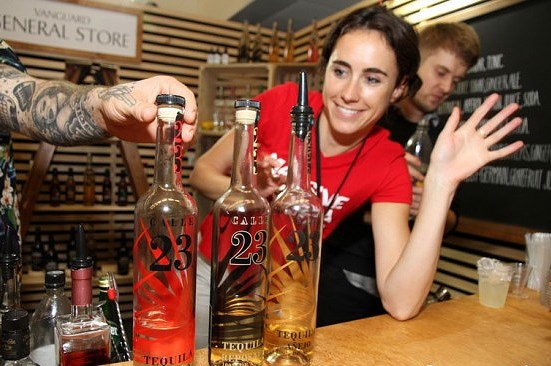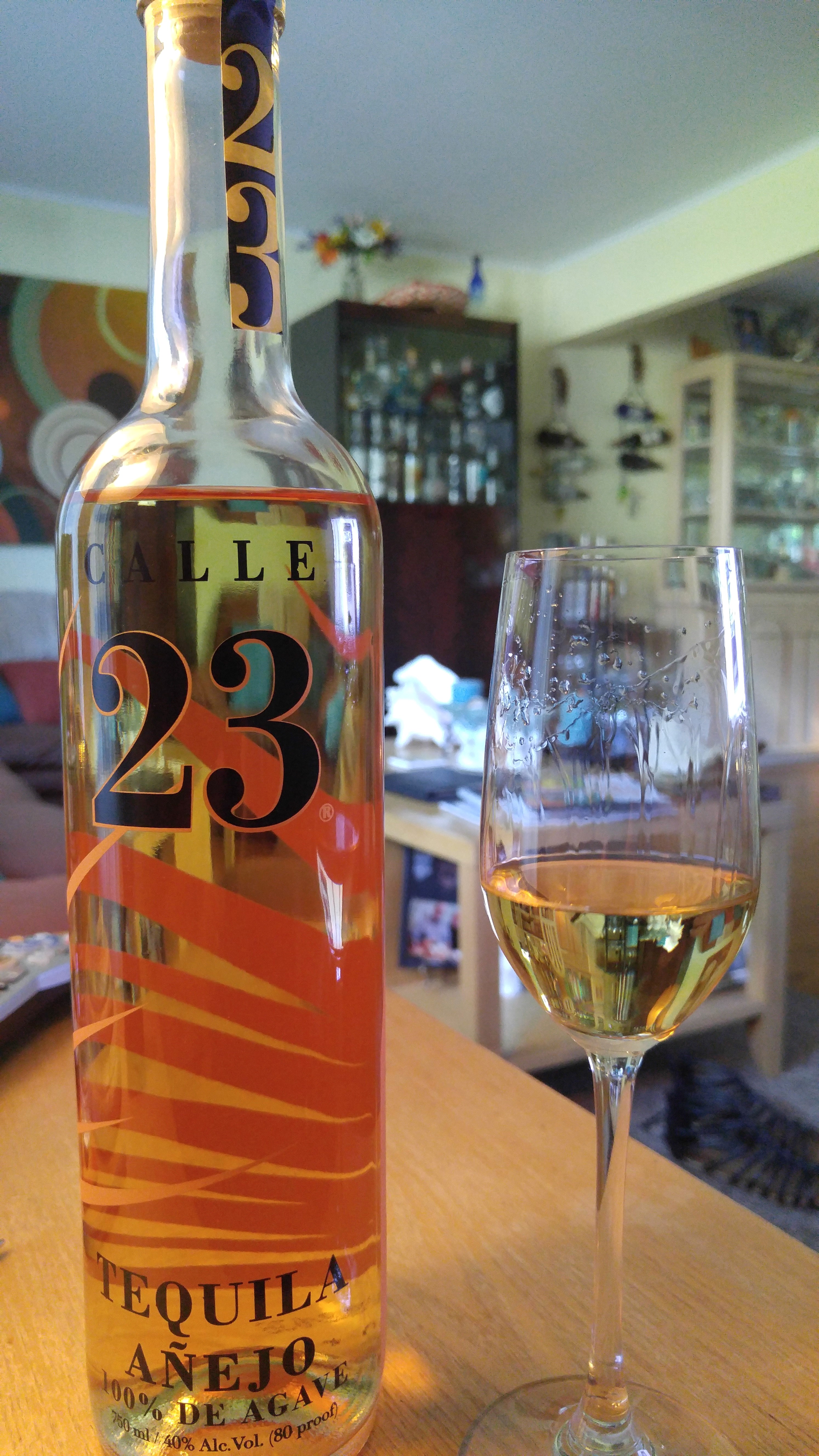 ANEJO- NOM 1529- as low as $33.99, this Añejo was produced to single out the agave character of the blanco before aging, so the same two yeasts were used here, as with the Blanco, to highlight the agave. This añejo, as Decobecq said "is a blanco, but much rounder". Sophie went on, "I was looking for agave notes and then giving space to get characters from the wood, and more than anything, from the oxygenation through the time spent in barrel." Aged for about 16 months in used 200 litre American casks, previously used to age whiskey in Kentucky, this anejo offers a soft, clean, very smooth and creamy feel. Calle 23 Anejo has some nice heat, and a nice amount of sweetness, and is so tasty and complex. It's intricate, balanced and alive with energy. Some tea aroma and excellent smoke/tobacco notes, along with a great balance of wood, vanilla and sweetness. It has a light yellow/gold color, but it's heavy in aroma and taste. Let it breathe in the glass before sipping. There is more to this than I ever expected. It has the nose, taste and overall feel of a darker, more expensive anejo. This will surprise you, like it surprised me, and I really love it. This was an unexpected delight for me, and it will now be one of my favorite drinking anejos. Aged up to 16 months, this is an anejo where you can actually smell the agave, and is rich and satisfying.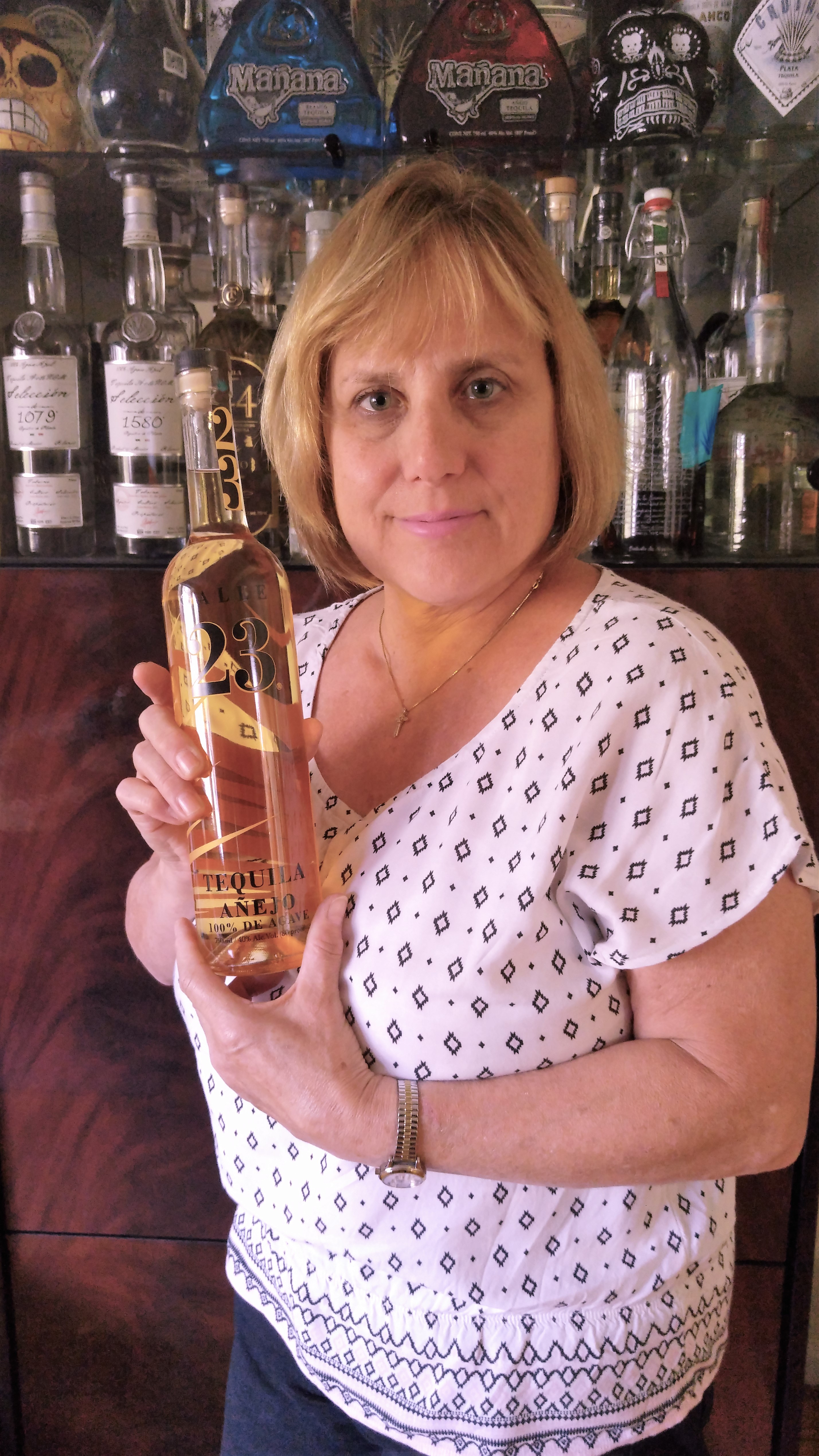 NOSE- light vanilla, caramel and slightly fruity nose. A light cognac/oak presence, smoke/tobacco and a tea sweetness, with mild honey, cream and spice. A surprisingly complex nose that keeps bringing out different notes, like coffee, salt and a pinch of cinnamon.
TASTE- medium oils, smokey and coffee notes, rich and buttery, tea notes with just enough sweetness and spices. Very smooth, slightly salty with nice cognac/oak taste. The wood amount is perfect, and definitely not overdone. Some caramel, honey, butter and vanilla, but again... just enough. The balance here is extremely nice.
FINISH- smokey and mildly sweet with light oak, caramel, pepper, some honey and a slight bit of heat, leaving in a tasty medium length finish.
Calle 23 Tequila is very easy to like and high quality, for a very low price. It truly is one of, if not the best deal around at these affordable prices. I will always have it in my home, and I love all 3 expressions. The Blanco has a nice agave punch with a fruity and citrus profile, the Reposado is absolutely amazing, as a hardy, vibrant and lively treat, and the smooth, oaky, slightly smokey and easy sipping Anejo, make them all great expressions. I loved Calle 23 and I know you will too.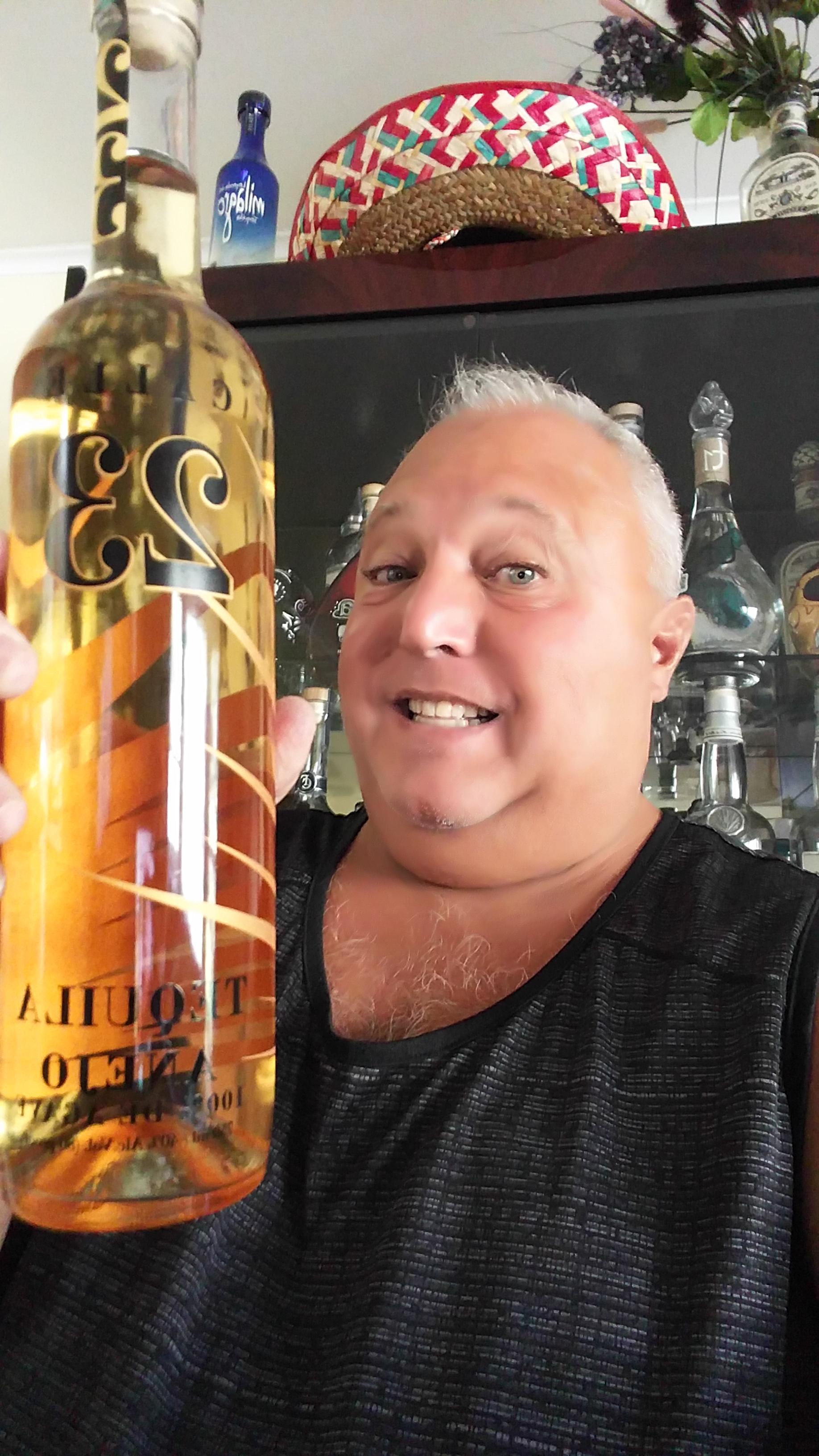 SEE More Honest Reviews and REAL Top Tequila Lists, and Please 'like' Long Island Lou Tequila on Facebook- HERE- https://www.facebook.com/Long-Island-Lou-Tequila-641682619241422/