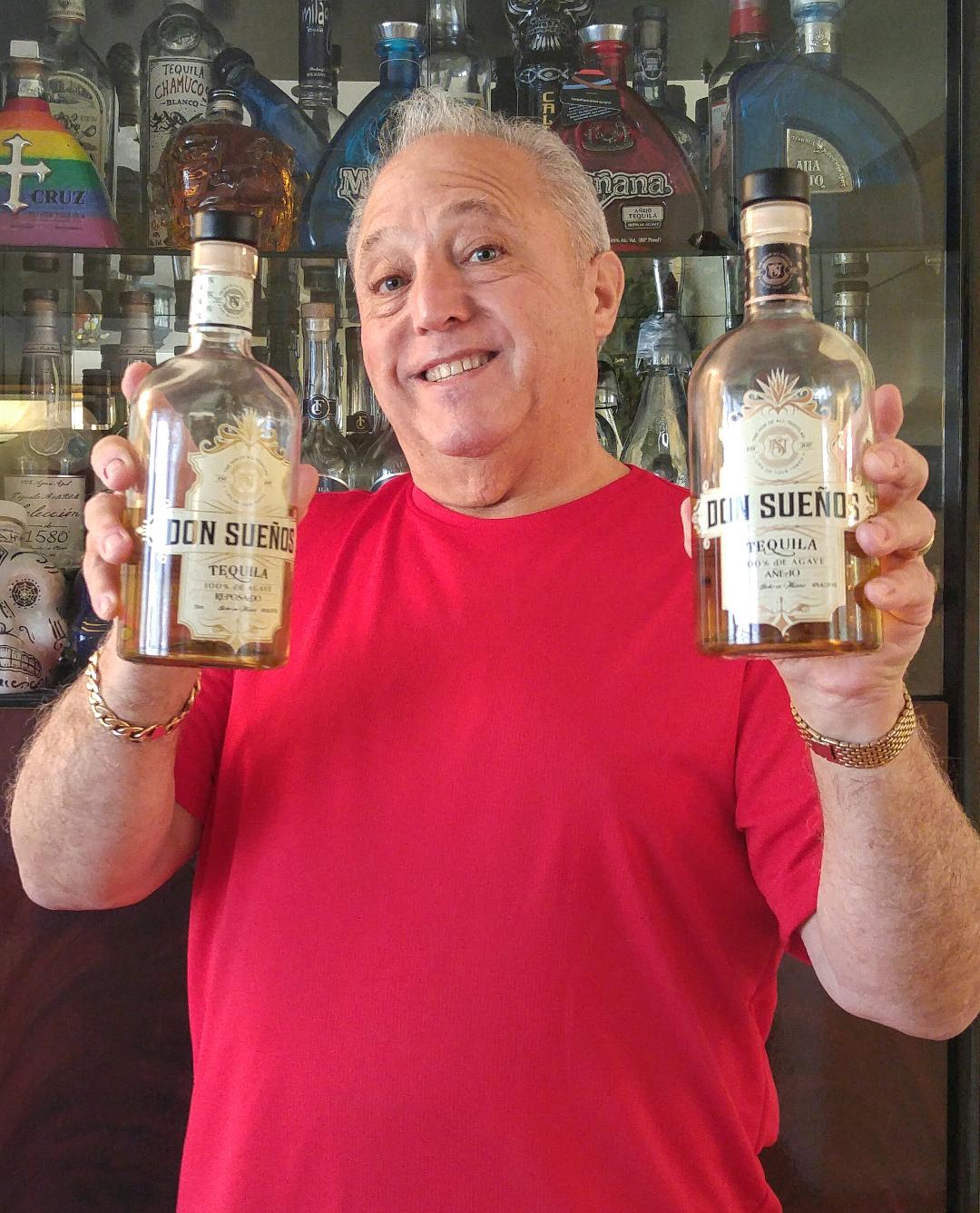 Don Sueños Tequilas are produced at Casa Tequilera de Arandas- NOM 1499 in Arandos, Los Altos, Jalisco. Tre and Kumiko Zimmerman (BELOW) are the owners, and they have Jose Aceves, a fantastic Master Distiller overseeing it all. Aceves has created many brands and has years of experience, and puts his signature on every bottle- (BELOW). Jose and his brother Ceasar build brands, and have their own company called Casa Aceves. The Aceves family has been cultivating agave for 3 generations in the area, and Aceves and Don Suenos just won Platinum awards for all 3 expressions at the 2018 SIP Awards, as well as winning silver in all 3 expressions at the 2018 San Francisco World Spirits Competition. Don Sueños Tequila is the first tequila company owned and operated by a Japanese woman. This is in fact, a woman minority owned, all natural single estate tequila company. Kumiko Zimmerman runs most of the business, and she is very passionate about tequila and her brand. They love tequila in Japan and being from there, Kumiko has worked very hard and has now arranged for Don Sueños to be sold in Japan, starting any day now. Don Sueños means 'dreams', and at these prices starting at $31.99, you dont have to dream of a smooth and tasty, inexpensive and additive-free sipping tequila anymore. I know I like to have some 'everyday sippers' on hand, so you dont have to kill your amazing, and expensive tequilas so quickly. You know who these good everyday tequilas are. They are usually the $25-45 blanco tequilas, always 100% agave and hopefully additive-free for the Repos or Anejos, in this price range. We all have our favorites in this category, but in this case, the 'entire' Don Sueños line, NOT just the blanco, is in this price range, and can easily hold it's own. After spending a lot of time discussing their brand, Tre and Kumiko explained to me, that although they are learning the business, they surrounded themselves with top quality people, and believe they have come up with a great winning team and recipe. I would say that they have indeed done this, and at the price points for their expressions, these are solid, well made, clean tasting sipping or mixing tequilas..... that will never break the bank.
Tre and Kumiko Zimmerman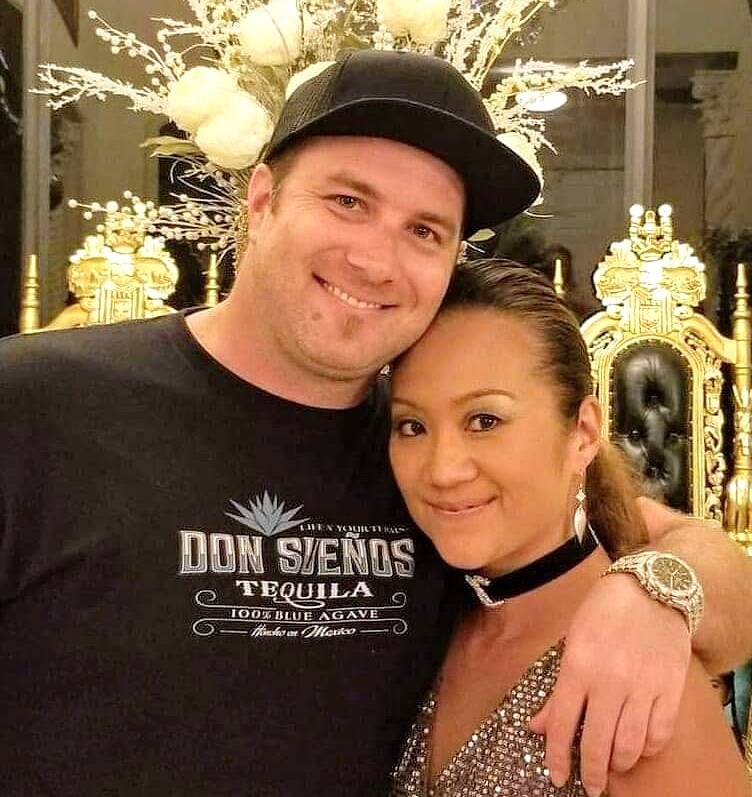 Jose Aceves- (left)- Master Distiller with Tre Zimmerman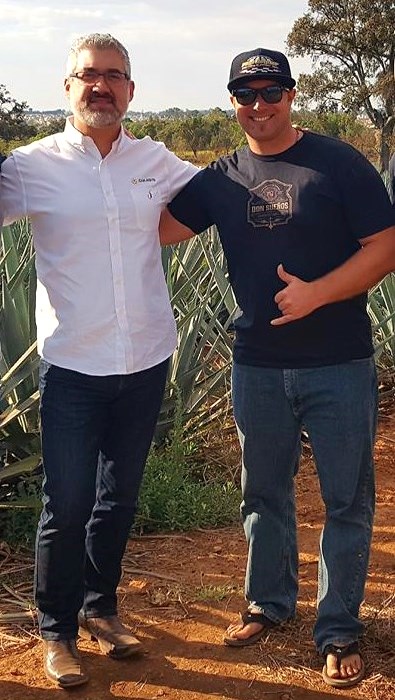 Don Sueños is produced by using traditional methods, and neither the Zimmermans nor Jose Aceves would ever consider using a diffuser, which seems to be the way many brands are going. Instead they use only estate grown Los Altos agaves, slow cook in autoclave ovens, ferment using natural yeast, and distill twice in all copper, then in all stainless pot stills. Without ever using additives or colorings, they achieve this natural silky smooth profile by resting the blanco in neutral stainless steel for 59 days to settle it down and round it out, making it softer with less alcohol burn, then oxygenating before bottling. They also cut much of the heads and tails away during distillation, to keep the sweet center or 'heart' flavor. So it may not be the most complicated or bold profile, but it is pleasant and tasty, with absolutely no offending flavors. It's hard to find anything really 'wrong' with this tequila. This is what they were aiming for, and without a doubt achieved this. They are coming out with an Extra Anejo by September, and I understand that Jose Aceves is very happy with it, and I know I can't wait to give it a try. Concerning quality, smoothness and approachability, Don Sueños is a bargain at these prices, especially for anyone that likes a light, fruity, tasty, smooth tequila. Anyone who thinks tequila burns or that it doesn't taste good....... never tried Don Sueños.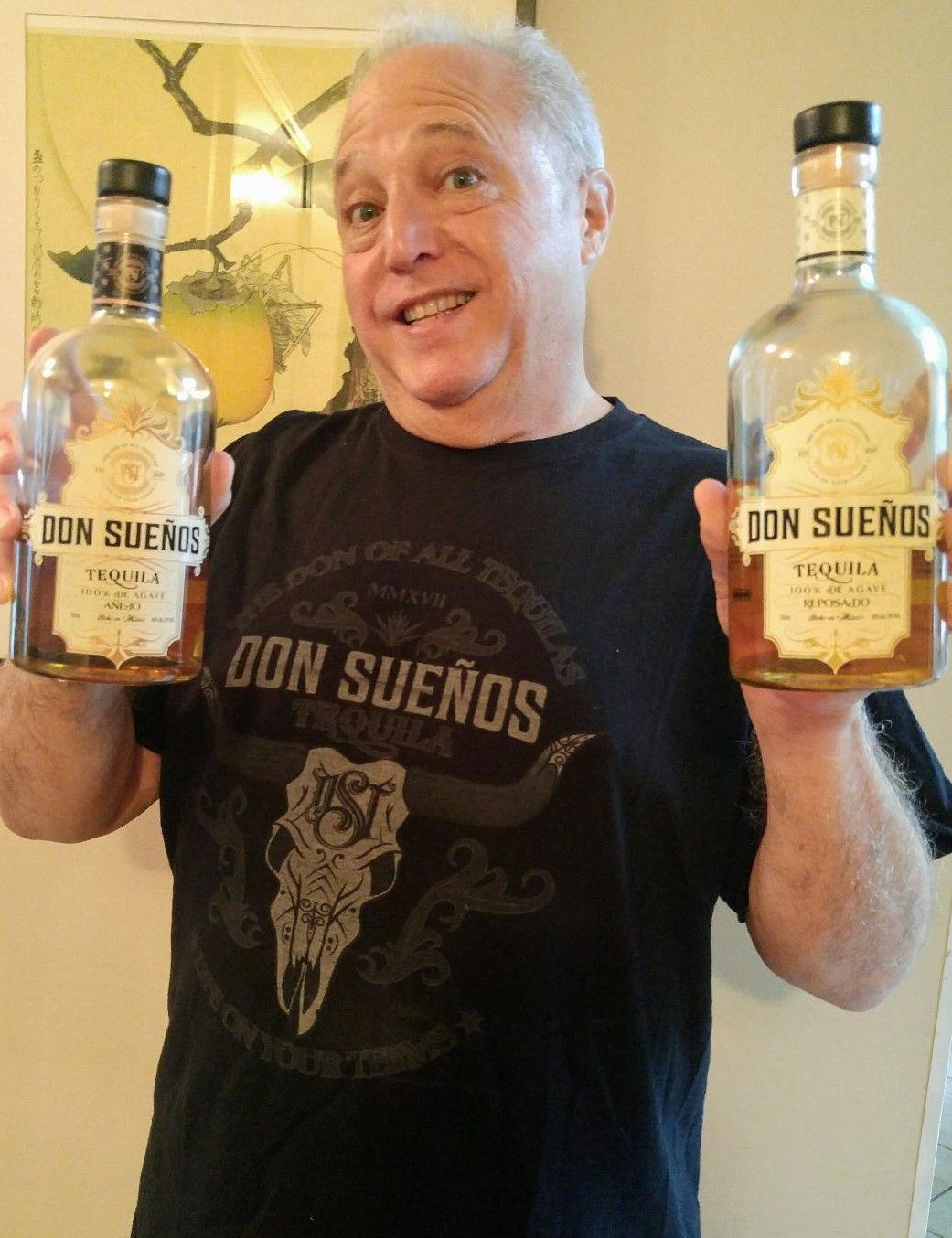 I was able to try the entire line of Don Sueños Tequilas, after initially reviewing it back last year and posting it on most FaceBook Tequila pages. Having purchased numerous times from their own website, and even getting a T-shirt (ABOVE) in one order, as they often gave out at first, I realized the value of this brand. These owners are regular people, and want to be part of the tequila community. They have reached out to not only me, but others with questions and explanations, and seem to be genuinely nice people, and I like that a lot. Tre is a businessman, and regardless if it's a business venture or a tequila brand, the Zimmermans want to be associated with a great product. I have found total transparency from them, and saw how accessible Jose Aceves was to Tre, on a number of occasions, during this review. The Zimmermans have told me on a few occasions that they are doing everything possible to keep the prices down, so people will try Don Sueños, in this very competitive tequila market. As I have been tasting all 3 expressions for quite awhile now, and enjoying them, I have a good feel for this solid and tasty brand, especially at these prices. I sip tequila neat 95% of the time, and I've rarely mixed an anejo in a drink before, as mine are usually too expensive and I feel funny doing it. For some reason (probably because it was only about $42), having a drop of anejo left, before opening a newly purchased bottle, I put Don Sueños anejo in some OJ, with a drop of grenadine, and if it wasn't the most amazing and quickly made, tasty sweet tequila sunrise I ever had. My wife loved it, and she is not a big tequila fan. So for sipping or mixing at these prices.... this tequila works. Some other brands produced at Casa Tequilera de Arandas are 3 Amigos, Aqua Riva, Loma Azul, 1921, XQ and Nocaut, among others.
Watch for Don Sueños tequilas- Coming soon to key markets across the US. Some big news is that ZEE's Old Town Tequila Superstore has stocked the Don Sueños line and is available now- HERE- https://www.oldtowntequila.com/don-sue-os/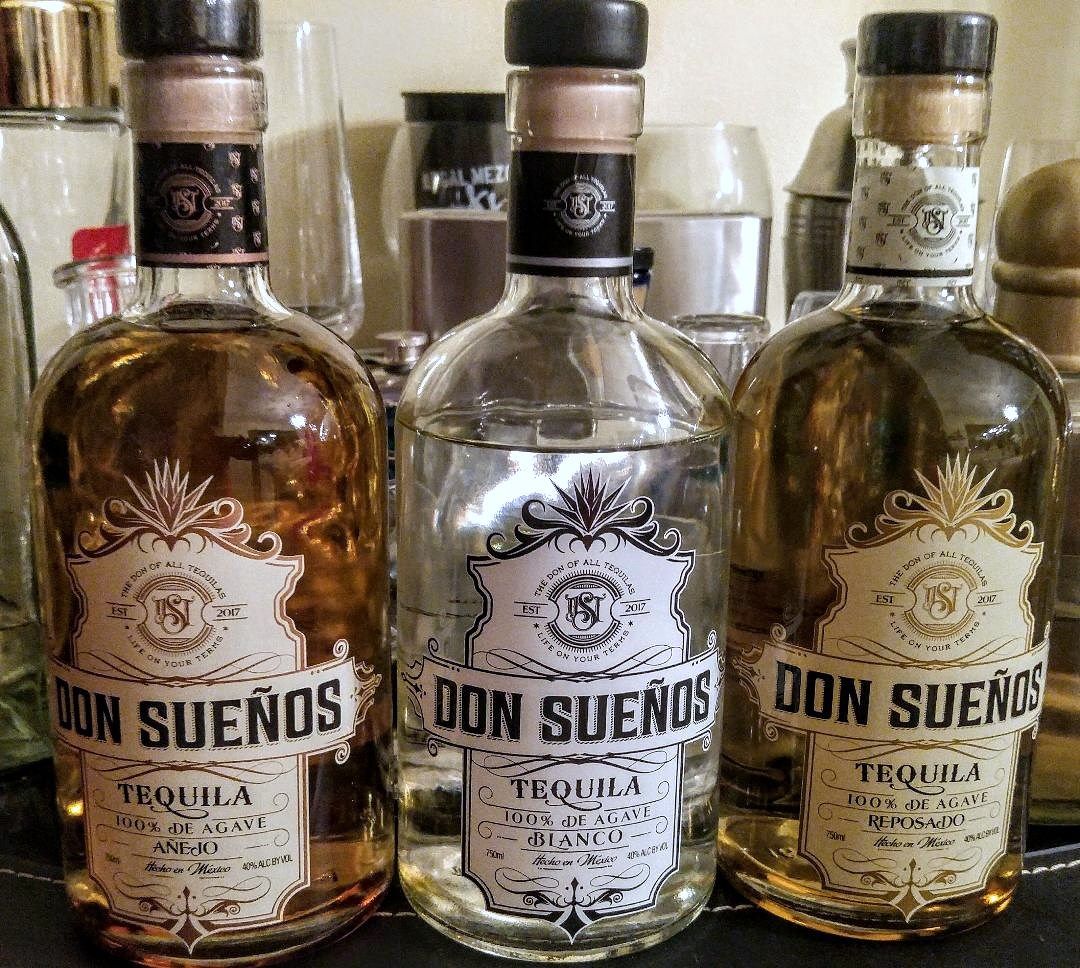 I have sprung this Don Sueños blanco on friends, including 'non tequila lovers', and everyone said it was great... tasty, light and easy to drink, then asked....what was that name again? Although it is fairly simple and uncomplicated, it is also light and not overpowering, smooth, tasty... and a very easy drinking tequila. The blanco has a nice soft, floral and slight citrus and fruity presence, a sweet agave aroma, and a vanilla creamy presence... with just an ever so mild bite. Many people will find this very agreeable, and especially new people to tequila.... will absolutely love this. Don Sueños seems to be made specifically to be non offending. In my opinion, Don Sueños tequila has no manipulated taste whatsoever, and the aged expressions for example, are a better buy than many Reposados and Anejos tequila's costing $55 and more, with some tasting manipulated to me. The owners, and the Master distiller do not like additives, and say they do not use any additives in the procedure, not even the 1% which is allowed.... and it shows in the taste. If you taste oak, caramel, vanilla, and more.... rest assured, it's only from the barrels.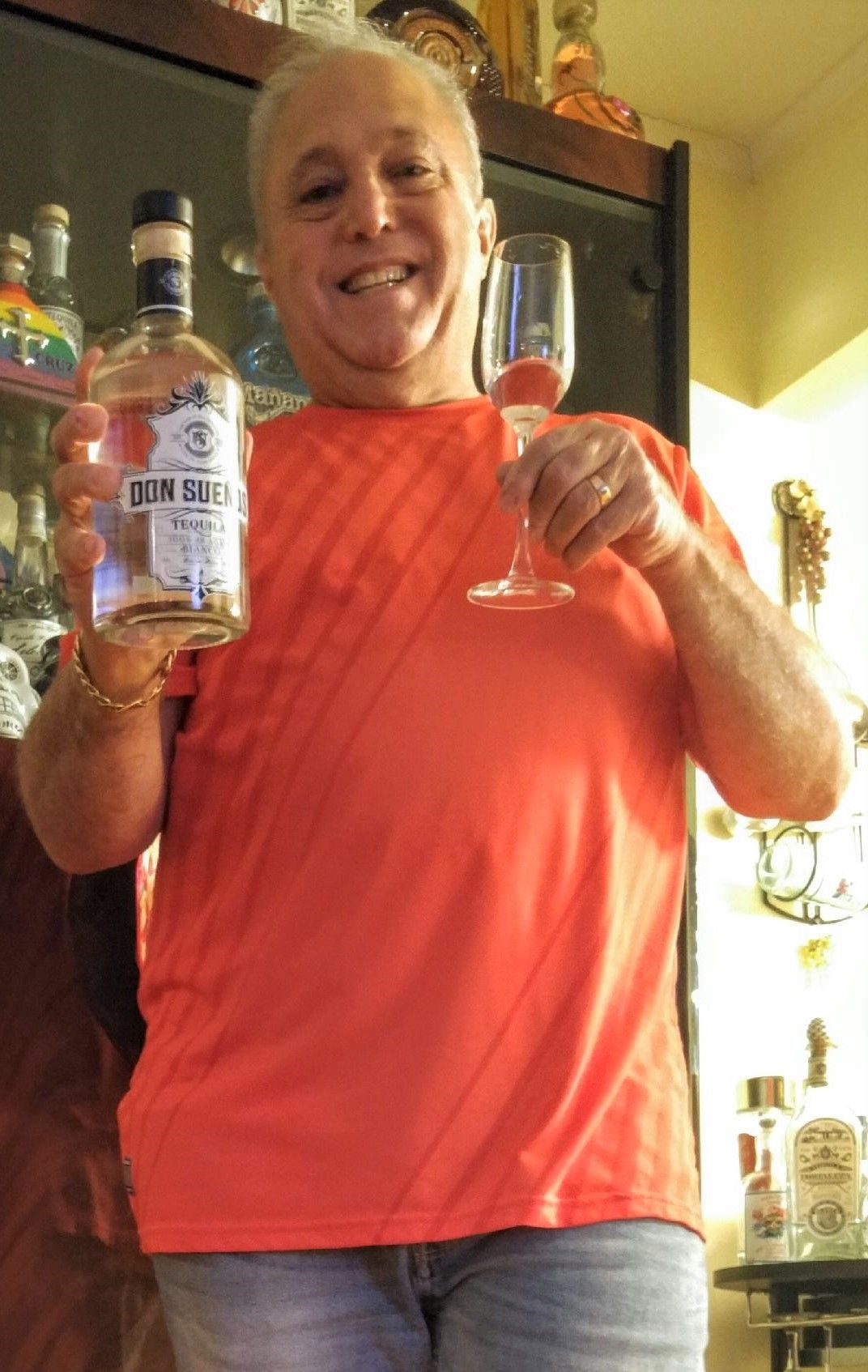 Don Sueños is a 'Lou's Top Tequila' due to it's solid production methods, clean taste and inexpensive price. Please see the Don Sueños Logo here on this page, click and go to the Don Sueños website.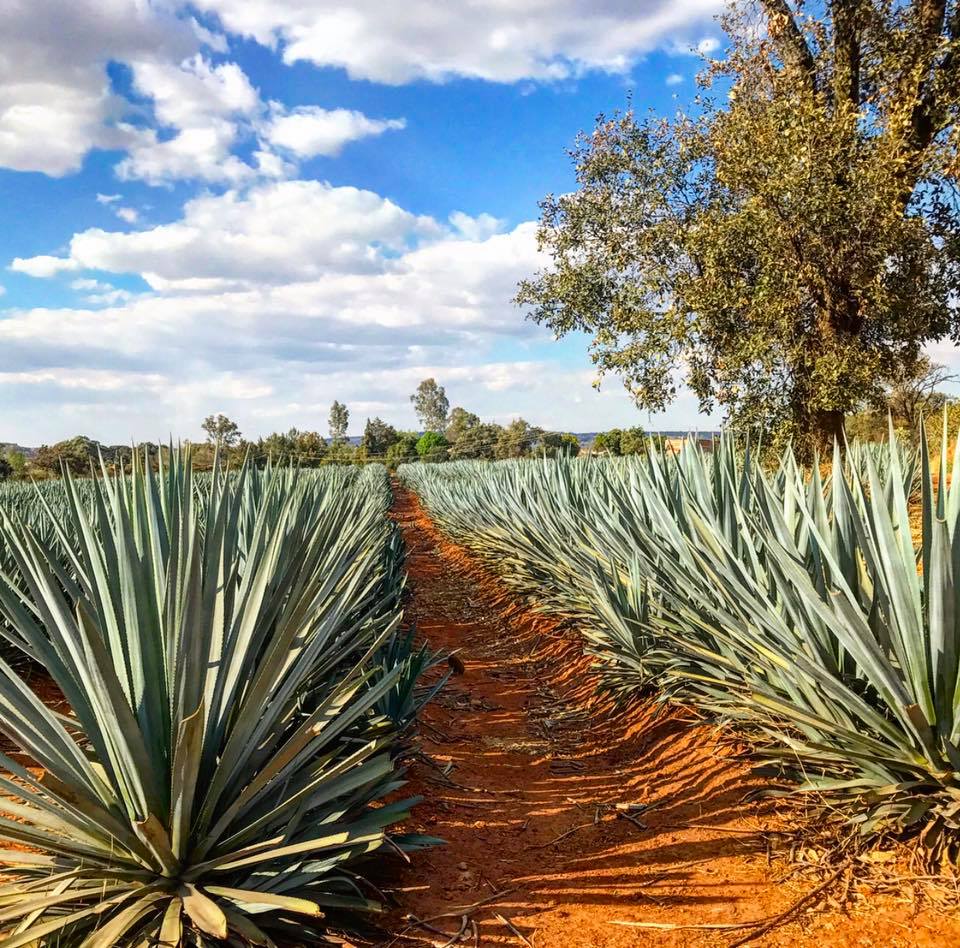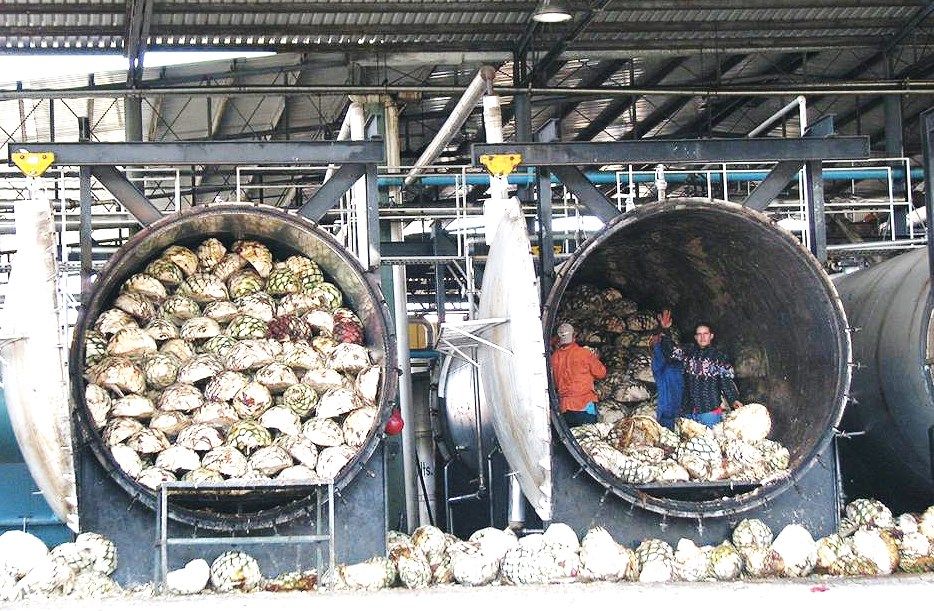 PRODUCTION- Don Sueños uses all estate grown Los Altos agaves from fields located in what is referred to as "El Triangulo Dorado" (the Golden Triangle) in Los Altos, Jalisco (ABOVE). After harvesting, Don Sueños cuts the cogollo bud from the male plants at the moment it springs from the agave, before putting it in the oven for a less bitter taste. It is then steamed cooked in stainless steel autoclaves for 12 hrs in a 20 ton autoclave, and then it cools for a period of 3 to 5 hrs (SEE ABOVE). Shredder/roller milling comes next, followed by fermentation in stainless steel tanks using natural yeast. Double distillation is done, first in all copper pot stills (SEE BELOW), then in all all SS. You get the best of both worlds with the copper pots doing the job of taking out the undesirable elements like sulfur, an element that has a foul taste and is naturally created when yeast ferments. Also copper pot stills imparts a distinctive flavor, while stainless will settle, loosen and even out the profile. I'm assuming the easy to drink soft, silky smoothness is from a few things. Without adding any additives or coloring's, these procedures definitely contribute to the easy sipping profile. First after distillation, they rest the blanco to settle it, making it softer with less burn. According to the Aceves brothers- "the silver is in stainless steel for 59 days for stabilization, after passing through a cooler to remove agave fats". They also oxygenate it before bottling, through the Venturi Oxygen microbubbles injection system, for an even more softer taste. The combination of these 2 procedures will make a soft and smoother tequila, but they also do a 'wide cut' during distillation, keeping mostly the heart (corazon only), which is only the sweet, neutral flavors, thus eliminating anything else that would make people say they don't like some of the tastes. According to Cesar and Jose Aceves "at the time of distillation, we constantly review the product to determine, until we find the profile we are looking for (organoleptic review of the product), and it is there where the heads appear. The same in the Colas (tails), we cut them when we determine that the alcoholic degree and the flavors are not part of the profile". The water used is local chilled deep well water in Arandas. For resting and aging, American Craft Bourbon oak barrels are used.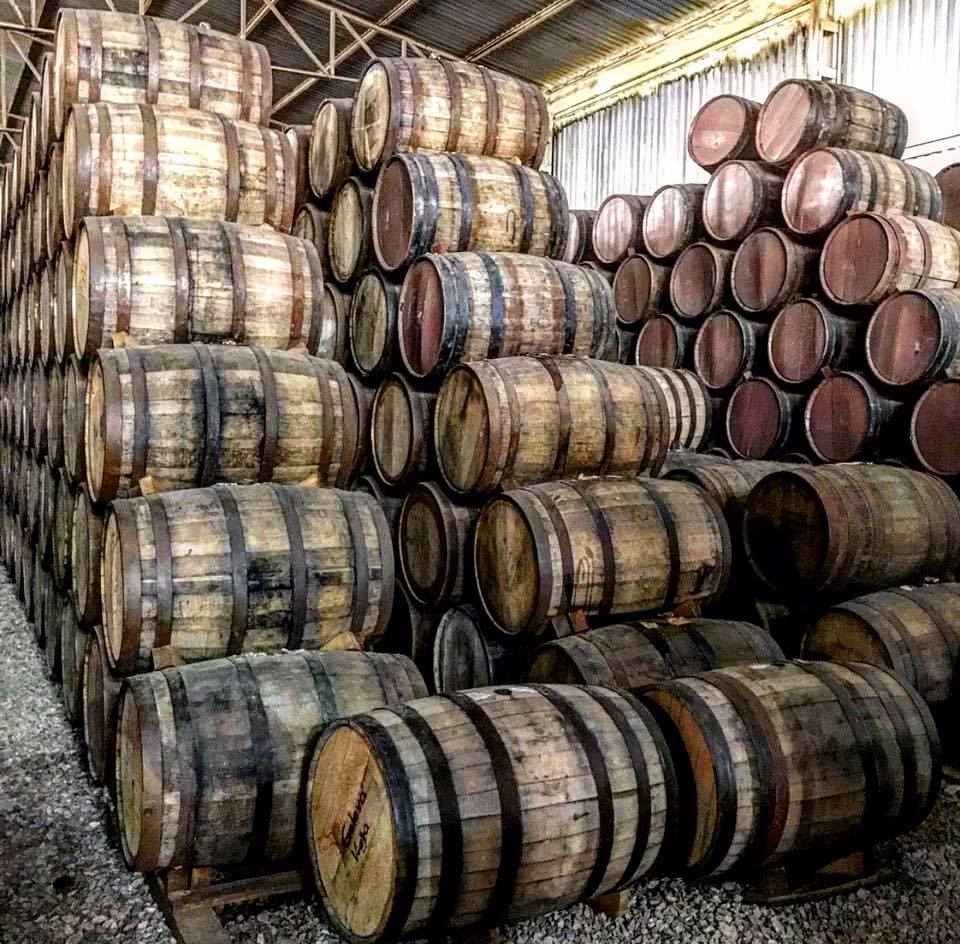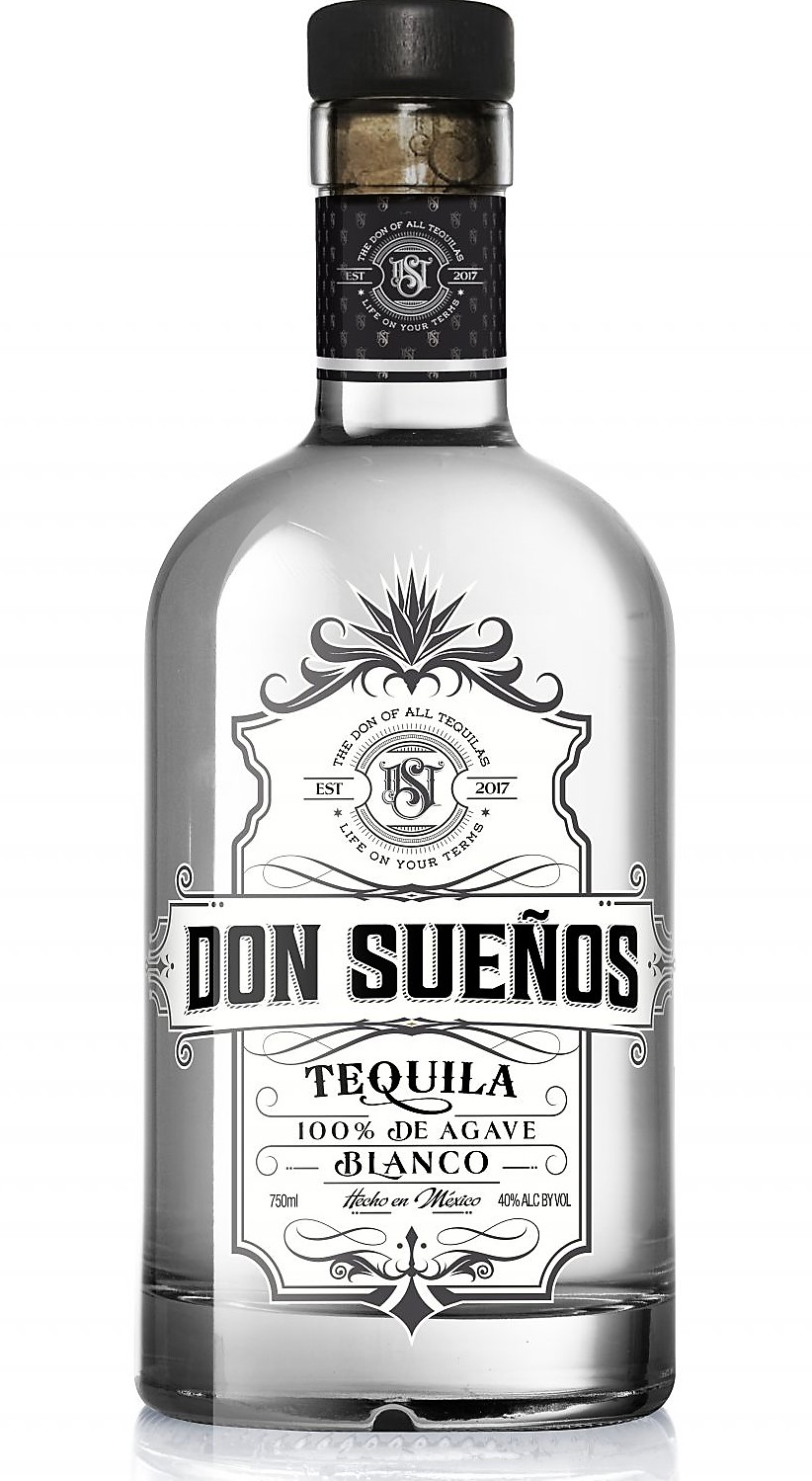 Don Sueños blanco, is double distilled and sells for about $31.99. It is one of the lightest and smoothest tequilas I have run into. Don Sueños blanco has aromas of fresh agave with a hint of citrus (lime) and earth. There's a softness, with a slight floral and fruity presence (melon), a light olive brine, light spice, light mint, and there is a nice amount of cooked agave sweetness, without being overpowering. I also picked up some light anise (licorice) which is always pleasant, smoke and some black pepper. It had a vanilla creamy aroma as well as in the mouth-feel. Tastes of sweet cooked agave, light vvanilla, some citrus and a touch of fruit, with a creamy presence, some nice agave sweetness and definitely smooth and silky, and very easy to drink. Some minor heat on the back end, with some anise and light spice, earthy and peppery, ending in a nice medium length clean and light finish. Overall a light additive-free clean blanco, and an extremely smooth tequila to drink. This is one of the cleanest tasting, lightest and smoothest blancos I've ever had... with almost zero burn.
NOSE- aromas of earth, grassy, fresh cooked agave with a hint of citrus (lime). I found on the nose a softness, with a slight floral presence, light olive brine, light spice, light mint, and there is a nice amount of cooked agave sweetness, without being overpowering. I also picked up some fruit (melon) notes, light cinnamon, some light anise (licorice) which is always pleasant, smoke, and some black pepper.
TASTE- medium oils, sweet cooked agave, creamy vanilla, slight pepper, silky/smooth mouth-feel, clean and light with just a hint of spice and some citrus, in a very natural taste, earthy and clean. A nice sweetness, but not artificial or overdone, and a nice mild sweet citrus presence. Earthy and grassy, with light cinnamon and pepper.
FINISH- some very mild heat on the back-end, pepper, earthy, with light spice, fruit and citrus, anise (licorice), ending in a pleasant medium finish.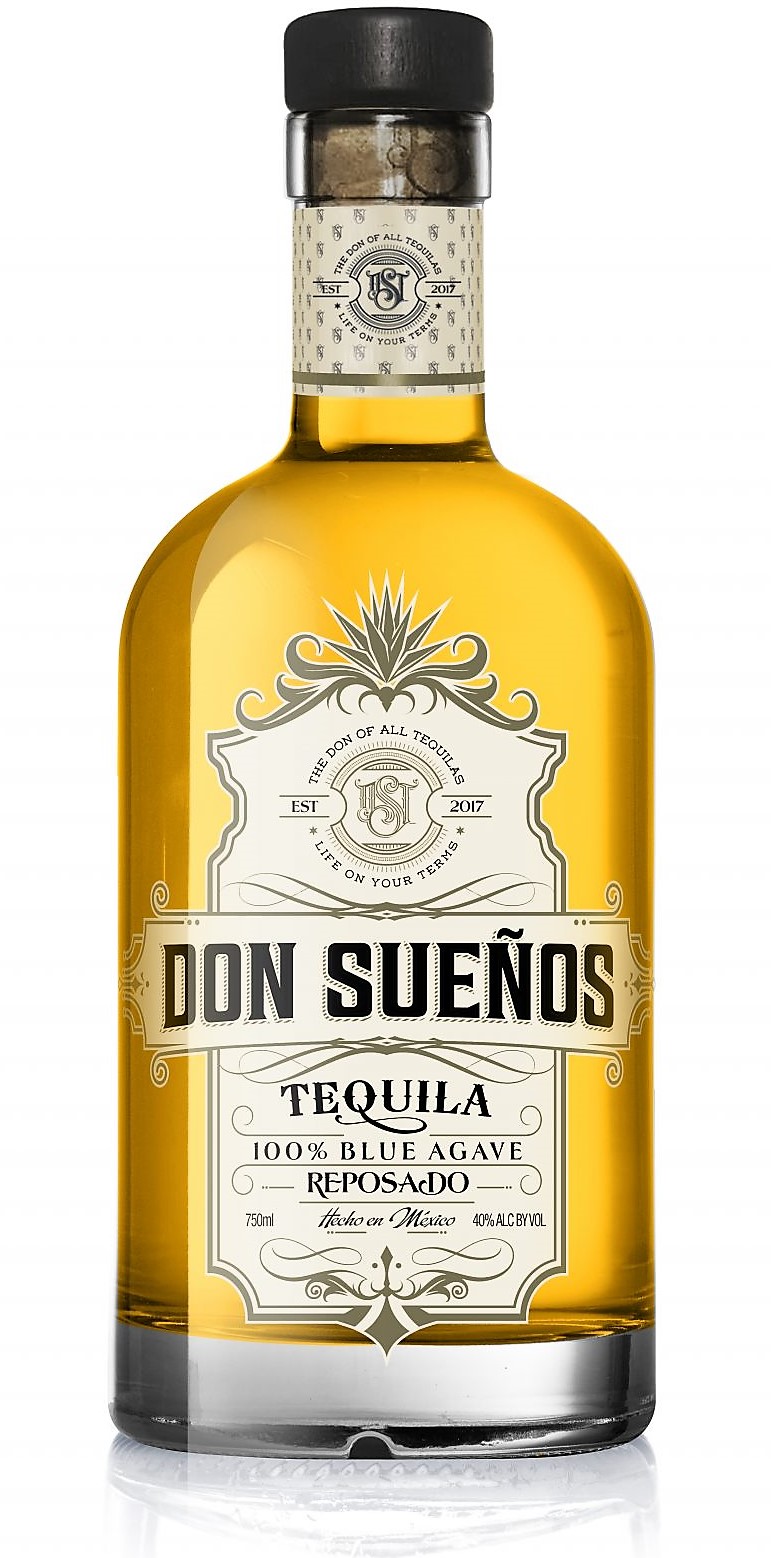 Don Sueños Reposado is a killer- Oh Boy!! This is light colored but full bodied Reposado, is double distilled to 40% abv, and selling for about $36.99. I loved this light colored Reposado, where you really dont smell much alcohol, especially at first, and is so clean, balanced and enjoyable. It was my favorite of the line by a hair, with the Anejo right there as well as the Blanco. Don Sueños Reposado really shines, with the full flavors coming through for a light color, very soft, even, and smooth tasty sipper. I was pleasantly surprised at this $36.99 price point. The Reposado is aged 9 months in used American Craft Bourbon oak barrels from Kentucky. It's unbelievable, and for this price....it's a slam deal. It showed butter, honey and caramel, with some vanilla notes, sweet cooked agave, light smoke, and a little bit of spice on the nose. Like a quality tequila should be, the taste mimics the aromas, being it's free of additives. It is so delicious to drink and at this great price, you won't find anything offensive at all with it. For anyone getting into tequila or someone that wants to sip a quality Reposado at an inexpensive price ....this is it. I enjoyed this the most, and this repo needs to be included in any Reposado lovers inventory, especially at this ridiculous price.
NOSE- spice, mild fruit (melon), creamy vanilla, light smoke with light caramel, and only a touch of alcohol.
TASTE- medium oil, creamy brulee-like vanilla notes, pinch of caramel, floral and fruity, with pepper, cinnamon, and sweet agave and whiskey notes.
FINISH- light vanilla and caramel along with light cinnamon, spice, fruit, and oak, going out in a medium exit with very mild alcohol heat.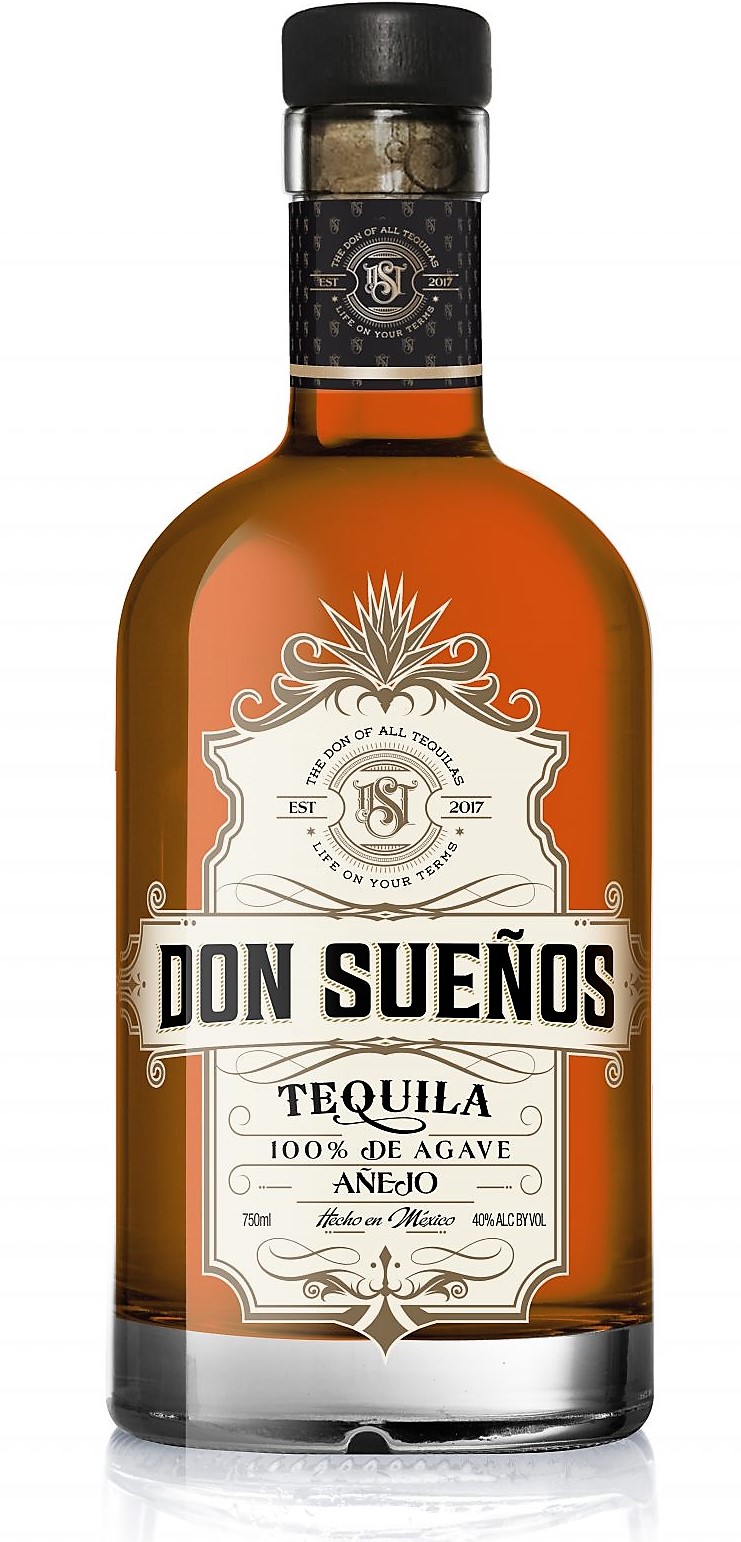 Don Sueños Anejo is slightly rich in color and a very good sipper, with notes of light spice, light pine, sweet bourbon notes, caramel, creamy vanilla, oak, a touch of cinnamon and mild chocolate. Some cherry presence, honey, and roasted nuts make this a light but complex anejo, but not a heavy after-dinner type anejo. The nose is fantastic and complex for it's color. The Anejo, is aged for 23 months in used American Craft Bourbon oak barrels from Kentucky. Selling for only $42.99, it has cognac/whiskey/bourbon aromas, honey, caramel, light vanilla and butterscotch, with light smoke. It was also balanced and easy to drink, again with honey, sweet notes, caramel, some spice a little bit of vanilla with some light pepper. A very nice anejo and a steal at this price.
NOSE- mild, balanced and nice, light butterscotch, caramel, smoke, fruit, honey, almiost a cherry aroma with roasted nuts, sweet agave and whiskey/bourbon aromas, and an ever so slight note of pine, spice, earth, spice, brown sugar and light vanilla cream.
TASTE- medium oil, sweet agave and whiskey notes, slight roasted nuts, honey, light caramel, creamy and silky smooth. A delicious light, balanced clean taste.
FINISH- sweet, almost cherryish, slight burnt nuts, caramel, creamy light vanilla, with a pinch of heat on the back-end ending in a medium to long finish.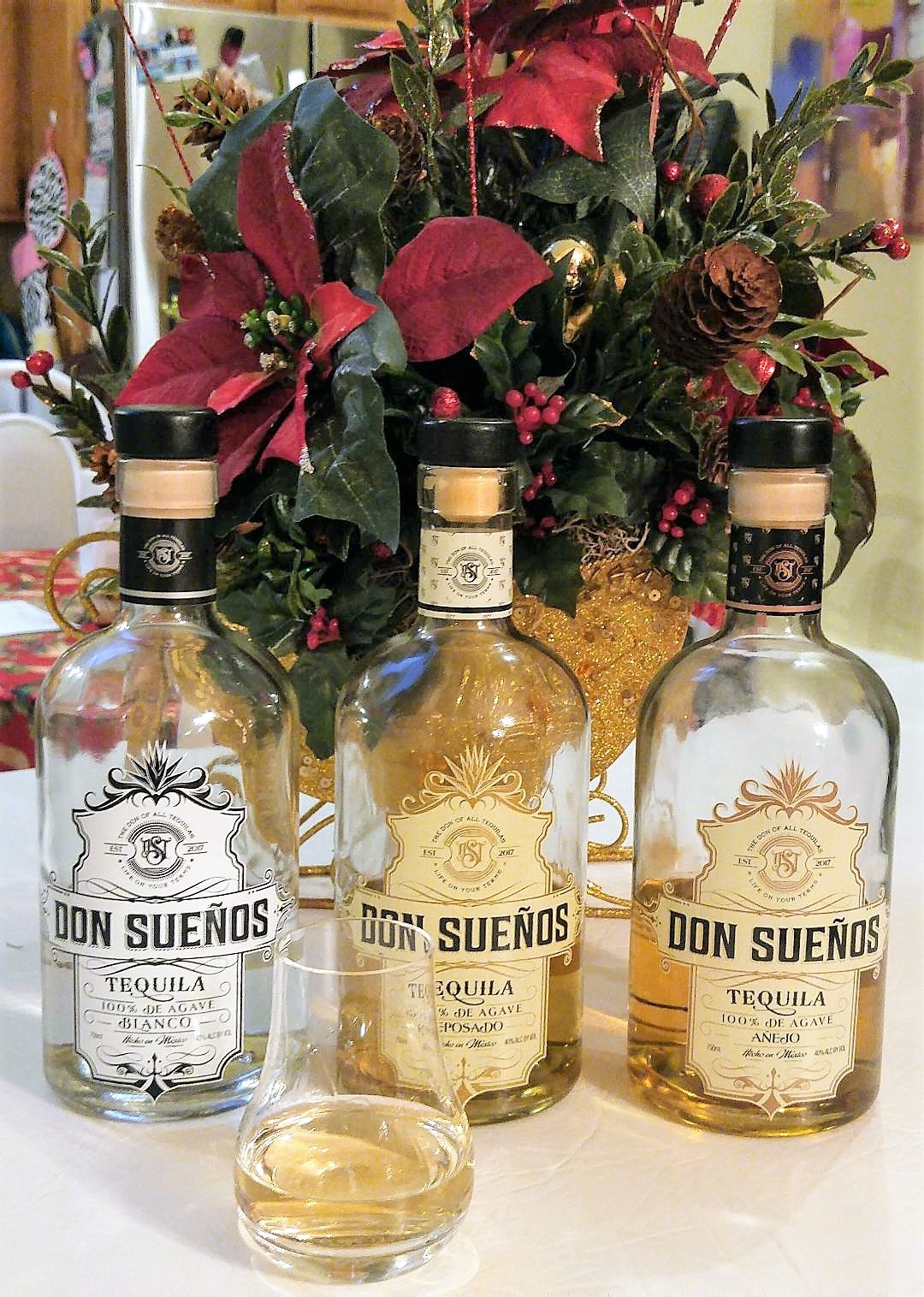 I gave Don Sueños blanco an 84, the Reposado 86 and Anejo an 85 rating on Tequila Matchmaker, as the brand is a very clean, tasty, sipping tequila, at a fantastic price. CLICK- https://www.tequilamatchmaker.com/brands/2037-don-suenos-tequila
Don Sueños Tequilas are very smooth, fruity, silky and very easy to drink at unbelievable prices. They use natural production methods to make it so silky/smooth without the use of any additives, and this is perfect for a new person to tequila or an everyday drinker that wants a clean additive-free, inexpensive tequila, made without any shortcuts.
SEE More Honest Reviews and REAL Top Tequila Lists, and Please 'like' Long Island Lou Tequila on Facebook- HERE- https://www.facebook.com/Long-Island-Lou-Tequila-641682619241422