2013 Fuenteseca Cosecha Blanco Tequila - Unique, Delicious & Limited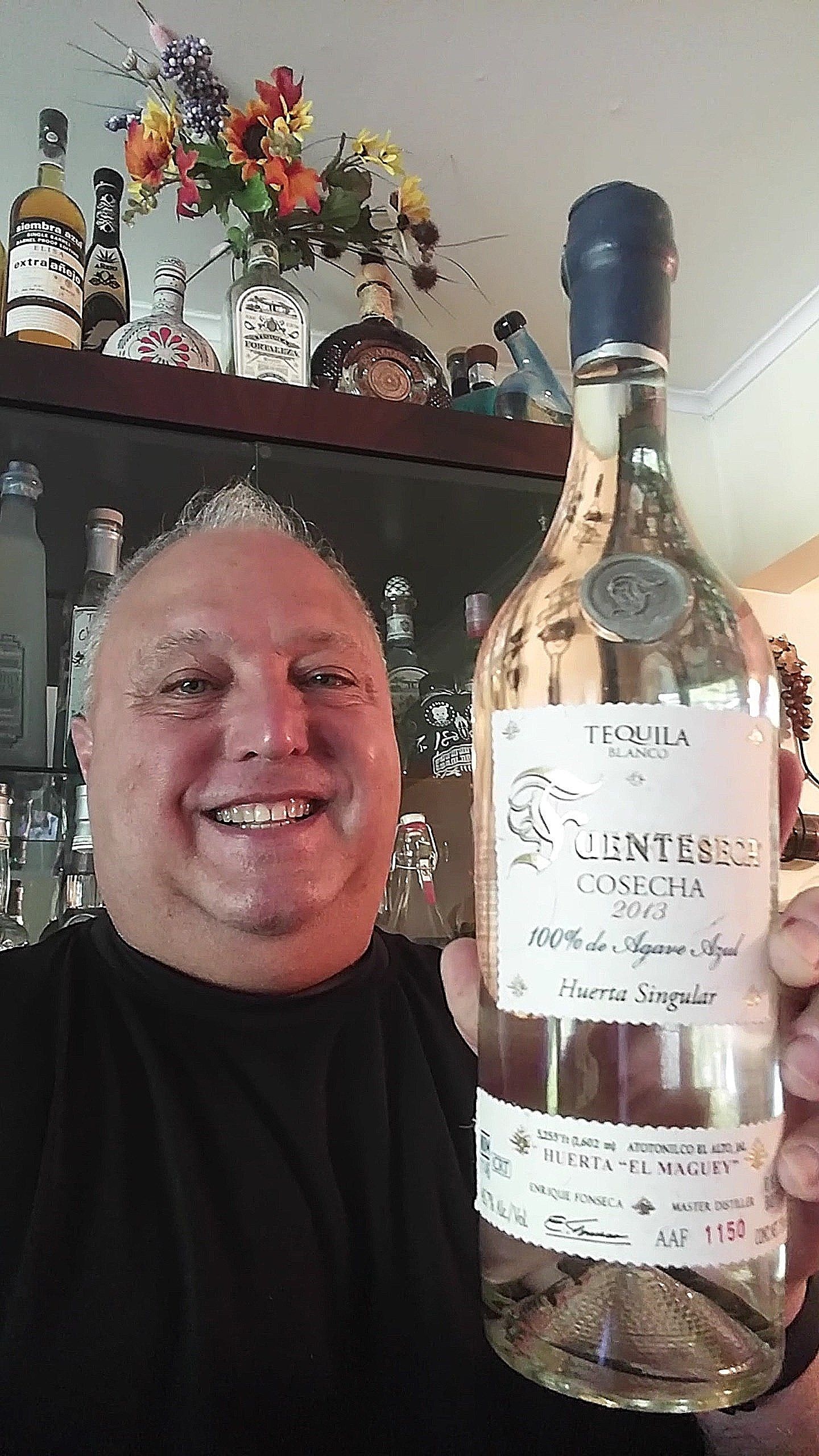 2013 Fuenteseca Huerta Singular Cosecha is a top quality connoisseurs blanco tequila, made at Distillery Tequileña- NOM 1146 in the El Valle (lowlands) of Jalisco. Made from top quality highland (Los Altos) agaves, 'Cosecha' means 'harvest'. The funny thing is, it's also perfect for a beginner to blanco, who believes blanco tequila to be too harsh, sharp or rough, and for them to compare this to other blancos. The balance and smoothness here is remarkable, especially for this over proofed tequila (91.4 proof). This Blanco will spoil both groups, as it's a limited edition tequila of very ripe agaves, grown in a single field, harvested and then rested for 3 years in stainless steel vats since late 2013. Each bottle is numbered and signed by Enrique Fonseca, the Owner & Master Distiller and comes in a beautiful wooden box presentation. There may be something to letting the tequila 'settle down' in neutral vessels, letting all the elements integrate. This is unique, smooth, unbelievably balanced, and you won't be able to get enough of it, and if you don't hurry... you won't have to worry about that. Only 8,000 bottles were made for the US, with 9,999 bottles made worldwide, and although the price is not cheap at $80-90, when you consider the extra expenses incurred for this uniqueness.... it is justified. Making quality small batch, limited and unique tequila, does not come cheap. It is definitely rare that a blancos rests this long in stainless, before bottling. It makes it one of the most balanced, tasty, smooth and delicious blanco tequilas you will find. I knew it was special when I tasted it, but as I tasted it more and more, it became apparent that the balance and drinkablity is amazing. Huerta means 'field', and it is not common for all the agaves to come from a single estate field like this. Is this a new trend? This is Top quality limited edition, clean, silky smooth, balanced, and naturally sweet blanco, from extremely ripe agaves. This tequila is all about the agave.
Cosecha highlights the terroir and single field taste of the agaves, grown entirely from a single orchard. This orchard or field is interestingly known as 'El Maguey'. The agaves used here are grown at 5,255 feet of elevation, in Atotonilco El Alto, which is sort of in the Los Altos highlands, but slightly south in an area of it's own, with it's own climate. Enrique Fonseca has said that this area has a good micro climate for the development of agave, and he is happy to present a different side of tequila, other than agave from Amatitan and Los Altos. Fonseca said "I wanted to show tequila drinkers that there are other terroirs in Jalisco besides those two, something in the middle". These agaves are a reflection of the climate, elevation, terroir, weather, etc of this precise area. This terroir is not typical of most Los Altos agaves, and gets protection from a medium-sized mountain, where it is well protected from the cold of Los Altos, giving a temperate climate throughout the year. Another big factor like in grape growing, is that these particular plants were grown on a slope where the water drains downhill, which prevents the vines from flooding during rainy seasons and actually is almost subtropical. Besides his agaves, there are banana and coffee trees growing inside of a canyon nearby. Enrique Fonseca seems to be a man who goes to his own beat. He is known as one of the best masters of blending and aging of extra aged tequilas ever, as well as being known for his amazing agaves. He not only hit a home-run with his first attempt at a Fuenteseca blanco, but a grand slam. Jake Lustig of Haas Brothers, who brings us the amazing ArteNOM lines of quality tequilas, including an Anejo made here at Tequileña NOM 1146, together with Fonseca, came up with this idea. I feel if you are a blanco lover, you need to try this limited edition sipping tequila .... and fast.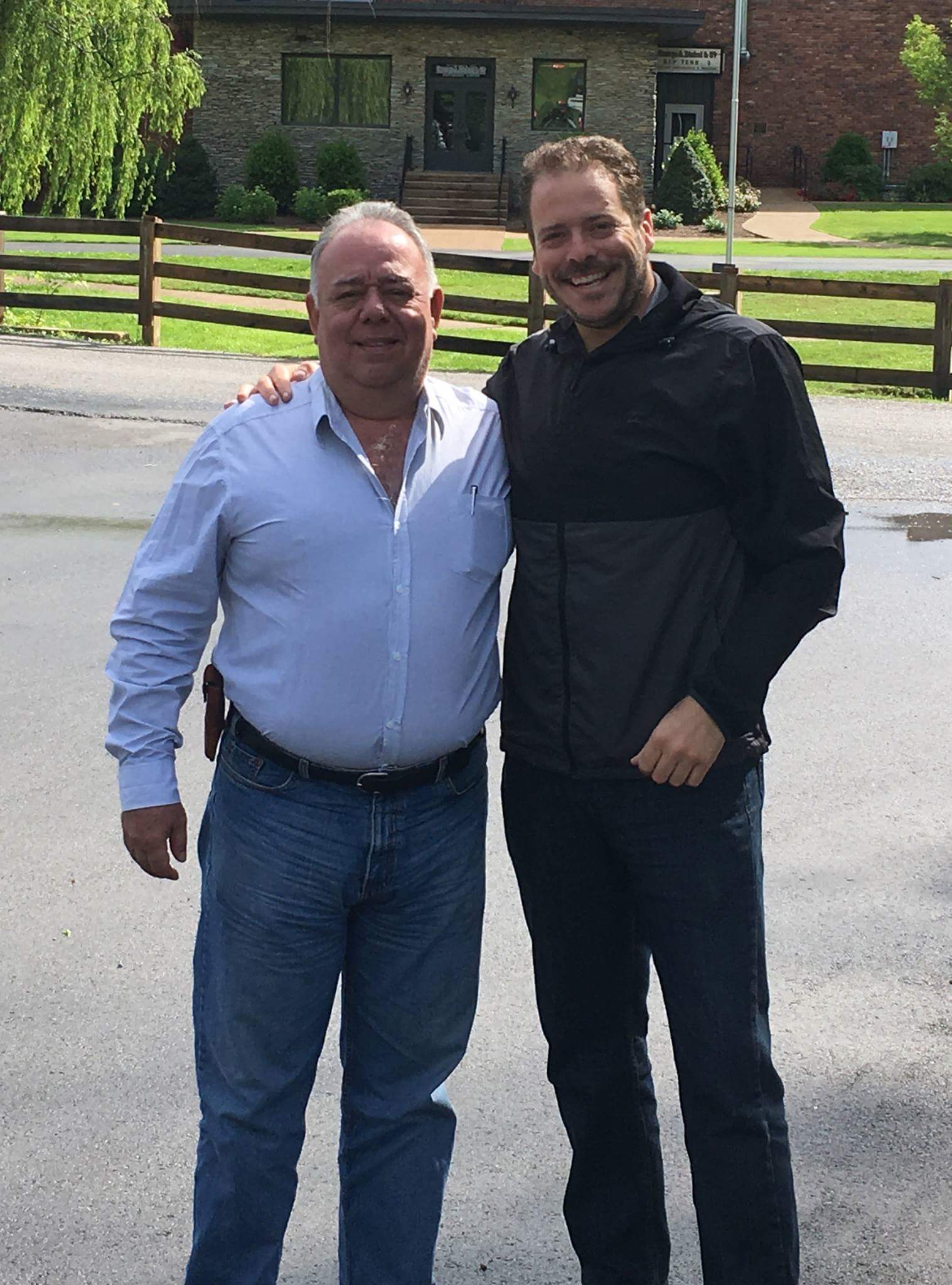 Lustig (on the right-ABOVE) told me during a conversation that he spends a lot of time with Enrique Fonseca, and together they come up with a lot of ideas. Jake said they had a lot of glass left over after making one of the special Fuenteseca extra-aged tequilas, and the idea developed into this singular field blanco, using these exceptionally ripe agaves that Fonseca felt should be used used together for something special. Fonseca, a fourth generation top cultivator, is the largest and possibly the best agave grower in all of Mexico, growing in the highlands near Atotonilco El Alto, in Jalisco. When I asked about the sweetness and the profile, Lustig explained the cultivators five stages of agaves, concerning sugar level. Normally 'Inmaduro' is the 19-20% range of sugar, considered 'immature'. The 21-22% sugar range is the 'Entrado' meaning 'enter', still like an adolescent and not considered optimal yet. Next is the 'Sazon' meaning 'season' at 22-24% sugar, where these agaves get sold to bigger brands, but still not optimal for top quality artisanal use. The 'Maduro' stage is the 'mature' range of 24.5-26% sugar, where you start to see the brown spots like you would on fruit, like a banana. Around this range, the sugar content is rising, but the weight is diminishing. Now we get to what workers call the 'Pinto' range of 27-31%, which is extremely ripe agave. This is now like the black spotting on a pinto horse according to Lustig, and is why the workers in the fields call them 'pinto' agave. The official word is 'Sobre-Maduro', which literally translates to over-mature. These 'Pinto' agaves are basically the range of the agaves used here in the 2013 Cosecha Blanco. This is the range where there is so much ripeness, that these extra sugars can give off that baking spice profile which some of us taste, including the cinnamon. According to Jake Lustig, some Maduro at 25-26% are used, but mostly Pinto agaves at 27-31% are used here. Now that's sweet.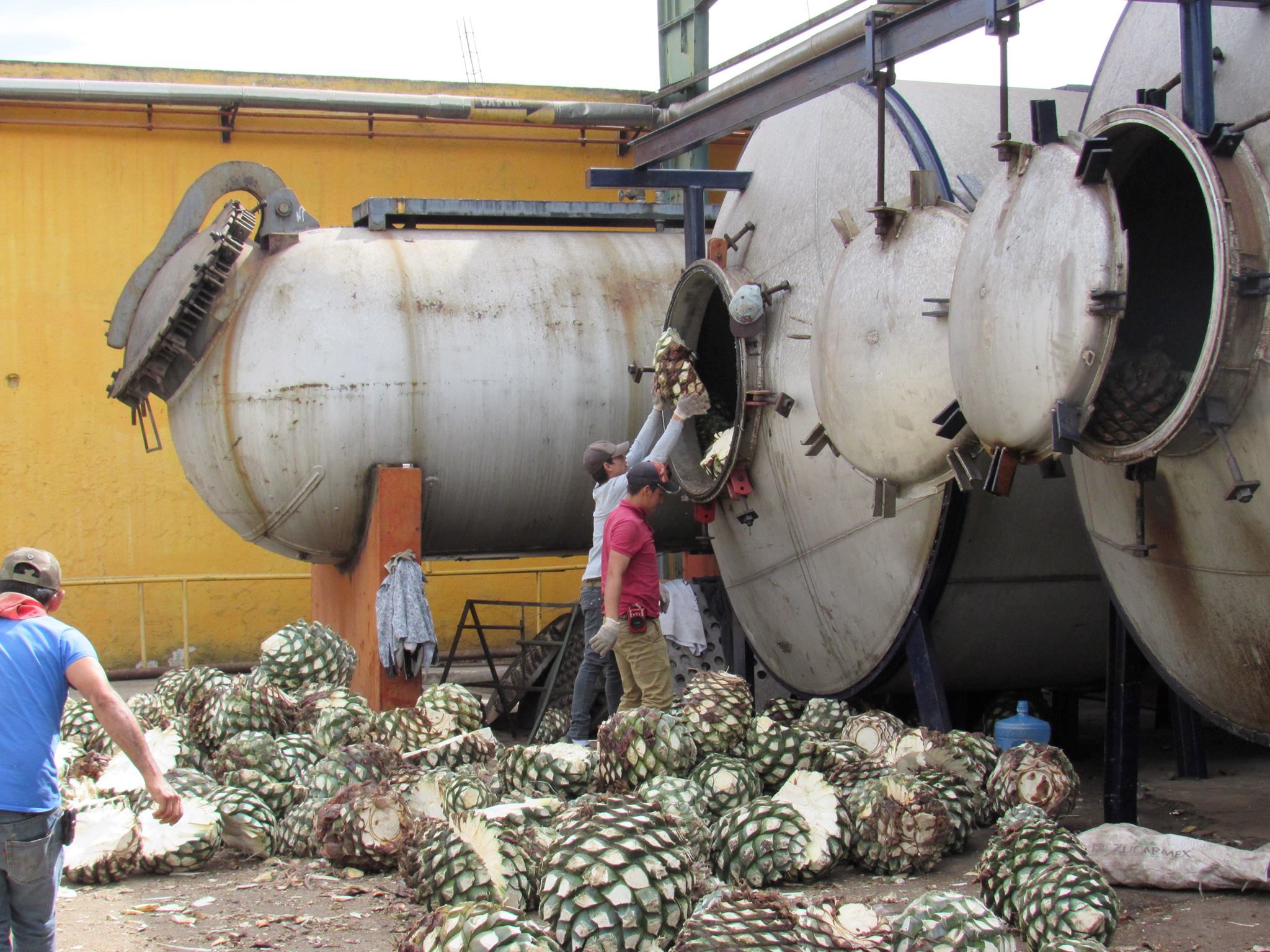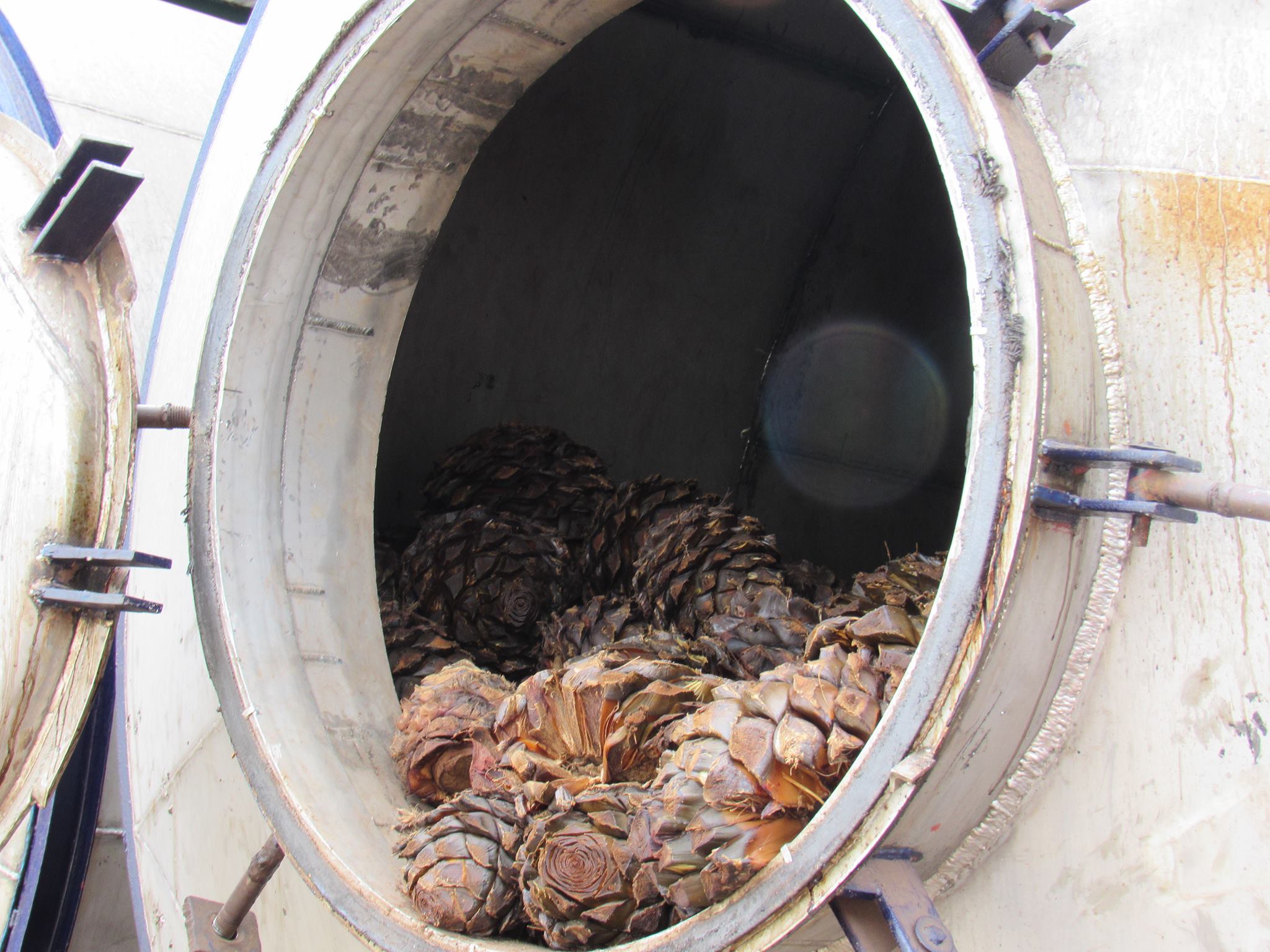 Enriques Fonseca is from a agave cultivating family having the largest supply of agaves, but as Jake Lustig explained "when Cuervo and Sauza betrayed a contract for more than one million plants a year, Enrique decided to buy a distillery, so as to always have a second option if the large houses didn't want to honor purchase contracts." Although his agaves were always grown in the highlands near Atotonilco El Alto, in Jalisco, the only distillery he could find that he liked, was in the town of Tequila, and so in 1990 Fonseca purchased La Tequileña from Ron Bacardi. He was new to distilling, and after learning all he could, mostly on his own, he decided to convert the autoclaves there to very low pressure ovens- (SEE PIX'S ABOVE- compliments of Phil Raeihle). He has also mastered the use of the column still which was also there, that he uses partially in many of the products made here, but not for Cosecha, which uses all copper stills. Fonseca has gone on to make some of the worlds best tequilas here, and Cosecha being his first Fuenteseca blanco continues an excellent line of products from Fuenteseca and distillery Tequileña.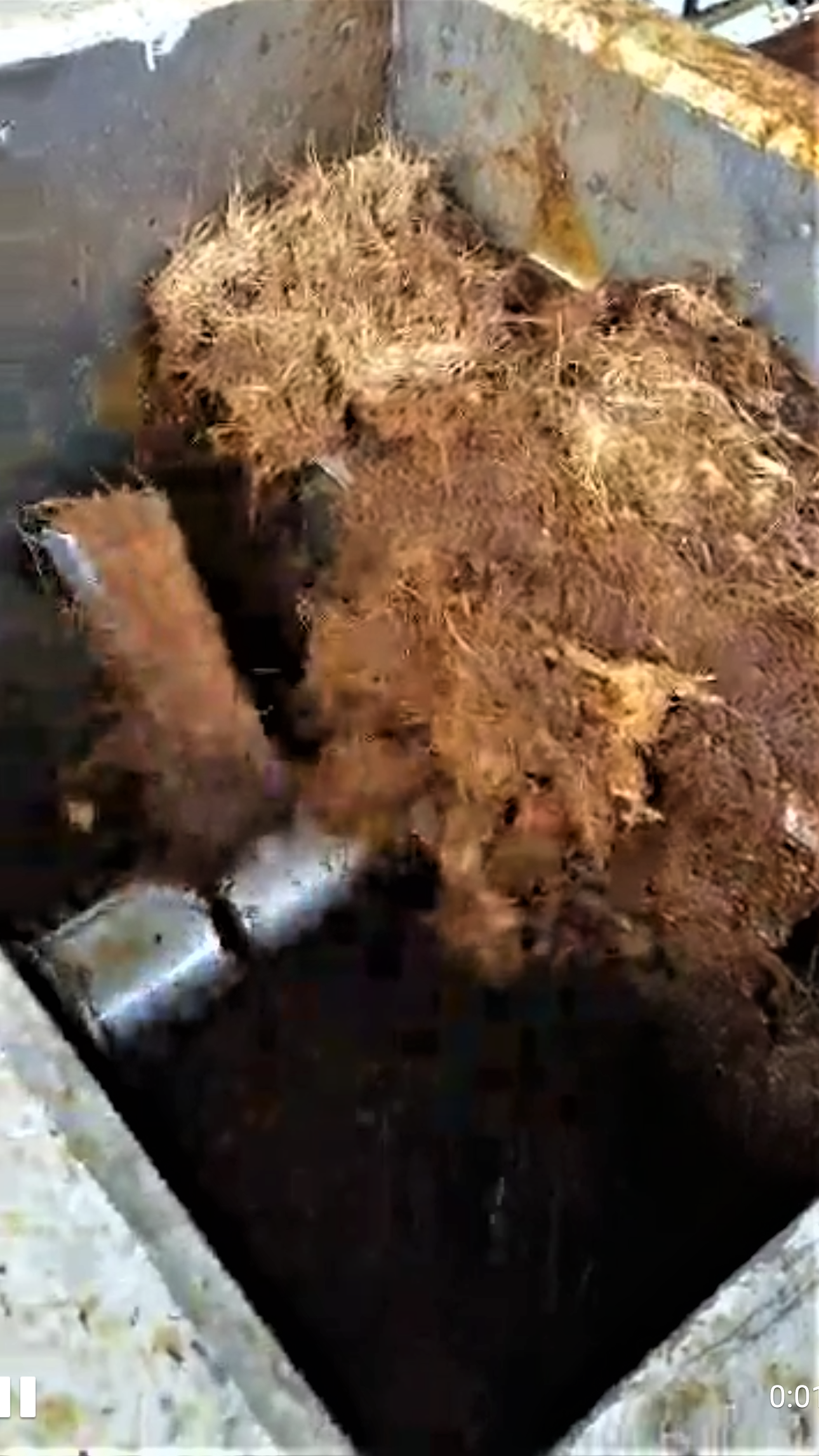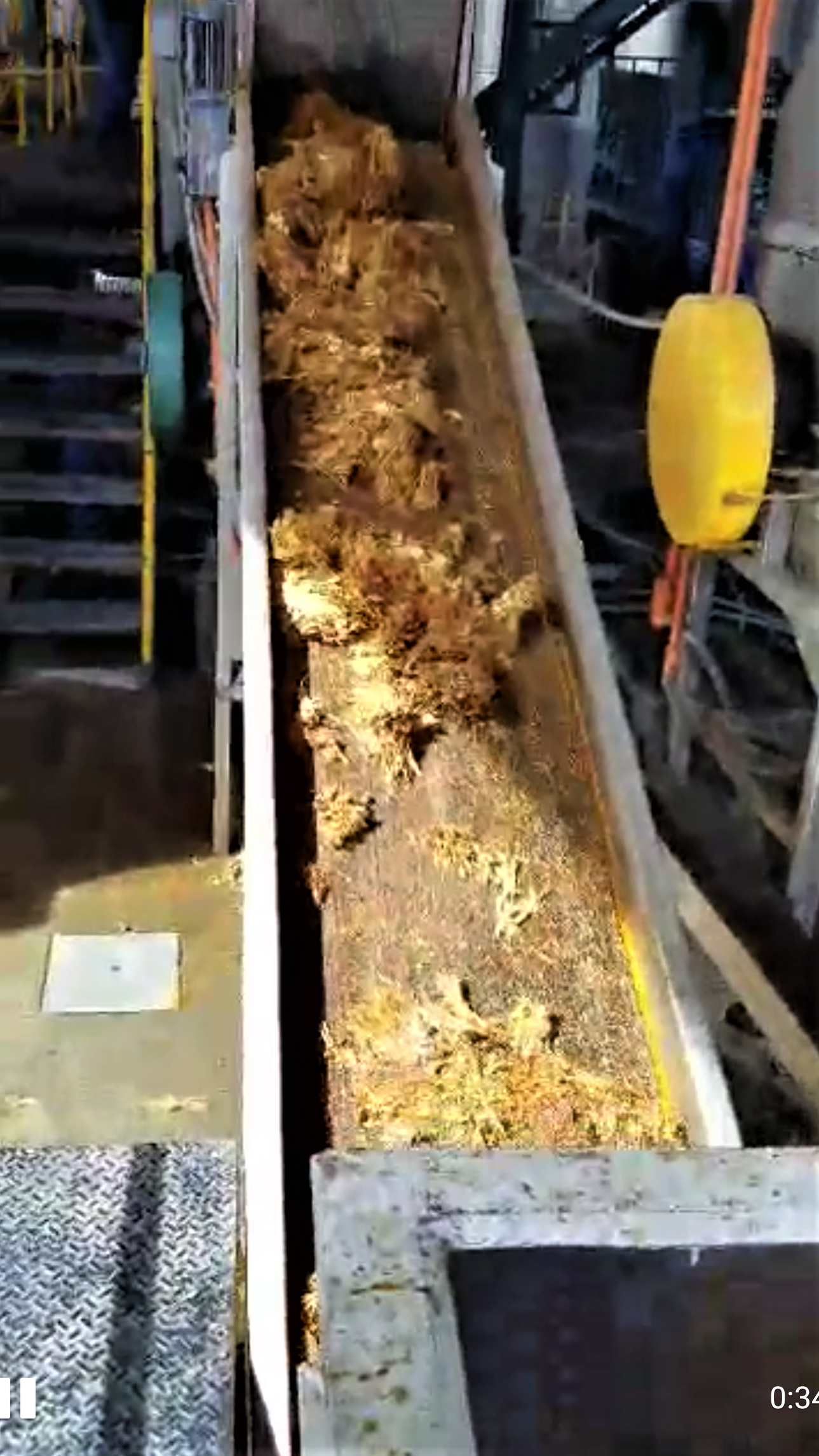 PRODUCTION- Only the most ripe 'maduro' and 'pinto' agaves are harvested, and are of the highest sugar content. It's important to note that in 1993 Enrique Fonseca modified the autoclaves to work like actual ovens, and now are set to such a low atmospheric pressure of .8%, that it's equivalent to a person blowing up a balloon. That's how low the pressure is, as as such works more like a horno (oven) than an autoclave. Most autoclave ovens cook at a 2.4% normal atmospheric rate. After this very slow cooking, they use a screw press mill for the first crush of the large chunks of cooked agave, to loosen and release the sugars. This large screw press squeezes and wrings out the fibers from this high sugar level agave. The wringing out of the fibers in this way through small holes in the press requires much less water to help loosen up the agave fibers, so you get a more concentrated honey (sugar content) for fermentation- (SEE PIX'S ABOVE- compliments of John Welch). Partially crushed agave then leaves the screw-press mill on the way up the conveyor for the second crush on the shredder-roller mill. For fermentation they use Mendoza region wine yeast from Argentina using stainless steel tanks. The double distillation for this 45.7% abv (91.4 proof) blanco uses only full copper pot stills, and no filtration is used. Whatever water is used, is from the volcanic springs. Instead of bottling right after or within weeks of distillation like most blancos, or sitting in oak for up to the legal limit of 2 months as some other blancos do, Cosecha stayed for 3 long years in stainless steel vats. This resting among other possible attributes, completed a lengthy oxygenation process before bottling, towards the end of 2016. Tequila is allowed to sit for an unlimited time in glass or stainless steel tanks by law, and still be considered blanco. The agaves used here, and this distillation procedure is slightly different from the other quality tequilas made at Tequileña- NOM 1146, like Arte NOM, Asombroso, Cimarron, Don Fulano, Fuenteseca, Purasangre, Don Lorenzo, and T1/Tears of Llorona.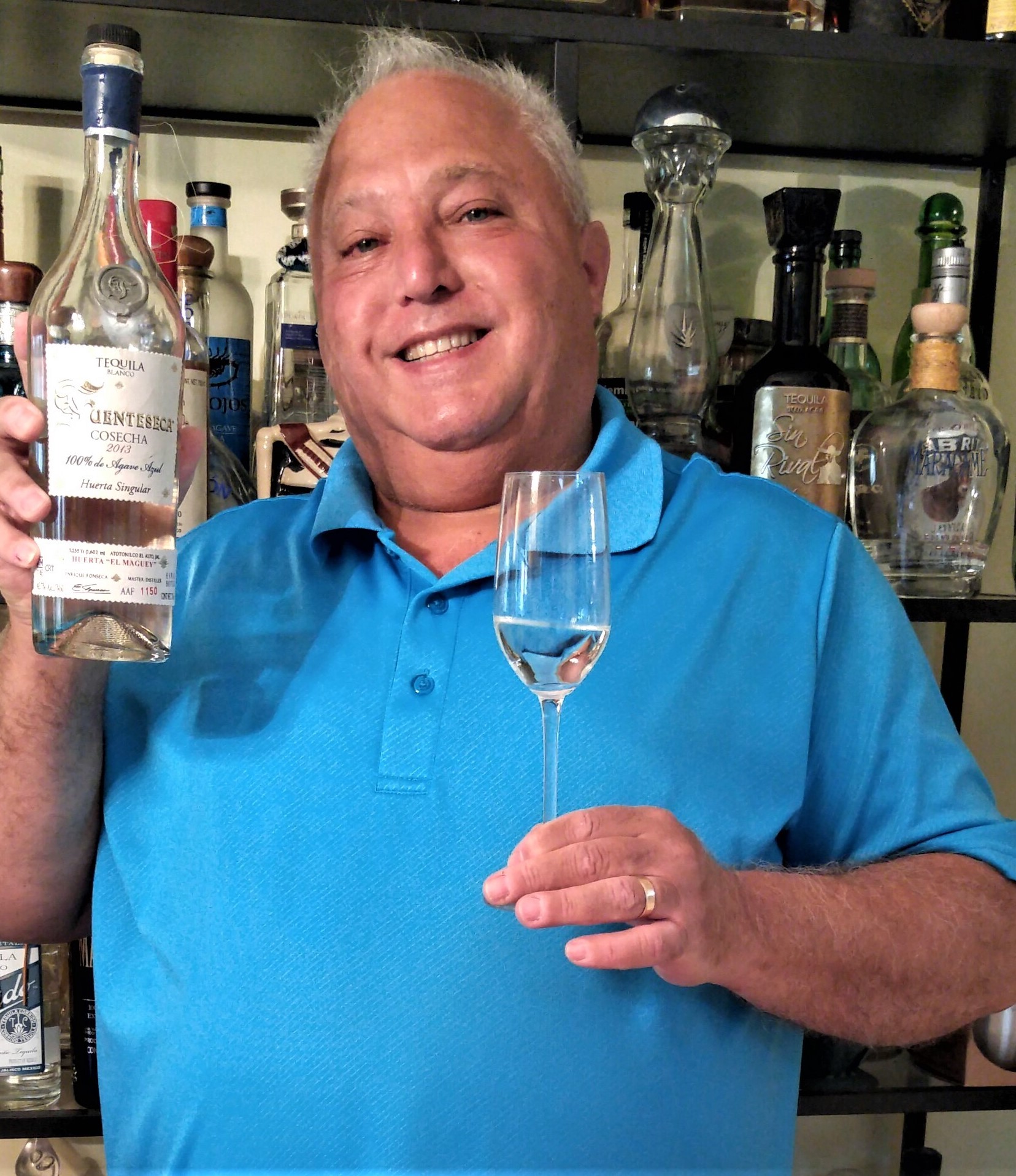 Forrest Cokely, a spirits expert summed it up nicely, concerning the three years of resting. "The difference is that the structure of the flavors are more intricately integrated with the fruit flavors and minerality. Where you would normally notice the flavors moving across your palate revealing various nuances in different places, these flavors have more depth and are elegantly bound to each other. It is as if the flavors reveal themselves in pairs or groups." There's no way I can disagree with that, and in fact it's as if all the elements creating these flavors, having been together so long.....are very happy together. This long rest seems to connect all the elements back together that were separated during shredding and production. It's about balance, tying all the flavors tightly together and not leaving any notes outstanding. There is a cinnamon aroma and taste which acts slightly hot like cinnamon can, but not in a hot alcohol way. There is also a baking spice presence throughout with some pepper. It's softer and less sharp than a 'distilled to bottle' blanco, and it's a smooth easy sipping tequila. It doesn't have that green, in your face young and raw blanco profile, and many new people may actually like and appreciate this more. This is different and unique, and I'm glad I bought this bottle. I saw the price... thought about it, and decided to try it. I really love it, and I would buy another bottle. People should experience this themselves, savor it and really taste it, and decide if they should go back for more. It has it's place for sure, and Fuenteseca Coscecha is really superb, unique and high quality tequila. It's small batch, sugar laced agave, slow cooked, unaged but with a long neutral rest, unfiltered, high proof, individually signed, beautifully packaged uniqueness..... there's no playing around here.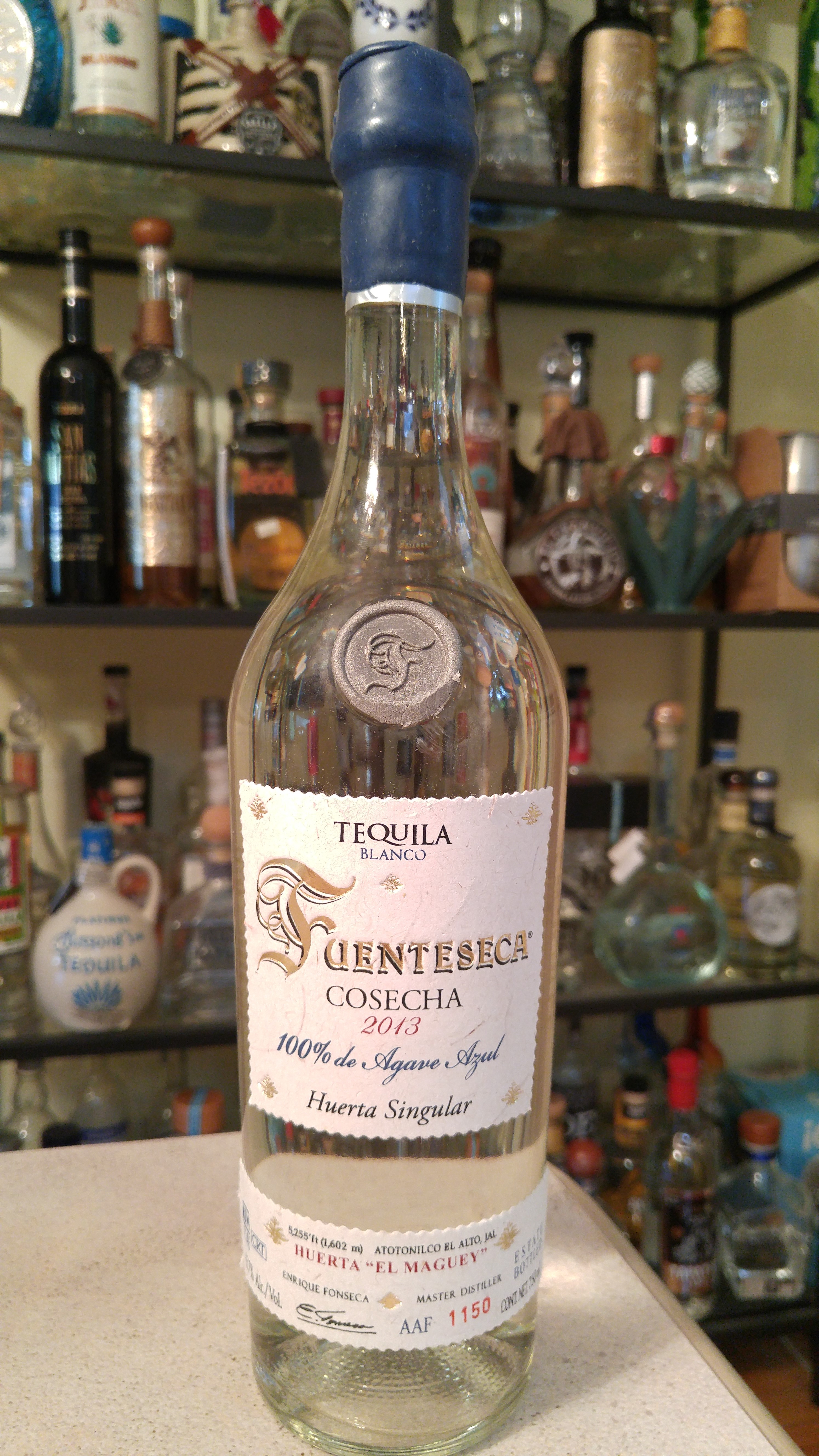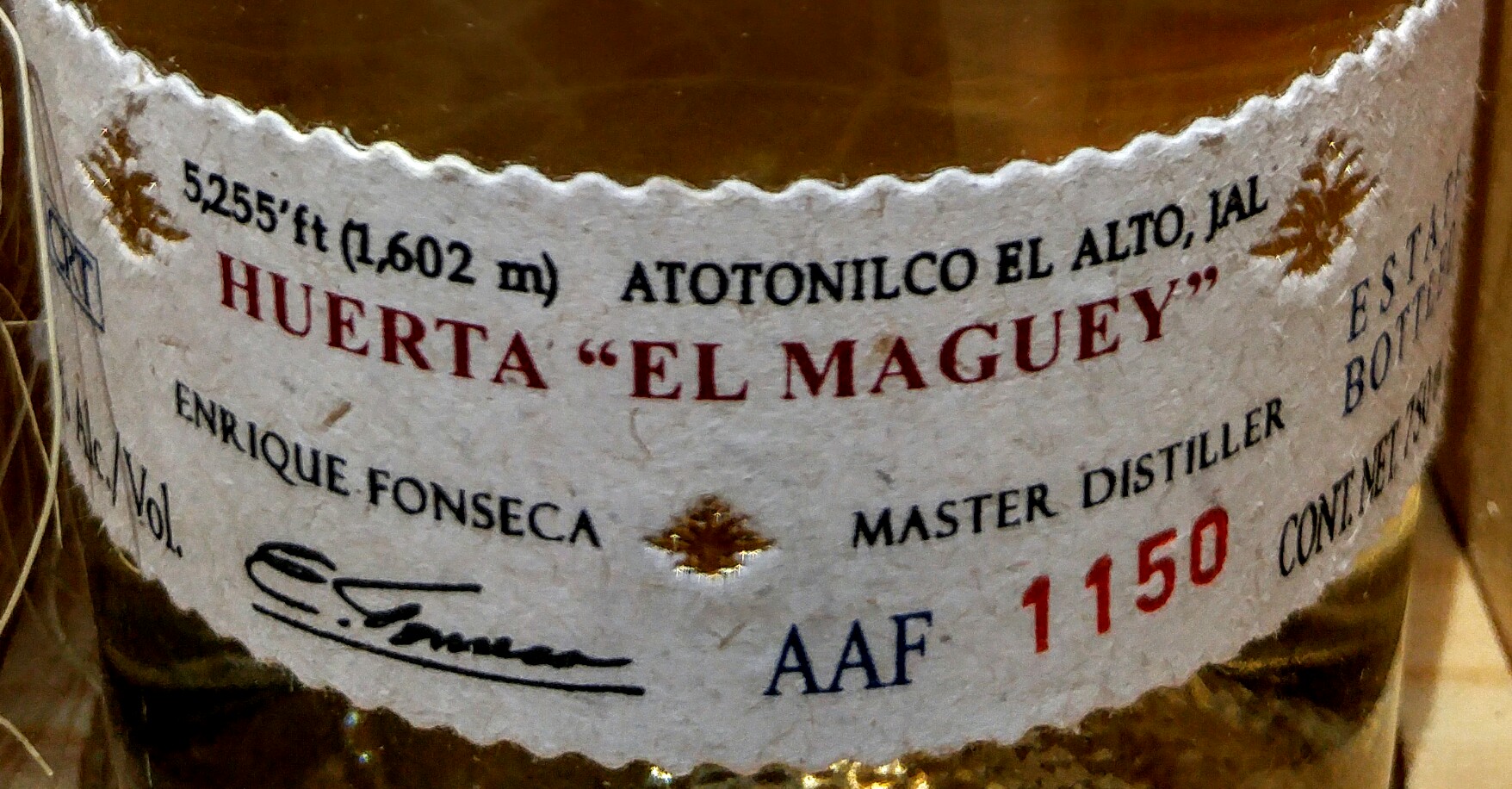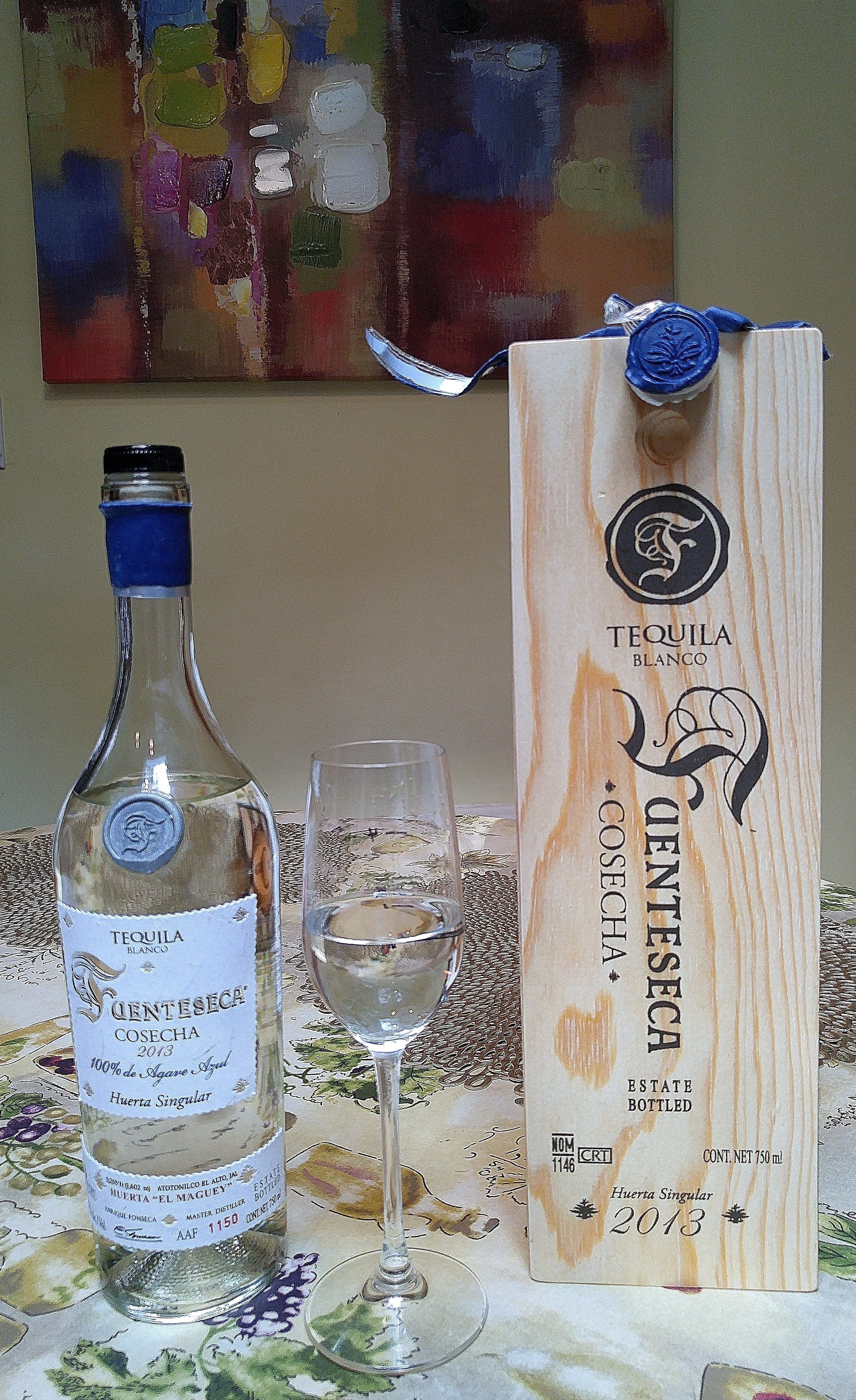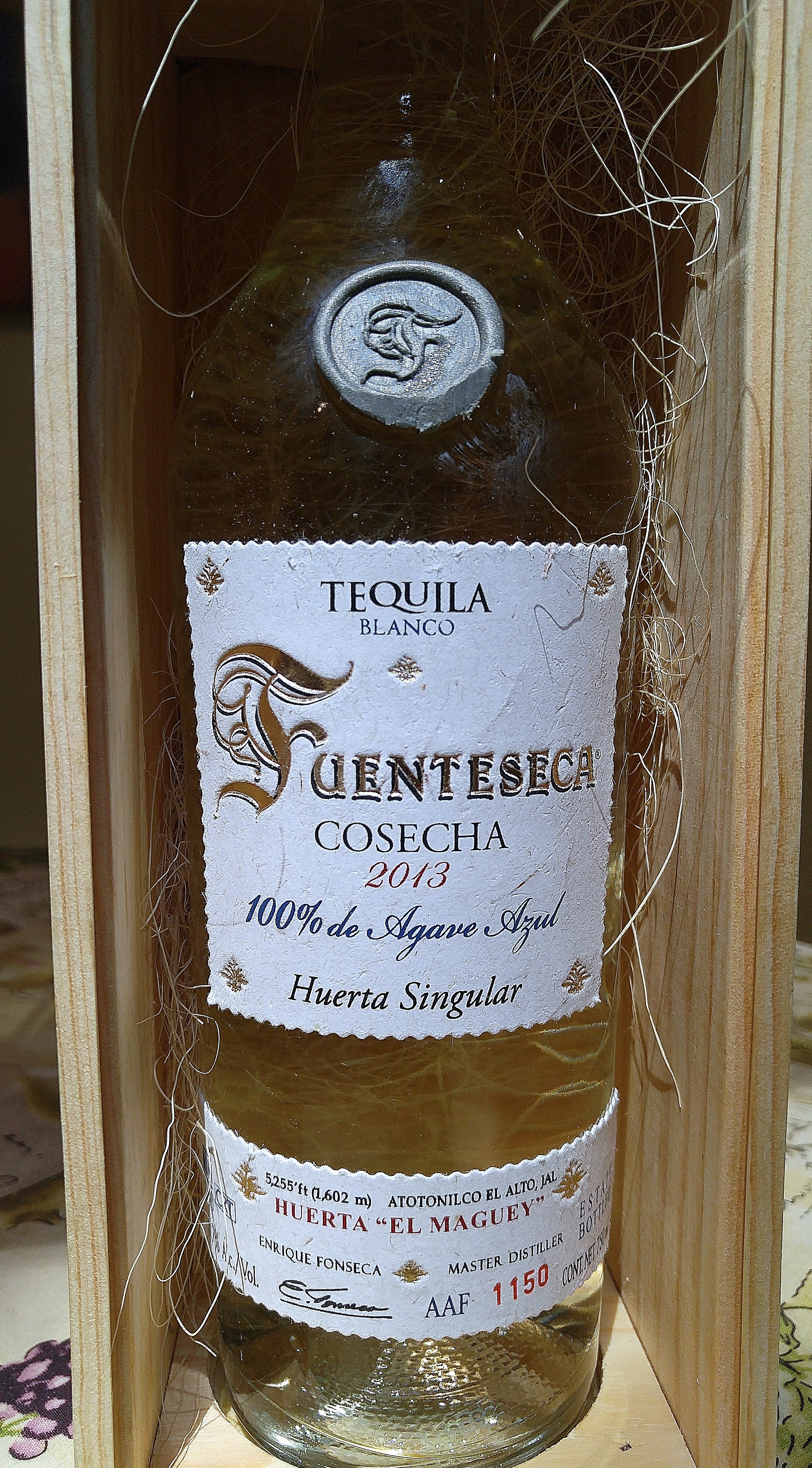 2013 Fuenteseca Cosecha Huerta Singular Blanco- At $80-90, double distilled to 91.4 proof (45.7 abv), it's balanced and so easy to drink. There is hardly any burn for a high proof, with an amazing cooked agave punch and some floral, fruity, citrus and baked spice notes. It's pleasant and naturally sweet in taste, with no signs of any manipulation, and this tequila tastes completely additive free and beautifully balanced. It is very clean, with a pinch of smoke in the nose, anise and possibly a tiny bit of mint. There's some expected alcohol presence in the nose, but not much. Overall this is the smoothest and easiest to drink over-proofed blanco I have ever experienced. It's aromas and taste are elegant and the nose is very complex but refined and subtle, at the same time. The three years resting in stainless obviously settled everything down. It isn't bright, forceful and in-your-face, raw and sharp. I kind of like that profile, but I can also appreciate this. There is definite baking spice notes and a slight peppery presence. I think the resting and the agaves used, along with higher proof add to the strong baked agave notes throughout, keeping it silky and balanced.
NOSE- strong baked agave, cinnamon/baking spice and fruit are noticed along with anise (licorice), spice, citrus (lemon), natural sweetness, earth, slight mint, light nutmeg and maybe a pinch of brown spice, floral and pepper. If you really dig for it, maybe a pinch of smoke and a vegetable presence. It has a delightful balanced nose.
TASTE- medium oils, rich, clean and very balanced. A warm, silky smooth mouth-feel with some minor expected heat from the high proof, but so naturally sweet and easy to drink. Definite cooked agave with some citrus, some cinnamon heat and baking spice, slight saltiness and anise (licorice). A pure, un-manipulated taste.
FINISH- smooth and silky with appropriate mild heat, sweet clean agave, some fruit, some cinnamon, a little salty, warm, herbal, spicy with some pepper, slightly vegetal, with anise and citrus presence and a nice medium to long exit. The finish is where all of these 'content' and balanced elements come into focus.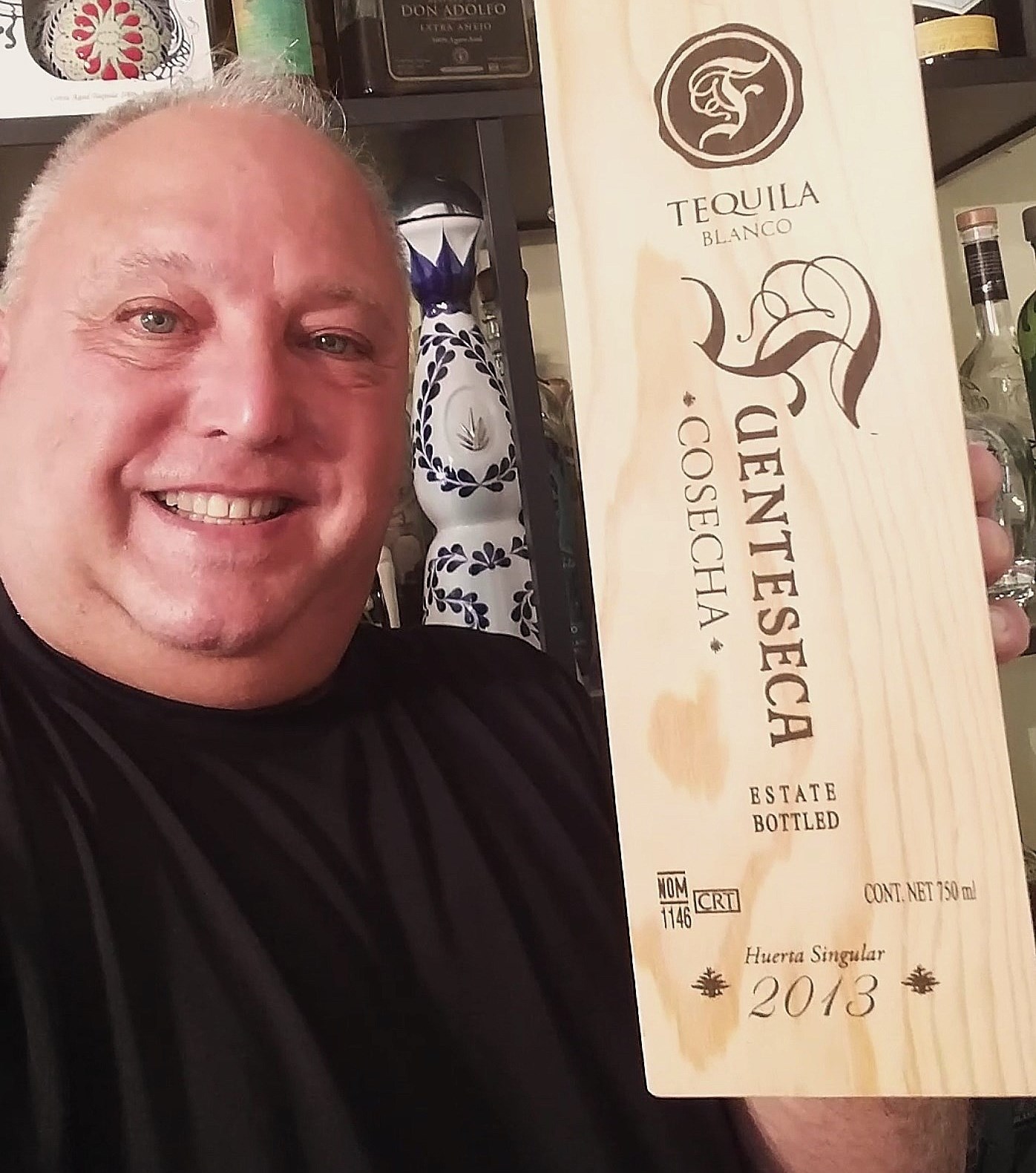 As with other high-quality small batch tequilas that may be hard to find, ask your liquor store to special-order it or buy online right off this website at ZEE Tequila. I'm told that the next release will be very different, and I know I for one will be looking forward to it. The million dollar question to some may be....is it worth $85 a bottle? My response is YES and although it may be pricey, it is different in a good way. It is special and unique.... and that costs. This is something to experience in my opinion and it is extremely limited, **so I say it is worth trying for sure. It is very pleasant, balanced, clean, natural and tasty, and I wish I could drink Fuenteseca Cosecha all the time. Let me put it this way, if you don't buy this........ you will regret NOT trying it.
SEE More Honest Reviews and REAL Top Tequila Lists, and Please 'like' Long Island Lou Tequila on Facebook- HERE- https://www.facebook.com/Long-Island-Lou-Tequila-641682619241422/