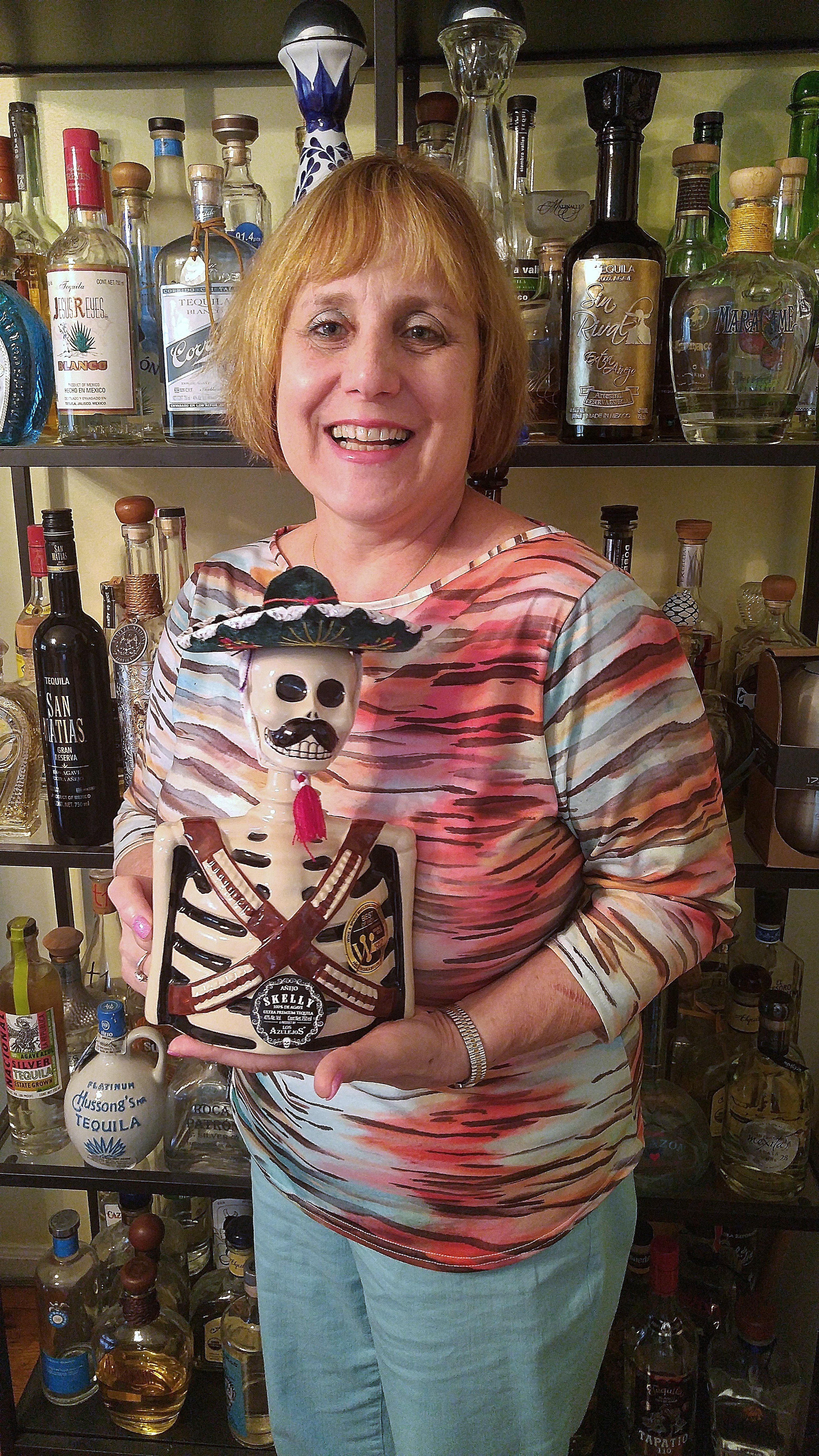 Los Azulejos Skeleto Anejo, known as "skelly" is made at Destiladora del Valle de Tequila- NOM 1438 in the lowlands (El Valle) region of Tequila, Jalisco. Owned by Michael and Celia Maestri, the distillery is known as 'Casa Maestri', and it is one of the highest volume distilleries in Mexico, with close to 80 tequilas being made there. This limited edition collector's "Skeleto" series of ceramic 'day of the dead' style skeleton bottles comes in the 'Pirate bandana wrap' blanco, the 'Straw Hat' reposado and this anejo version, with the colorful and beautiful hand made Mariachi style hat. My bottle has the Pancho Villa style ammo belt and moustache. The basic models are shown below.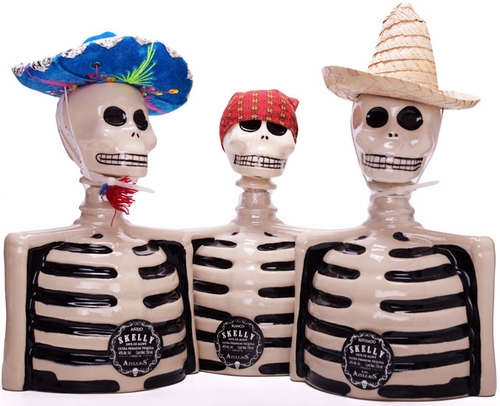 As with most tequila novelty bottle offerings, sometimes a great bottle is just that.... a great bottle. Sure everyone wants one of these to show off, and yes it catches people's eyes in your collection, but is it any good? I would say it's more than acceptable for sure, and to be honest, I was surprised that it was this good. It is sweet and pretty smooth, like so many tequilas today, and it does appear to be slightly manipulated with some additives. Although it's nothing to jump up and down about, this was quite enjoyable to sip. I know the producers reached their 'visual objective', because as soon as people come in my house, where I have a few hundred bottles on display, they go right to these novelty bottles. A 'novelty' bottle are things people buy, just to have the bottle. Something like this, Clase Azul or Kah immediately come to mind. In fact, I'm not a big fan of novelty bottles in general, and I've had this bottle sitting on the shelf for almost 2 years. To my surprise when I opened it recently, it was only half-full, which happens often with shipped ceramic type bottles, especially ones that don't always make a great cork seal- (See Below). I have very few novelty bottles, and when they're popular like this, I occasionally need to purchase them so I know what the juice is like. What I will do with the handful of novelty bottles I have, is once they are done I may re-purpose them, for holding olive oil, using them as a vase, or maybe make something like a lamp out of them, but I probably won't throw them out. I may even refill them with one of my favorite tequilas and not hide the fact.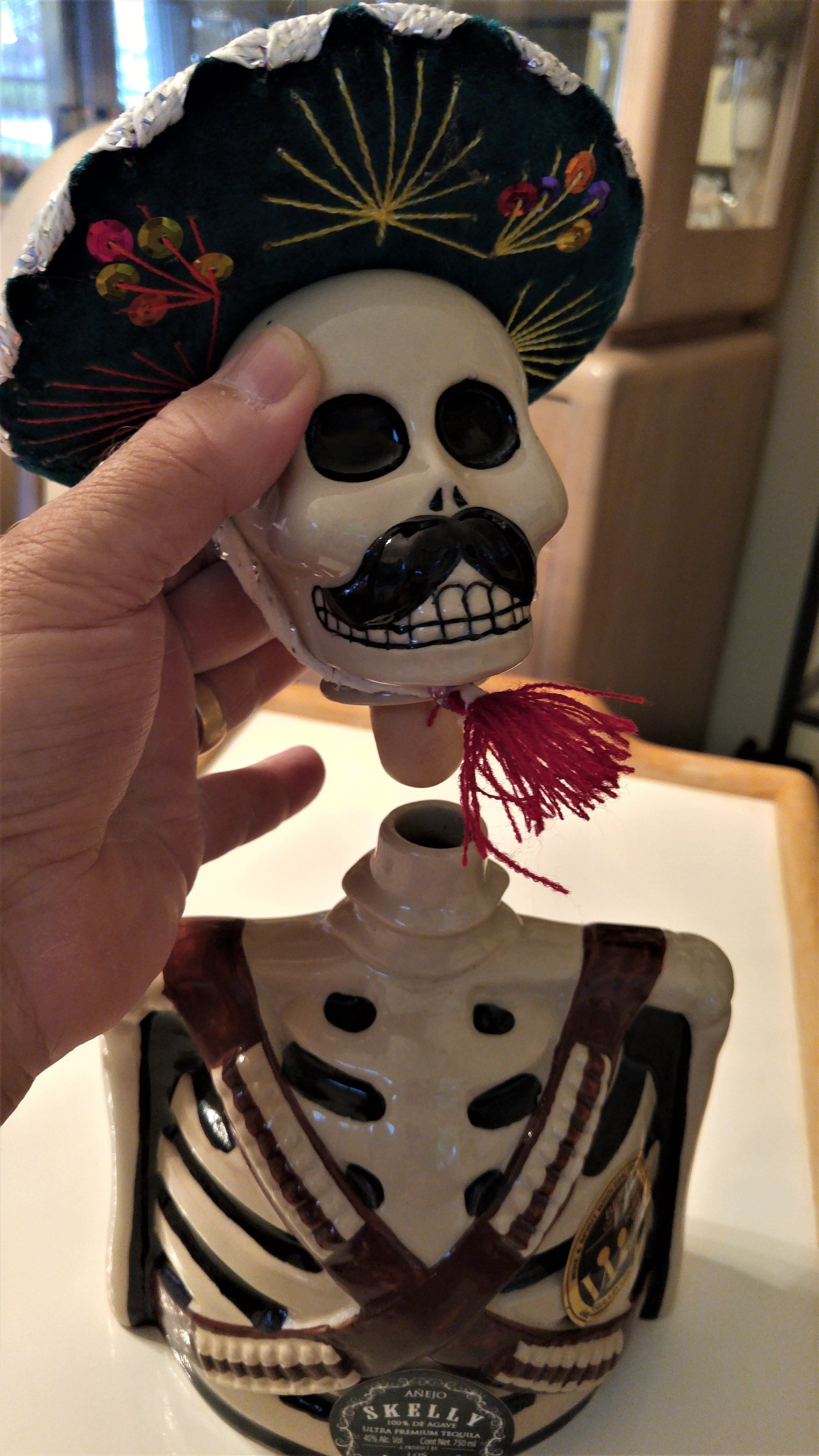 Some novelty type 'eye catchers' that many say have a mediocre or worse (often manipulated) juice are Clase Azul, the recent editions of Kah, and ones like the Keith Haring or Yuko Shimizu's collaboration with 1800 Tequila, Pancho Pistolas, Corzo, some of the La Cofradia ceramic bottles, and the Katrina bottles among many others. Not forgetting all the Tommy guns, pistols, grenades, guitars, golf clubs, ladies purses, high heels, boots, hearts, boxing gloves, barrels, statues, bulls, fish, cactus, worms, horses, ornate vases, mariachi and cowboy hats, skulls, baseball bats, chili peppers, beaded animals, figurines and on and on and on. Folks- Usually it's a gimmick to sell bottles, NOT quality tequila. It's up to you to decide if you want to purchase one of these bottles, but please don't do it expecting to find quality juice inside, as that's a very rare find. Los Azulejos may be one of the exceptions to this.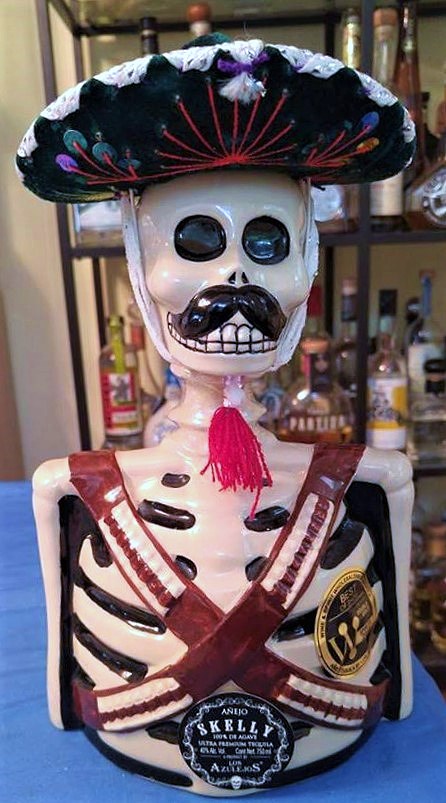 It's important to know that not all fancy, eye catching bottles hold subpar or mediocre tequila inside. There are some real high quality tequilas out there that have bottles that will attract your attention AND offer a high quality juice at the same time, Be aware that you will likely pay handsomely for that luxury. These can be bottles like Don Julio Real, Herradura Suprema, Asombroso, Tres Quatro y Cinco, Rey Sol, Tears of Llorona, Crotalo Snake Head, Grand Mayan, Don Julio 1942, Maya Corazon, Arta XA, Dos Armadillos, Aha Toro XA, etc etc. There are too many nice bottles with high quality tequila inside to mention, but just be careful and try to know what you're buying. Do some research, read some reviews, talk to people that know what they're talking about, before you spend your money.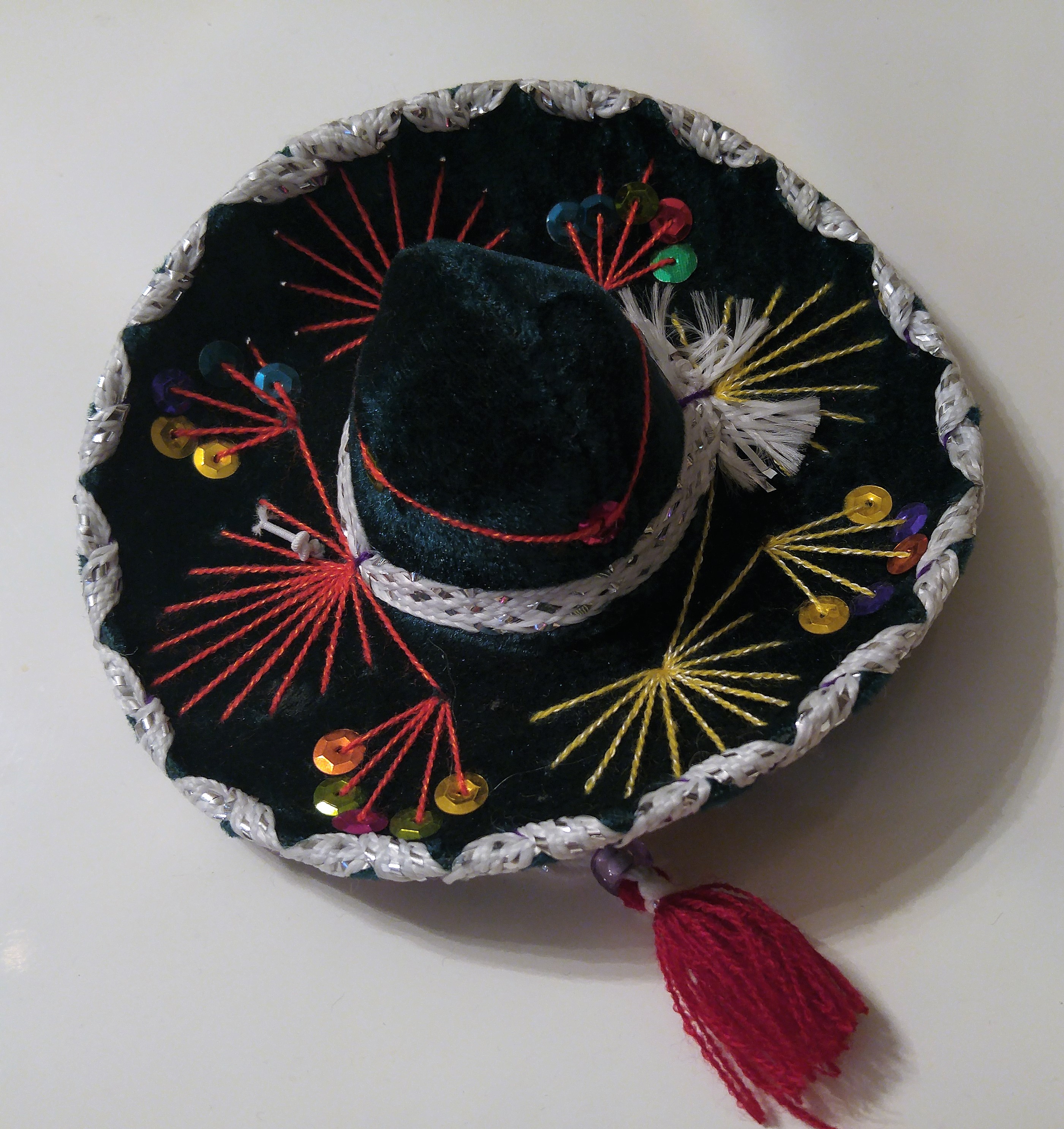 There is definitely a strategy for some companies to produce inexpensive, flawed and manipulated tequila, and put it in a beautiful bottle, knowing many will simply buy it. As mentioned I was glad this wasn't the case here with Los Azulejos Anejo Skelly. I wouldn't be surprised if many people (probably on the 'newer side') actually assume that if the bottle is so nice, then the tequila 'must' also be as well. This is definitely NOT the case. I'm not saying don't buy a pretty bottle if you want one, I'm just saying go in with your eyes open, because in most cases, the juice inside will disappoint you. My respect goes out to the companies that make quality tequila and put it in a plain and inexpensive bottle, and make it more affordable to buy. I'd always rather have them put the money in the juice, as this is coming from someone who appreciates quality tequila, not a collector or someone who is showcasing bottles. I must say that Los Azulejos did a fine job making a novelty bottle AND putting decent juice inside.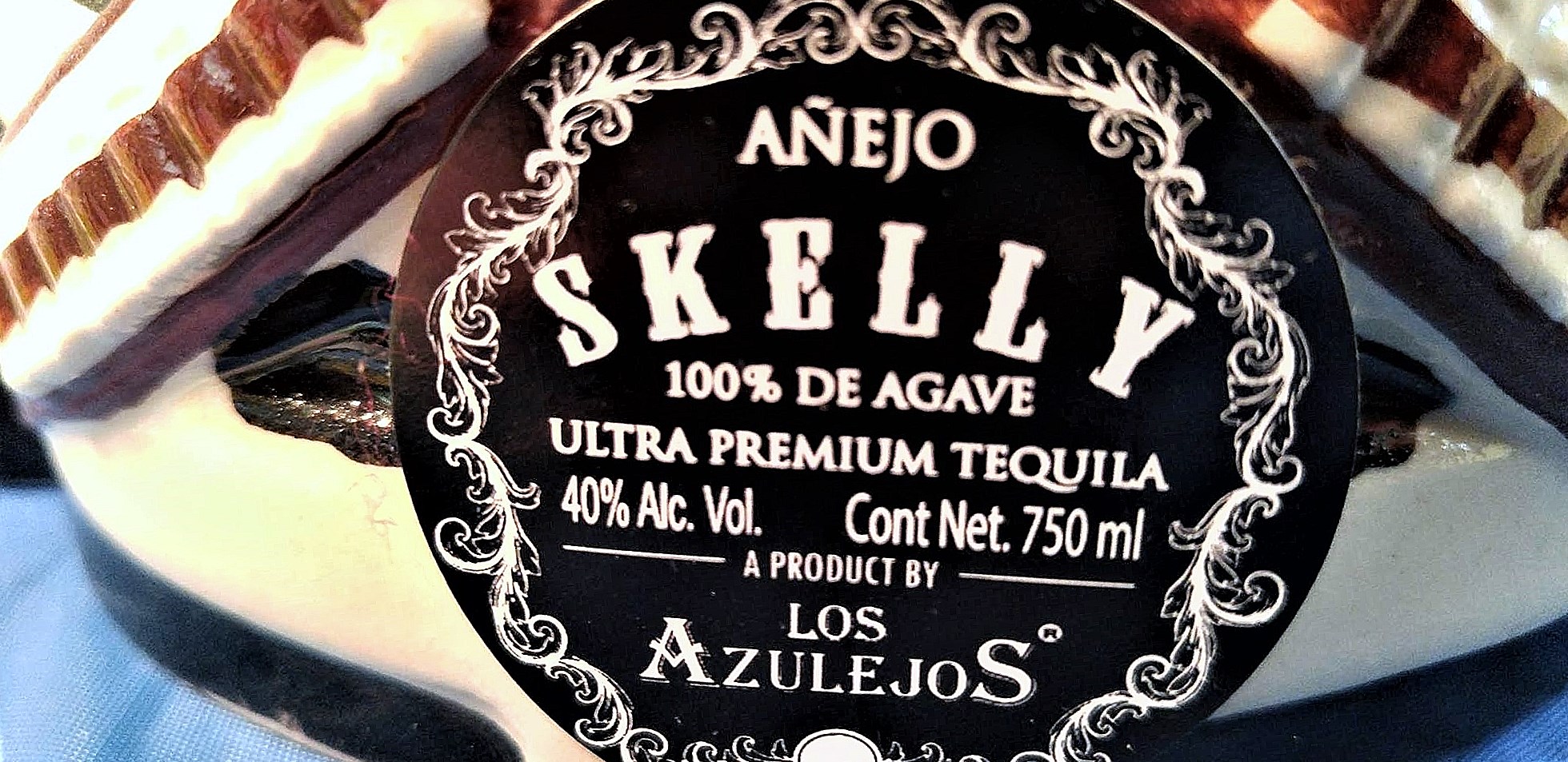 This Los Azulejos anejo is enjoyable, but it's a borderline cream soda/vanilla and caramel explosion. If that's your type of thing- you're going to love it. There are so many better quality anejos for less money..... but you won't get the bottle. See the catch here?.... how important is the bottle to you? I mean the bottle is definitely cool, but does that make the juice better?... obviously not. Los Azulejos Anejo Skelly is fine to drink, but at $60 to $80 or more a bottle, it's more of a novelty, and definitely not worth the price for the juice alone. I've seen it as high as $89, and there's no way that you can compare this anejo to something like Fortaleza, G4, Terralta, T1, Alquimia etc....and all for less money. This Anejo is overly dark, sweet and smooth, and likely has some small amount of additives and/or colorings in it, but being that I have just been told by the owners, of a longer aging process than what is reported (30 months to the reported 12-18 months), it is possible that with this longer aging time, it reduces the likelihood of additives. Again though, it is not overkill by any means, and more than acceptable as an Anejo sipper, and depending on your sweetness preference level, it may be even more than fine. Just be aware that you are basically paying for the bottle.
Other tequilas made here at Casa Maestri are: Casa Maestri Reserva, Agavales, Chimayo, El Rey y Yo, Kirkland Signature and over 77 other brands. Yes that's correct, 77 others brands. Don Pedro Quintanilla, a Tequila connoisseur and grandson of a prominent agave grower, is the founder of Los Azulejos. As mentioned, I was just contacted by his son Chris, who explained to me that "we switched producers back around 2007, and that is why people see some conflicting information on the product." I have updated this review to include the latest production methods below. It is no longer autoclave cooked, and it is all copper distillation, a big improvement as far as I'm concerned, and probably why I liked it more than I expected to. The name 'Los Azulejos' is the name of the Mexican art form of painted Talavera tiles, called 'azulejos' that you see on expensive houses in Mexico and elsewhere.
PRODUCTION- About $60-$80+, Los Azulejos uses 7-10 year old agaves, in a 50-50 blend- from the region of Tequila in El Valle and from the Los Altos region of Jalisco. Los Azulejos is now cooked in traditional brick ovens, and according to the owners, this procedure has changed. This updated information is not listed anywhere. Steaming is followed by crushing in a shredder/roller mill and natural yeast fermentation is done in a slow to medium 48-60 hour procedure, in 30,000 liter stainless steel tanks. Double slow distillation in copper alembic stills are used. Aging is 30 months in used American oak barrels, and according to Chris Quintanilla "we use the same tequila in Skelly as in Los Azulejos." Distilled water is used to bring it down to 40% abv.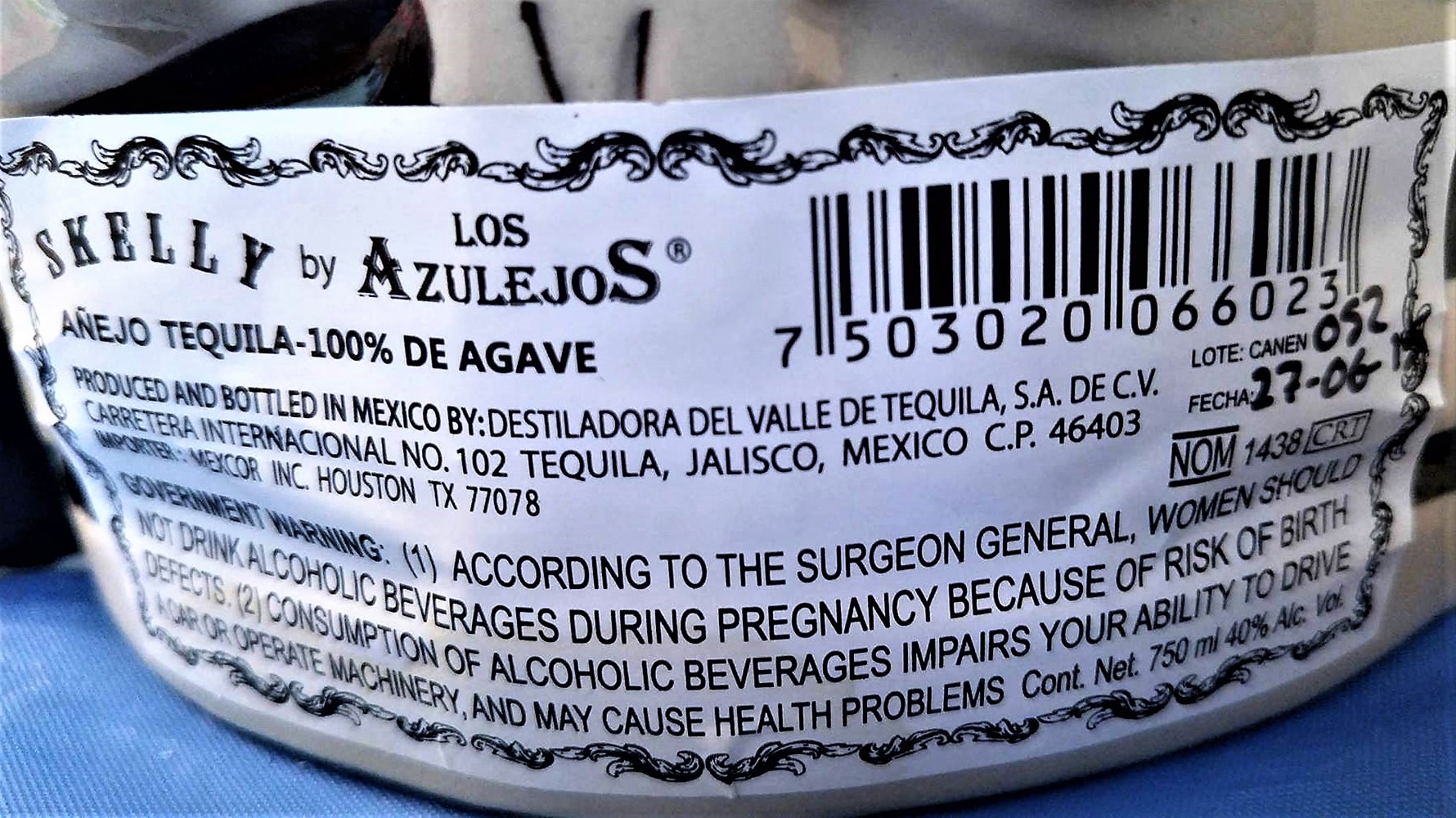 SKELETO ANEJO- My opinion of this is the same as my first impression. It's got a heavy presence of vanilla, caramel, and cream soda, but they knew where to stop to make it enjoyable enough. It's smooth for sure, but also has a good amount of heat. Now if you like a slightly sweet, smooth and vanilla and caramel cream profile, you'll love this. I don't dislike it myself, but it may be a little too sweet and over the top for some. It's without a doubt enjoyable, but that creamy sweetness could be a bit much after a while. The look is a nice golden color, and it is a dark anejo overall. The nose is slightly better than the taste, but overall it's a nice bottle with better than expected juice, which is not always the case. From what I have tasted out of novelty bottles, this is better than most.
NOSE- cream soda, caramel, vanilla, some butterscotch, light cherry, honey, touch of cinnamon, sweet whiskey and oak notes, alcohol heat, light brine, some tea notes, spice and a pinch of nutmeg.
TASTE- medium oil, some alcohol heat, sweet and sugary with caramel, vanilla and cream soda. It's buttery and smooth to sip with a touch of tea, light chocolate and pineapple, with some pepper, light citrus (orange and lime), honey and spice.
FINISH- some alcohol heat, sweet, with caramel, vanilla, cream soda, spice and honey with a sugary notes, in a long exit.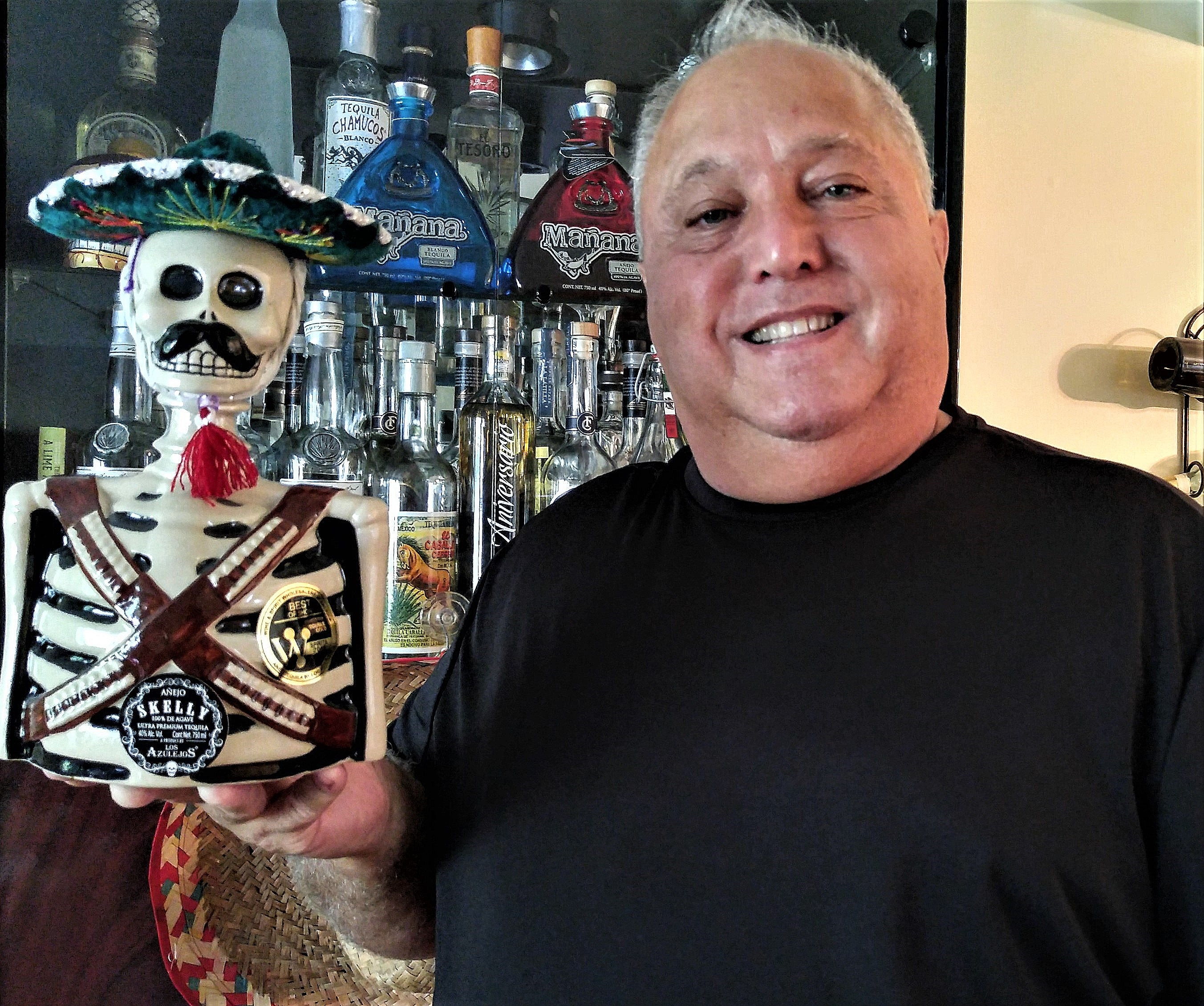 SEE More Honest Reviews and REAL Top Tequila Lists, and Please 'like' Long Island Lou Tequila on Facebook- HERE- https://www.facebook.com/Long-Island-Lou-Tequila-641682619241422/