Making Tequila - A Simple Chart & Explanation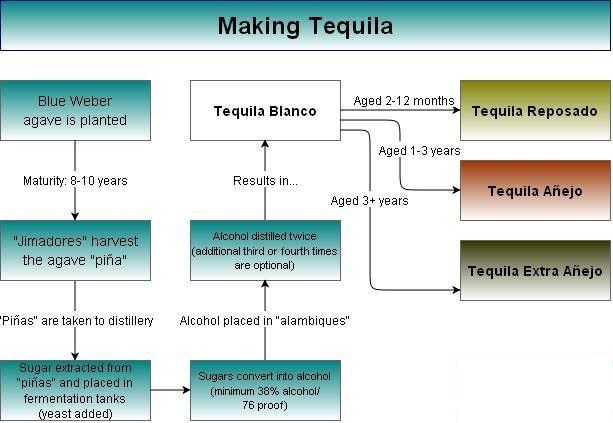 I found this EXCELLENT CHART, to show you the basic process to make tequila. Remember after the pinas are harvested and taken to the distillery, they usually get chopped and COOKED. This is either by horno (oven) "BEST WAY" or Autoclave-"Next Best" or "Diffuser" (the microwave of cooking)- NOT MY FAVORITE. This process converts the complex carbohydrates into simple sugars and softens the plant fibers to facilitate the extraction of sugars later, in fermentation.
SEE My Article on "AGAVE PINA COOKING METHODS (TEQUILA) ... INCLUDING DIFFUSER"- HERE- GHOST_URL/pina/#.WN0cGm8rLAU
Then to "extract sugars" the 'maceration' or 'crushing' methods- (called milling) are done sometimes in the old time tested less radical method of Tahona- considered the "BEST WAY" but now it's usually done by Shredder/Roller Press Milling. This maceration stage takes place BEFORE fermentation.
After Fermentation in wood, cement or stainless steel tanks with yeast which produces the alcohol, it's off to distillation. This is usually done in stainless steel or copper pot stills.
There's so more to it, but this chart is the basics. There is blending, trimming heads and tails during distillation, sometimes "Blanco Resting", and bottling, as well as other procedures before it's off to the store and your glass. This gives you the basic idea. Although I have my favorite methods, we sometimes need to taste for ourselves and not pre judge brands made in different ways. It's like the saying goes.... you can't ALWAYS judge a book by it's cover.
SEE OTHER GREAT EDUCATIONAL ARTICLES and HONEST TEQUILA REVIEWS along with REAL TOP TEQUILA LISTS- HERE ON- LONG ISLAND LOU TEQUILA - SEE all the tabs above, and PLEASE LIKE on Facebook- https://www.facebook.com/Long-Island-Lou-Tequila-641682619241422