Mi Casa Blanco Tequila - A Mom and Pop Brand That's Hard To Top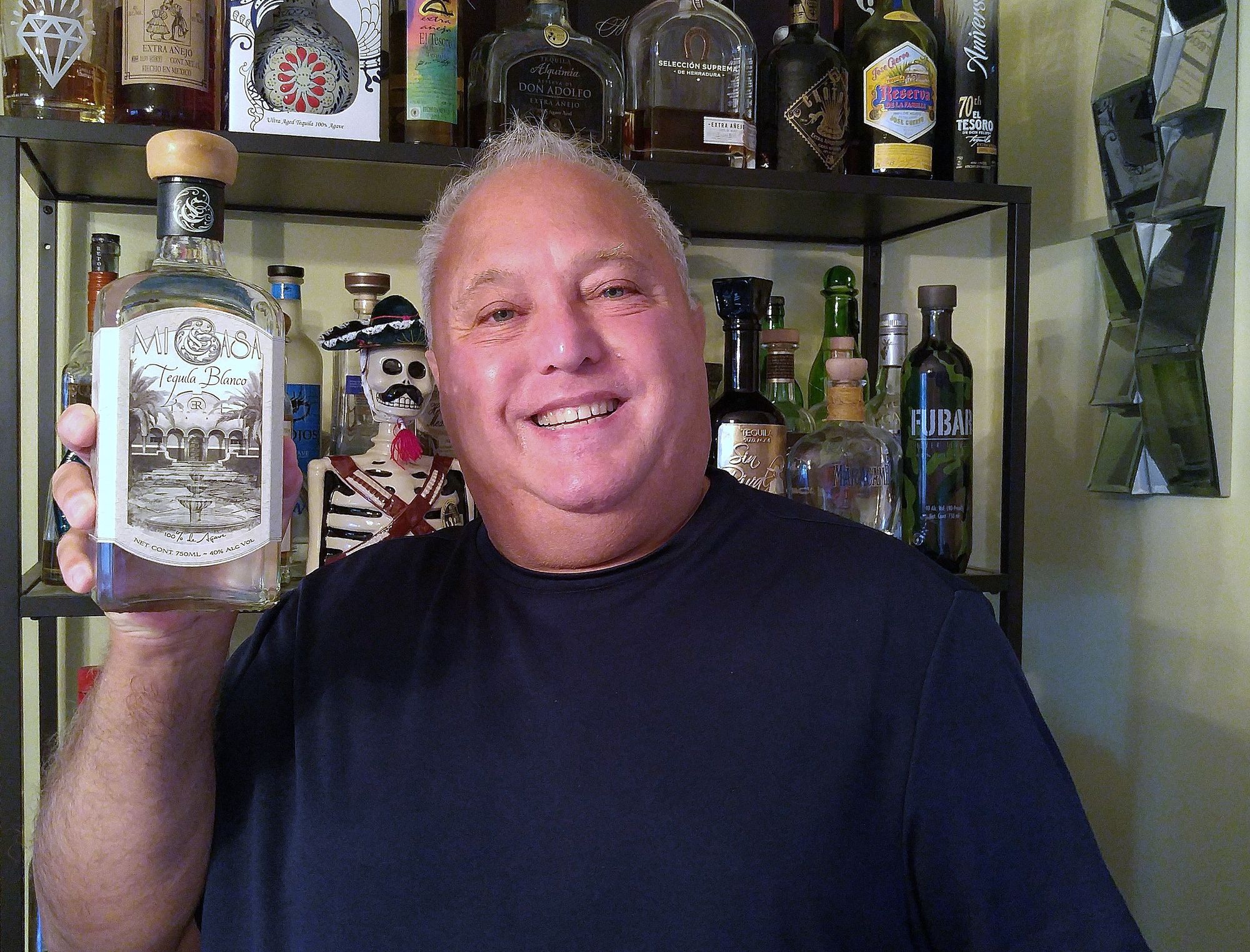 Eli and Cristina Rodriguez are brother and sister, and along with their Mom and Dad are the founders and owners of Mi Casa Tequila. It all started with Grandad Ezequiel, who inherited this cattle ranch from his dad, in Penjamillo, Michocan, Mexico. It is located in the highlands, near the state borders of Quanajuato and Jalisco. When he passed in 2000, his son Ezequiel Duarte Rodriguez decided to grow agaves on this land, which had only been used for horses and cattle, and not for growing. Eli and his sister went along with this new family project and according to Eli, "this new family project came at a good time for me and my dad, and for my family in general, giving us the opportunity to bond together." The family cleared the fields, along with help from their neighbors, and planted each agave, one at a time. Since then they have planted another dozen lots, with the help of neighbors, friends and workers. They originally planted agave to put the land to use, but when the agave market tumbled in 2007, and these agaves were ready to harvest, they needed to make a decision. Since the price was so low for agave, they decided as a family to turn this all into something, by creating a brand. Eli's Uncles- Ambrosio and Eddie scouted distilleries, until they found a good fit at Casa Tequilera de Arandas- NOM 1499 in Jalisco. The journey from the day they planted their first plant, to the day Mi Casa debuted, took over 11 years. This brother and sister team, with Cristina as Director of Marketing, and Eli as Project Mgr, along with their Dad (President) and Mom- Carmen (Vice president), are the hard working and proud owners of Mi Casa Tequila. The family does it all, from growing the agave to packaging, importing and selling their delicious tequila. This is a total family affair, and the more I talk to the Rodriguez family, the more it reminds me of a mom and pop restaurant, a place where family works together as one, with one objective.... to be the best. They even have their uncles and aunts helping with the land, along with friends and neighbors. Eli and his family put their minds together to create Mi Casa Tequila, with Eli even designing and drawing the label himself, as he did for his upcoming brand called '1933'. This is totally a 'family affair', and the name "Mi Casa" couldn't fit better.
L to R- Carmen (Mom), Cristina (top), Eli ( below) and Ezequiel (Dad)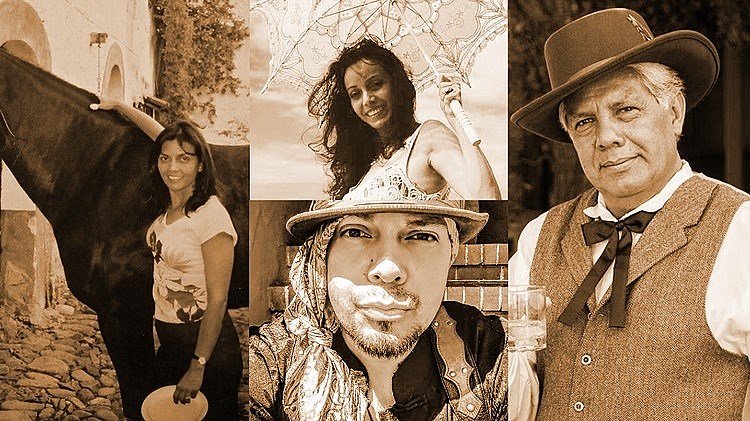 Since launching in 2011, Mi Casa has been the recipient of over a dozen international blind tasting awards. Believe me, if you haven't done it yourself, blind tasting 'says something'. This family doesn't seem to be driven by simply making money, as they have a real love for the people, their land and heritage, and for the quality of their agaves and tequila. Ezequiel Duarte Rodriguez used his own money to build and pave roads on his property as well as through the town, to the main freeway helping the people there and benefiting a nearby school. He also helps the workers there by paying them double the rate, and they are very grateful. Mi Casa is a small batch single estate spirit, grown by the family and produced their way, with no additives. Eli and members of his family visit the distillery often, to be sure that everything is being made to their standards. They originally found that letting the juice 'settle' in stainless tanks before bottling, gave them a smoother taste without having to use any additives. Overall though, Mi Casa Tequila is all about their agaves. As a single estate brand, there is no mixing or sourcing of agaves here.... as they all come from the same place.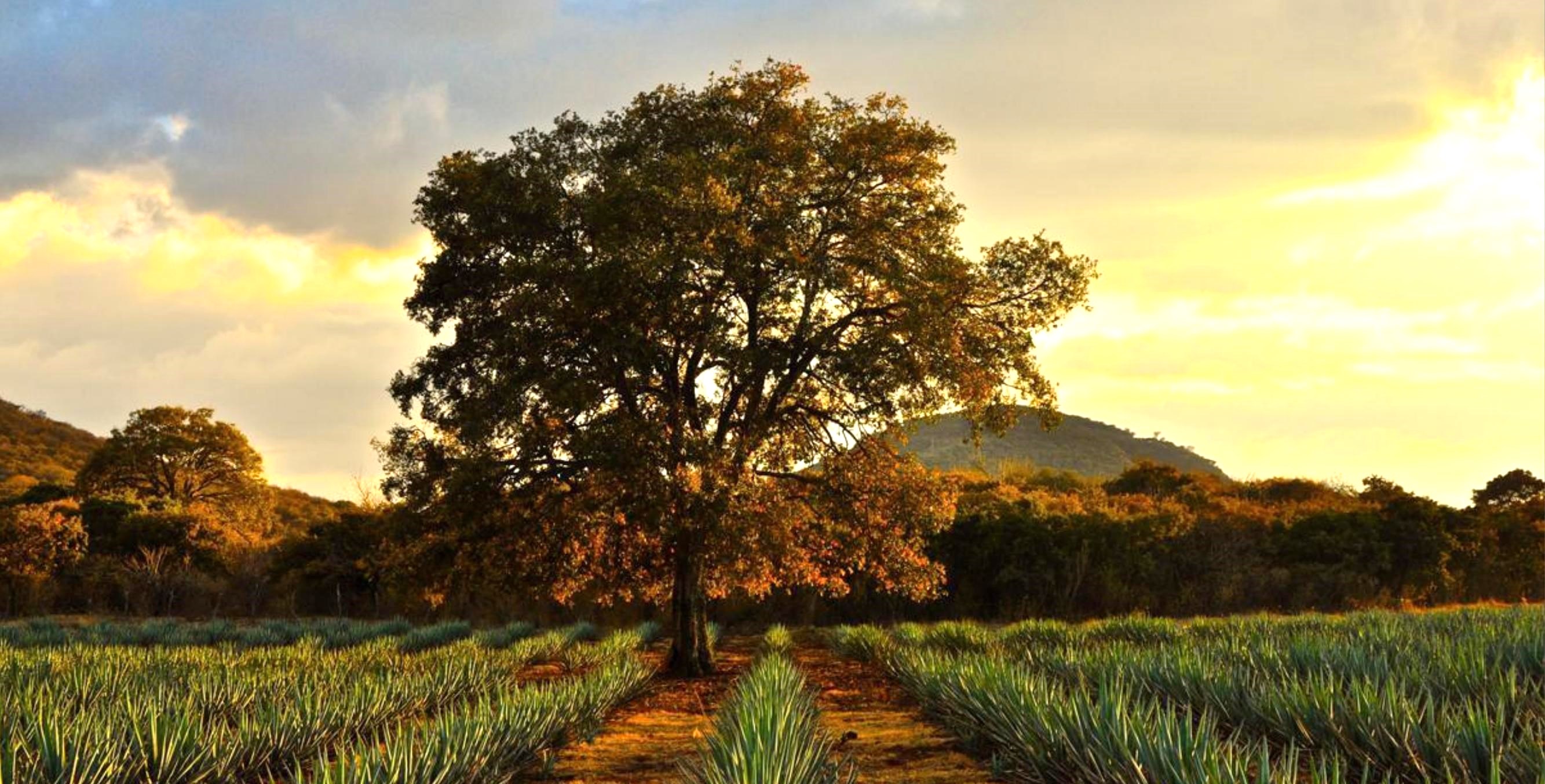 When I asked about these specific Michocan agaves, Rodriquez told me "I have to fall back on terroir, or rather the intrinsic flavor from the earth." The environment up there is very hot, arid and dry during the hottest parts of the year, and during the rainy season it's very floral and green, and that's why it's called El Potrero Colorado (The colored pasture). He told me "our Michocan agaves still have that 'highland' profile to an extent, with the sweetness, larger size, fruitiness etc, but to my knowledge, ours is the only single estate agaves on the US market, from the state of Michoacan, specifically from the highlands." These agaves are puro Michoacan, grown on virgin land, never used before for growing agave, and with the blood and sweat of his family poured into that soil. As I pushed on the issue of additives, Eli told me that they use absolutely no additives or coloring, saying "we're not about coloring things to make 'em pretty, we're about translating terroir." I'm telling you, the natural sweetness and purity will hit you right in the face, and being that the owners are the farmers of their own land, they have the luxury of choosing the sweetest agaves, that they harvest. Rodriquez told me they harvest only high brix (sugar) level- 32-34% agaves.
Ezequiel Duarte Rodriguez with his agaves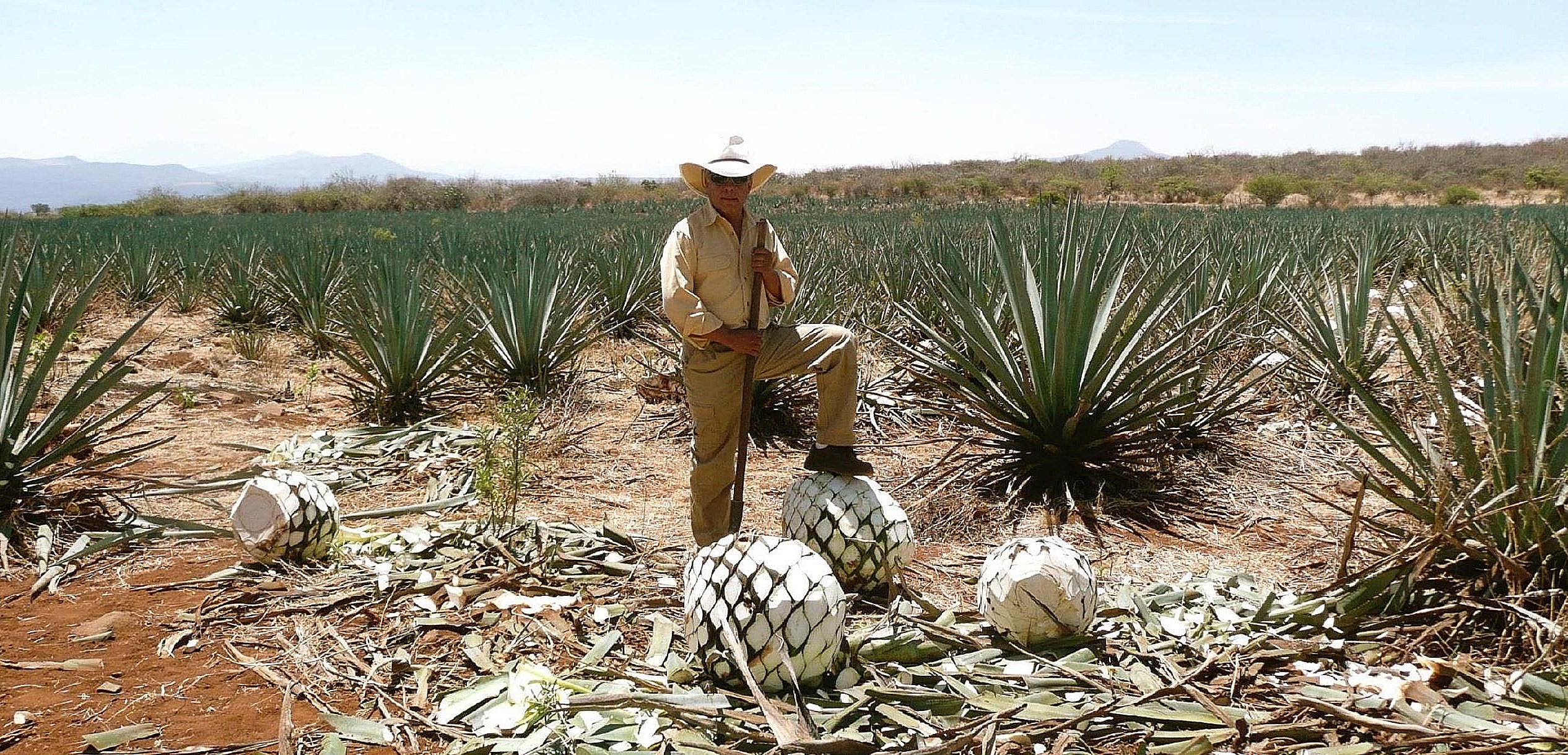 Eli and Cristina at The Spirits Carnival in SF, California.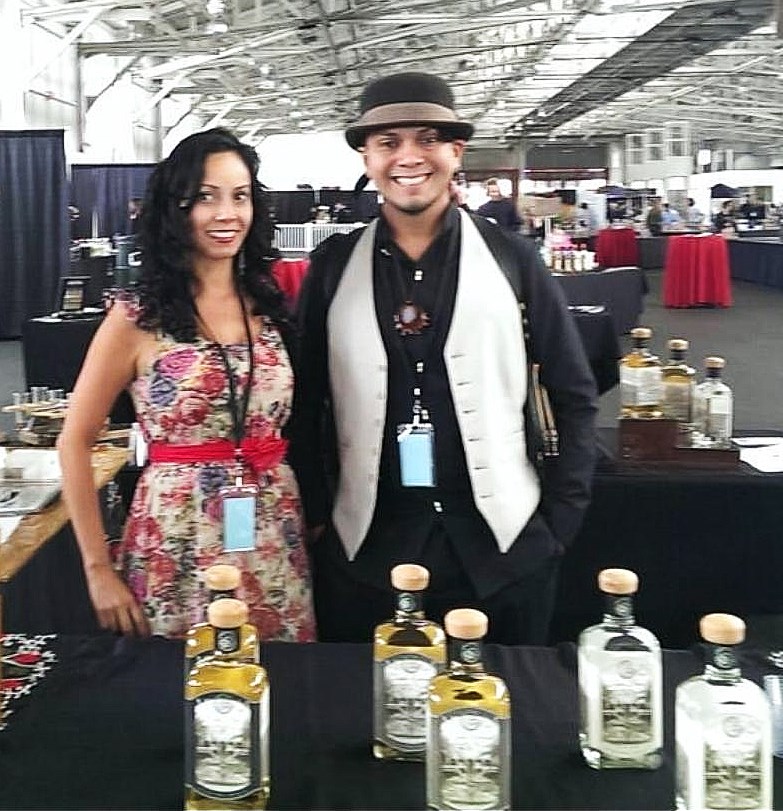 Eli Rodriquez, known as 'The Spirit Ambassador', (above) made a good point saying "if you think of wine, anything that is not single vineyard is just a blend, so any tequila that is not single estate cannot really make a claim of terroir, because they themselves are blends, and if you want to taste the literal and figurative spirit of Michoacan.... it's Mi Casa." This family of agave growers sell some of their agaves to other producers. They contract at Casa Tequilera de Arandas- NOM 1499, in Jalisco. The agave is harvested in Penjamillo, Michocan, and then driven north to Arandas in approximately 400 ton harvests. It's about a two hour drive between the two. The sweetness of these agaves shine through in this delicious tequila. As a blanco lover, I absolutely love this pristine, naturally sweet, clean and pure tasting blanco tequila. Other tequilas made here are 1921, 3 Amigos, Aqua Riva, Don Suenos, and about 30 others, but they are not using the same single estate agaves, and this seems to make a nice difference in Mi Casa's taste. When I asked Eli the situation on buying this product, he said "we're small and though we've had distributors in the past, we are back to being the sole providers, and it's still just a word of mouth thing." I see it is sold in spots mostly on the West and East coasts, and online at ZEE Tequila and other outlets, but Rodriguez said "San Francisco is home to Mi Casa, and if people, bars or restaurants want Mi Casa or our newest projects (See Below), they should call their favorite stores, and tell them to stock us by emailing me at- mail@1933spirits.com
Cristina & Eli accepting awards at the New York International Spirits Competition.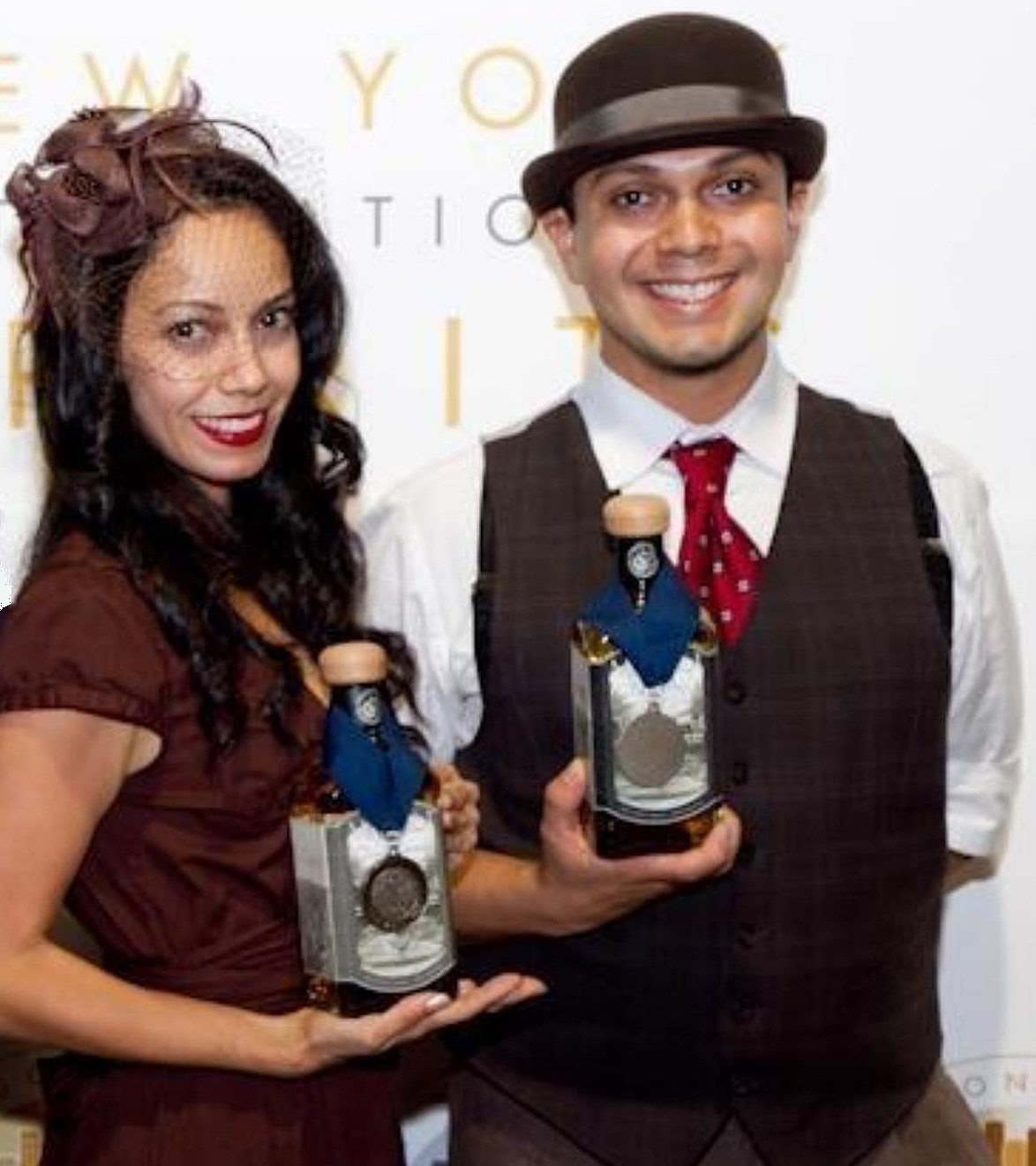 The way Eli explains it "we're just 4 people who started doing this because we wanted to dream big, hoping that if we survive in this business, and if we ever become a household name, that we we would use the resources to invest in projects rooted in altruism." Even though they are a small brand, they continually sponsor the arts and music, as they are the annual sponsors of the High Sierra Music Festival in Quincy, California as well as tons of local Bay area sponsorships for the arts and cancer causes, which their family is very familiar with. Eli told me "it would be a dream come true to be able to continue to be a good neighbor and citizen of the world on a larger scale." They're all about helping people, and in their own way.... improving the world.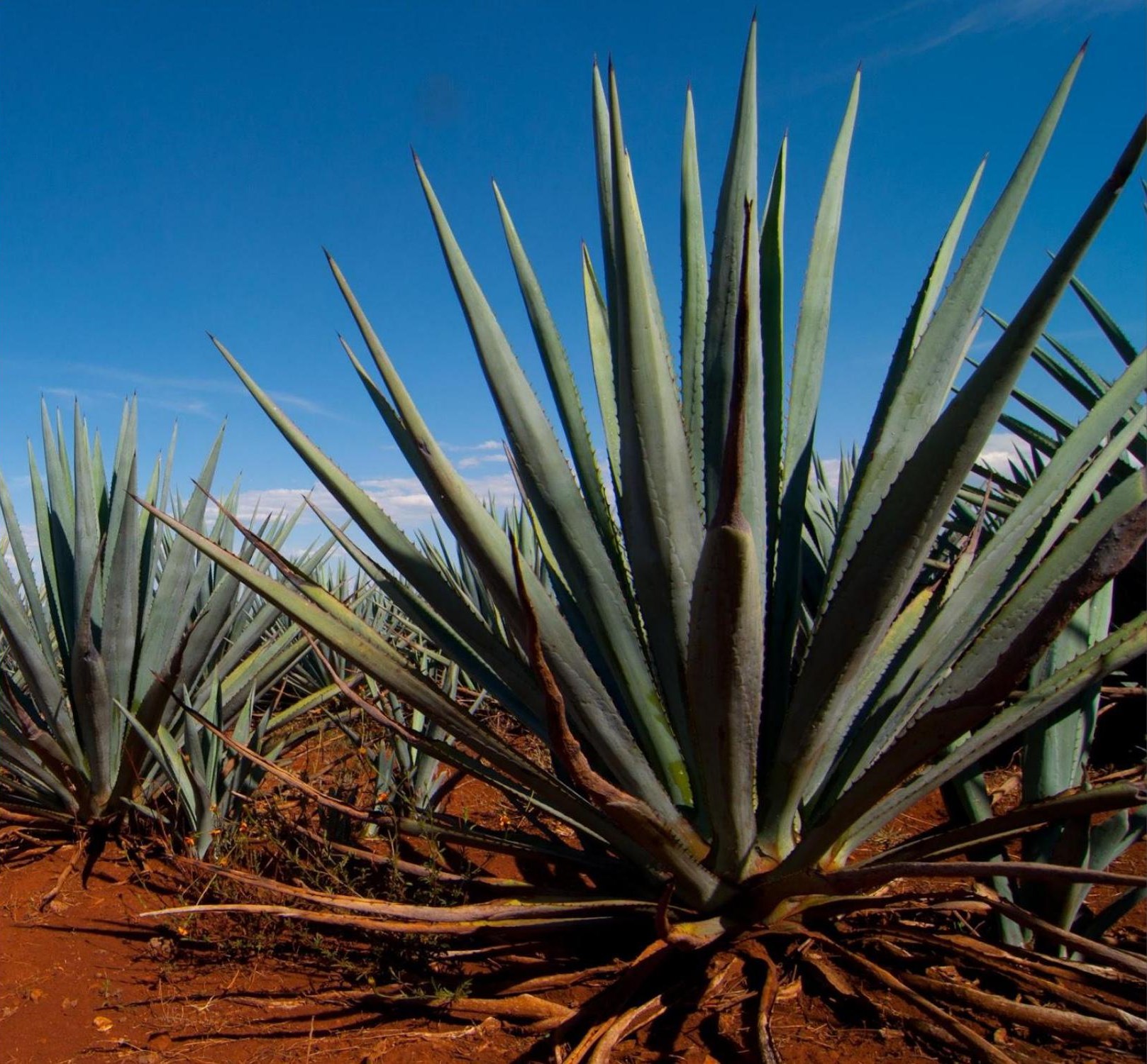 Besides loving the Mi Casa Lot 1 blanco, they also have a Lot 2 (Double Gold winner) which is rested much longer (6 months) in a stainless steel tank before bottling, and is creamier. Mi Casa also has a Reposado (aged 10 months) and an Anejo (aged up to 30 months), both aged in white oak bourbon casks sourced from Heaven Hills Distillery in Kentucky. The Rodriguez family is always cooking up new ideas, and I was pleasantly surprised to receive two samples of Eli Rodrigez' Limited Edition line of Tequilas called '1933' (SEE BELOW), which is the name of their import/wholesale company, and named for the 'end of prohibition'. There's a high proof blanco (95 proof) called 'El Potrero', which is rested in a stainless steel tank for 3 years before bottling, and I tried two samples of the high proof- 6 year Extra Anejo's- from the 'Temperaments' Limited Edition Series, both 109 proof- single barrel/single estate presentations. 'Temperaments' in mythology, are the four emotional characteristics of man, as each of the multiple barrels have a unique personality. Each of the multiple barrel releases will correspond to the barrel number on each label. I tasted barrel numbers 42 and 54, and they both had very clean and strong, flavorful personalities, aged in used Jack Daniels barrels with a #3 char. These 'Temperament Editions' are all 6 year aged, straight from the single barrel (never blended), 109 proof (no water added), non-filtered, completely additive free.... pure goodness. One of the editions will be a special release, called 'Feel the Bern' for Bernie Sanders fans, with a special label. These multiple release barrels should be for sale online soon, and I can't wait to be able to buy these. Eli told me 'Mi Casa was always about getting our feet wet, but with 1933, it's my way of being innovative without trying to rebrand Mi Casa or add to what it already is.
<br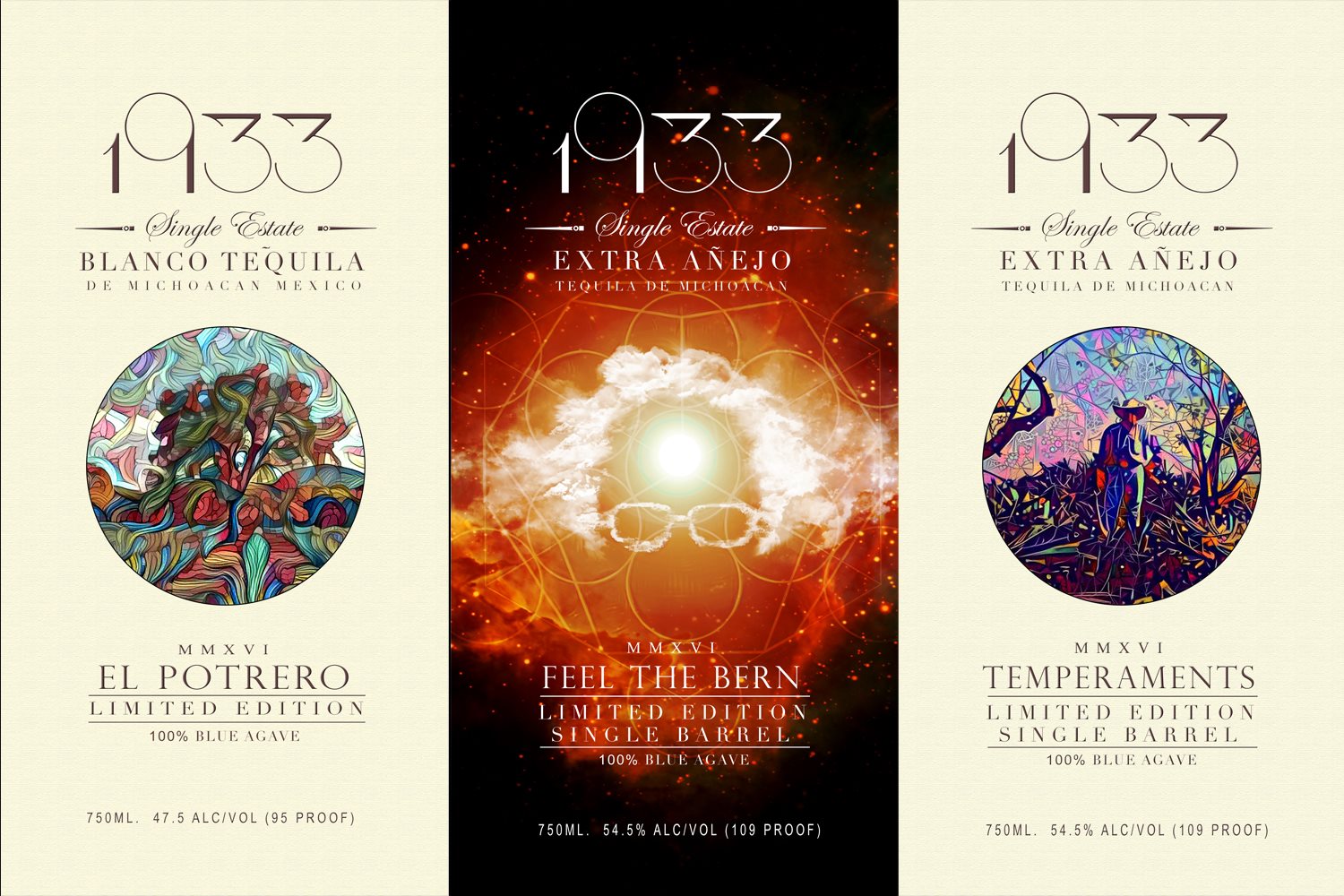 SEE Eli's artwork designs above and below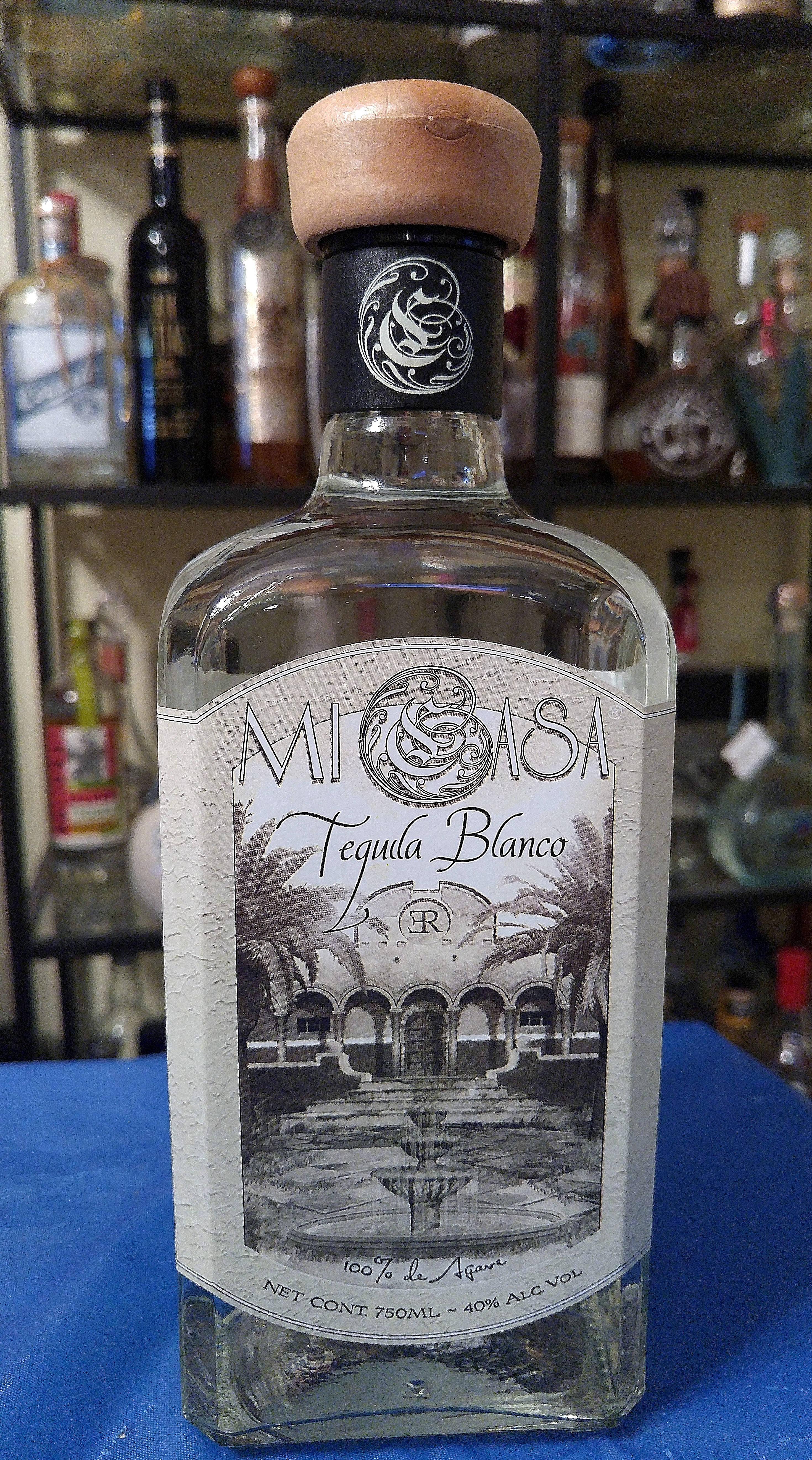 PRODUCTION- Agaves are grown at 6,500 feet in the Michoacan highlands, southeast of Jalisco. Cooked in stainless steel autoclaves for 16 hours, then milled in a shredder/roller. Fermentation is in SS tanks using Champagne yeast followed by double distillation in SS pot stills. Chill filtration is used on both lot 1 & lot 2 blancos, while this Lot 1 blanco is bottled after 48 hours in a stainless tank, Lot 2 however is rested for 6 months in a SS tank before bottling, stabilizing the base and giving it a rounder and creamier mouthfeel. I have been told by the owners, that there are absolutely NO additives in the tequila, and that includes no added glycerin and no coloring. Eli said "our Repo and Anejo are nearly identical color wise, and some have told us to add color so it sells better, but it's just not something we do." I will say that this is something I have stressed in many of my articles and reviews...Bravo!! - Eli Rodriguez says the only thing added into their products... is time.
Mi Casa Blanco (Lot 1)- Approx $33.99 - 42, and double distilled at 40% abv. This crystal clear blanco is extremely clean, soft, pure and full of natural sweet agave flavor. This is a really well made and additive-free delight. It is smooth and silky and very tasty to drink. You will be amazed when you see the amount of tiny crystal clear bubbles (pearls) coming out of this bottle, to the rim of your glass surface, or when you shake it. Seeing pearls (bubbles) is a good thing and usually indicates quality or pureness. Most readers know me as a blanco lover, and trust me when I say that 'Mi Casa' is a clean, tasty, delicious blanco, and it's now one of my very favorites, and this needs to be sampled by blanco purists.
NOSE- sweet natural agave, anise, minor alcohol heat with a clean and pure aroma. Some mineral notes and fruit (mellon), with a pinch of cinnamon and pepper. Some light spice, light smoke and just a hint of cocoa and a soft peppermint.
TASTE- Nice thick oil, warm with sweet agave presence, clean, pure and tasty. Silky with light anise (licorice), light spice and pepper, with a thick and pure mouthfeel and a nice minor alcohol tingle. Absolutely delicious.
FINISH- silky with minor heat, anise and delicious natural sweetness with a touch of spice with a medium finish.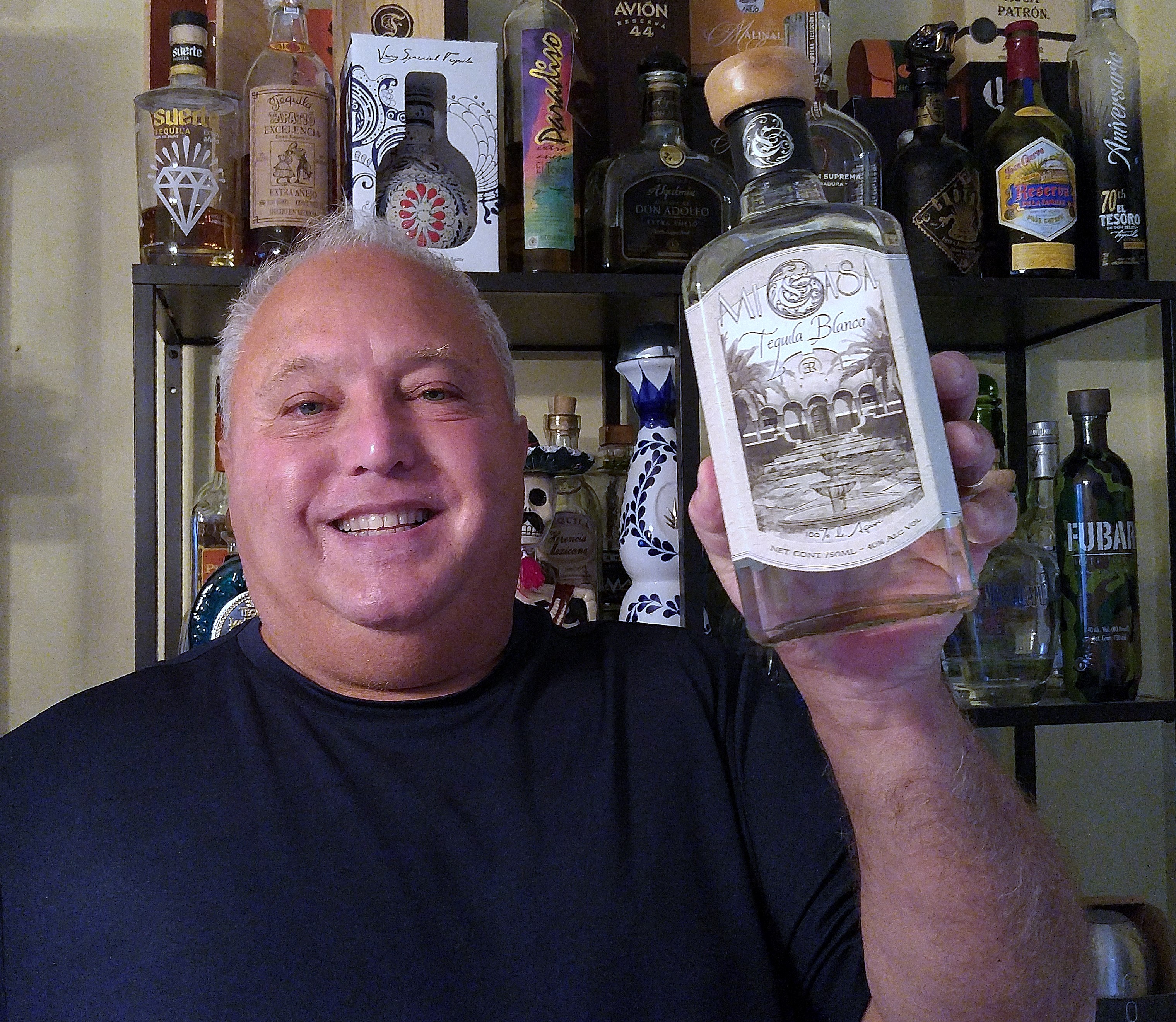 To get ahold of 'Mi Casa Tequila' or the new 'Temperaments Limited Editions'- email Eli Rodriguez at- mail@1933spirits.com
SEE More Honest Reviews and REAL Top Tequila Lists, and Please 'like' Long Island Lou Tequila on Facebook- HERE- https://www.facebook.com/Long-Island-Lou-Tequila-641682619241422/