Tequila Regions - Highlands (Los Altos) & Lowlands (El Valle) - WHICH IS YOUR FAVORITE?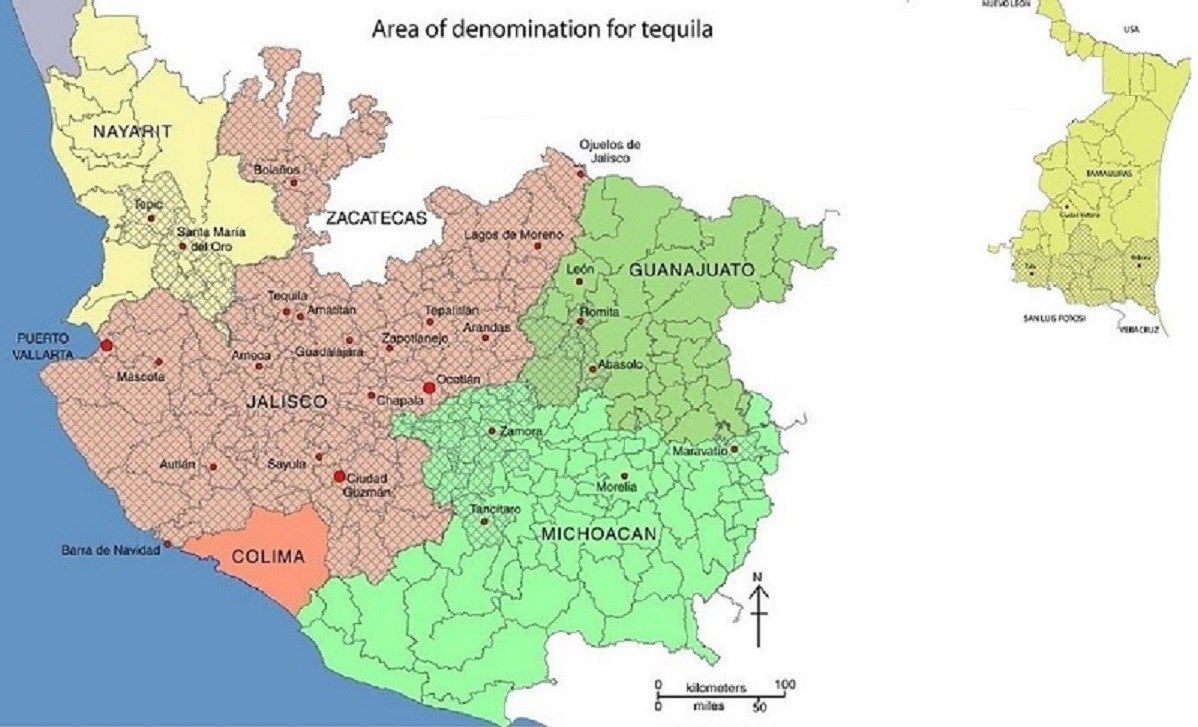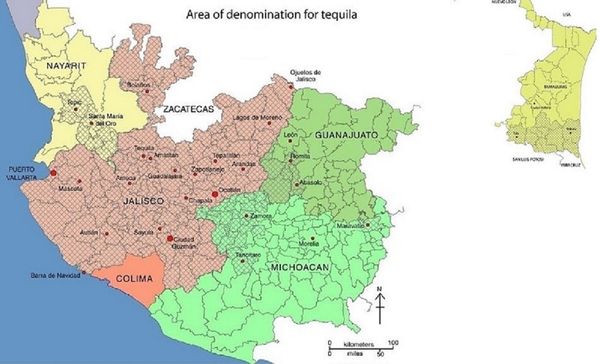 The more you taste different tequilas, the more you will realize that the two main regions that Tequila is grown and produced (mostly all in the state of Jalisco) taste different. Agave plants nurtured in the Los Altos (highlands area) have mostly red clay soil and higher elevations that produce a tequila that's different than those grown in the rich, darker volcanic earth of the Valle or lowlands. It has been said, that the tequilas made in Tequila Valley are masculine, forward in flavour with an earthy, peppery and herbal taste profile, compared to tequilas made from agaves grown in Los Altos, being more feminine, softer, rounder, more fruity and floral. I can't decide which I personally prefer, as I have absolute favorites from both regions, and you may have the same issue. Have you ever listed your favorite brands or brand expressions, and looked at where they are from? It's interesting but getting harder to do, with brands not always using all of their own grown agaves from their own region. There are so many great tequilas from both areas, and if you look at the top 12 of my 'Lou's Best Blanco Brands' as an example- HERE- GHOST_URL/what-brands-to-buy/#.WHjprVMrLAU, you will see a mix. My favorites brands definitely lean highland with 9 of the 12 listed as Los Altos (highland brands), and 3 lowland brands (if you count t1 as highland, as the agaves are from that region). As you may realize it's not so easy, not just deciding which brands you like better, but dealing with the fact that some brands are 'technically' from both regions. This is the case, if you consider it important, where the distillery is located. Actually you can say that many brands are from both regions and as such, you really can't categorize them as strictly a highland or lowland tequila. This will likely continue to grow as right now, with an agave shortage that looks to get worse, almost every brand is using (CRT approved) agave from wherever they can find it.
It's hard to categorize a tequila, based only on where it's agaves are grown or only on where it is produced. Just a few brands to mention with this 'split personality' are t1, Dos Armadillos, Mi Casa and El Viejo Luis. T1's agaves are grown in Los Altos but the distillery is in El Valle. Dos Armadillos is the opposite example, with it's agaves grown in El Valle but is produced in the southern region outside of El Valle, and not part of either area. Mi Casa's distillery is located in Los Altos, but uses agaves from Michoacan, and El Viejo Luis has it's distillery in the Valle, but uses agaves from the highlands. There's others like this as well, so it's not so cut and dry. Often times, agaves are sourced (bought) from agavero farmers and they are usually documented or marked as CRT approved agaves, and unfortunately at this time, small and big producers alike are getting their agave from wherever they can in the tequila appellation. It's even possible that buyers can't always be absolutely sure where the agave are from, if they're buying in a pinch, although that is not normally the case. Keep in mind when a producer buys from a farmer, it's possible that a contract is not involved, but most of the time contracts are written between the tequilero and the agavero.
Not only in times of shortages like now, but also when a brand is expanding production, will they sometimes need to buy CRT approved agave from wherever they can find it. Khrys Maxwell, a tequila geek to the highest degree says "each agave is registered with the CRT so everyone knows where that agave comes from. While brands and aficionados want to lump brands into regions, producers may receive one truck full of agave from Arandas and another truck from Amatitán on the same day, and just load them into the ovens and have tequila a few days later, resulting in a tequila that comes off the still that is made with agave from both regions." For categorizing purposes, although I personally feel it 'may' be slightly more important on where and how the agaves are grown, according to your taste preference, it must be noted that often brands produce in a different region from where the agaves are from. So unfortunately, categorizing into simple lists is becoming almost impossible to do. Another issue can be that many brands have a limited supply of agave, and categorizing can change quickly and often, as they may purchase for a batch at a time. There are too many variables to simply list some brands, as from one region or the other, and unfortunately some brands are losing their 'singularity' as they buy agaves from a different region out of necessity. In any case, I have listed many brands here from the region they are normally best known, for reference purposes. In reality, if we tried to pick one area to categorize a "dual region tequila" (agaves grown in one, and the distillery in the other)......you really can't.
For my own preference, although I had more Los Altos favorites, I still say that with 'split region brands' any deviation should be noted, but that in itself is becoming a full time job and may be impossible to do. Both the growing region and the production region are very important. With the example of looking at the 12 tequilas at the top of my 'Top blanco brands', where I listed t1 as highland (agaves only) and ArteNOM as highland since all but one ArteNOM expression was highland, I guess I can see that my preferred overall region is Los Altos (highlands), but wait a second... The thing is, that the lowland blancos I like... I REALLY love, like Fortaleza, El Caballito Cerrero and Siembra Valles, so maybe like yourself, I have no 'absolute' preferred region, I simply love them both.
Concerning agave itself, there are so many variables, like how long the agave were grown, where it was grown, what fruits or vegetables were grown near them, the space separating each plant, the use of chemicals in the soil, the food available to each plant, the overall weather and temperature in the area, as well as rainfall amounts. Of course it can't be stated enough that using fully mature agave, regardless of the region....is the key. Each region has their own 'Terroir', which is a French wine term, used to describe the natural elements and influences that a particular area has on agriculture grown there. It's the characteristic taste and flavor imparted by the environment. This also includes the 'overall' soil content as well as the content in the exact field that the agave were harvested in, the topography, climate, the amount of, or lack of sun, and exactly where and how the agaves are placed on hills, considering general wind and cool air conditions, and on and on. All these factors and more, make a difference to the agave flavor. And let's not forget how important the water source is (some say the Valle has a better water source).
Also extremely important is exactly how the equipment is used, as this can change the taste of any agave. Production methods can change the taste of any 'region grown' agave in a big way. How it was cooked, the change in cooking times and the temperatures used, how it was crushed, fermented and what type of yeast is used- if any. The distillation cuts and production procedures, as well as the aging techniques at that distillery are all important. All of these will lead to a different aroma and flavor profile. So it's a combination of the agaves used and how they were grown, and the exact production methods used, that will determine the taste profile, and make for the total package.
EL Valle (lowlands) Tequilas, are really not 'Low' lands when you consider, the elevations of about 3,900 feet, and understandably, many don't like this term, especially as the lowland-highland terminology is a Scottish term from Scotland where whiskey is made. Either way, the "lowlands" were harvested first (since the 1600's) and are mostly more earthy, with grassy, vegetal, spicy, peppery notes, and tend to be spicier and have more minerality, than Los Altos agave. Often you may notice cinnamon or what many describe as a sort of a wet clay aroma, from the dark volcanic soil, using the high quality natural water supply, and grown at 2,600-4,000 feet of elevation. The village of Tequila sits in the lowlands, where the valleys were formed when volcanoes arose in central Mexico. Although the volcanos are no longer active, they left their mark on the soil in this lowlands region. El Valle (lowlands) tequila, is grown in this fertile dark brown earth, and produces spicy, earthy and herbaceous agaves, rich in volcanic mineral. The soil is abundant with minerals such as copper, iron, potassium and silica. The Valle region, northwest of Guadalajara is warmer, with a yearly 'average' weather of 71- 78 degrees, and gets more rain than in the highlands. El Valle is the original area of tequila, including the 'Town of Tequila', as well as Amatitan, which some consider the home of tequila. The agave pinas grown here are of a smaller size- about 66-110 lbs. The town of Tequila is to the west, from downtown Guadalajara, and within a short ride are the towns of Amatitan, Arenal and Magdalena. The area south of Guadalajara (GDL) is known as central Jalisco, and not considered the Lowlands (El Valle).
The Los Altos (highlands), which started harvesting agaves later (1900's), grow more plants and are of a considerably larger size- (110- 154 lbs each)- WOW!!.... that's some BIG pinas. Los Altos agaves typically produce more of a citrus fruitiness, a touch of spice and fine and softer notes of the agave. These higher elevations (6,000- 7,200 feet of elevation), in which agaves normally grow on the hill slopes, are sweeter in aroma and taste, producing sweet, fruity, herbaceous tequila, with some describing the taste as wet cement, but I never tasted wet cement, as far as I know... so who knows? Los Altos tequilas may be slightly more delicate overall, with more vibrant floral notes and some mineral qualities. Agaves from this deep floor, are very rich in minerals and iron, and growing in the cooler 'average' weather of 64-68 degrees affects the flavor as well. Due to the higher elevation, you also get cooler nights and colder winters, which also affect the agave. With less rain here, the roots grow deeper in this drier highland reddish soil, and as they "stress" (working harder to survive) and to find the water, the plant picks up more minerals. This 'shock' causes more sugar to rush and the agave becomes sweeter. I'm also guessing the red soil is easier for the roots to maneuver, compared to the dark volcanic soil of the lowlands.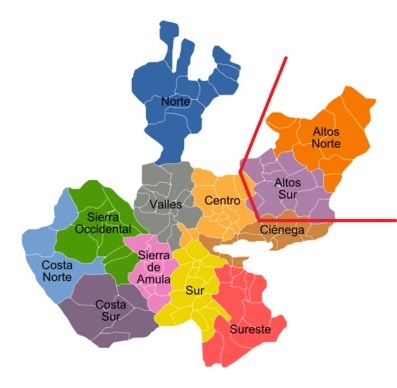 The Los Altos (highlands), sectioned above within the red lines, is 1-2 hours north/northeast of Guadalajara and runs north and south. To be accurate, this area is mainly comprised of Altos Sur (Southern), or Altos Norte (North), but the lower section called 'Cienega' is also part of this region, where Patron and others produce. This area is where the water runs down from the mountains and eventually into Lake Chapala. As like anywhere, this Los Altos (highland) region is broken down to specific areas. It starts at Tepatitlan on Hwy 80 and continues to Arandas on Hwy 84. Arandas is the center of tequila production in Los Altos, along with other main areas of Jesús María and Atotonilco el Alto, also in the 'southern' part of Los Altos. Most polls show Los Altos tequilas to be more popular.
Keep in mind brands do move around, and also go out of business. Also remember that other legal regions from the 'Appellation of Origin' grow agave and produce Tequila as well. For example, agave from the outer areas of origin like Tamaulipas, being so close to the Gulf of Mexico and salt water, affects the plants with a salty, tropical, spicy, sometimes butterscotch flavors. This region may be referred to as Highlands/North. It's important to realize that with shortages (like right now), brands are buying agaves from wherever they need to, and it's almost impossible to have an accurate list, when some brands go out of it's region to purchase agaves. Lines are getting blurred with brands that were known to always use agave from their region, who are not now.This is simply a working list of available information at this time, to give a 'general' reference of a brands typical categorical region. I highly recommend downloading the TMM Mobile App (Tequila Matchmaker) to see information on Tequila brands, including regions.
Here are some popular brands- Only 100% Agave from both regions. YOU be the judge.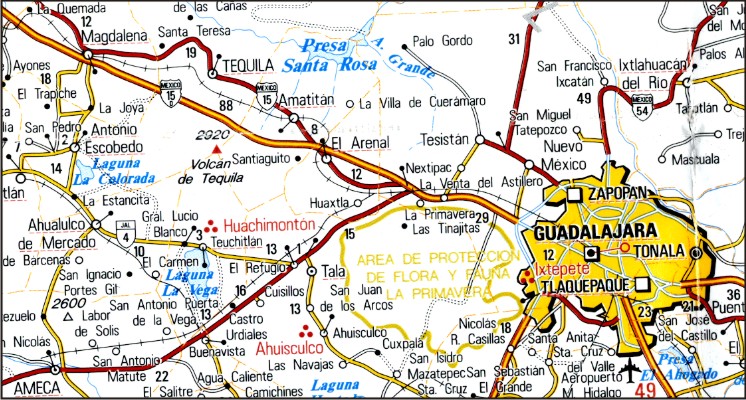 EL VALLE (lowlands) TEQUILA: earthy, spicy, peppery, vegetal, herbaceous.
3 FUSILES TEQUILA - (central region)
3 POINT TEQUILA
3 VAQUITAS
3R TEQUILA
4 CANONES
4 COPAS
7 SIETE de COPAS - (central region)
8 COPAS
8 MESAS - (neither region- Tamaulipas)
123 ORGANIC TEQUILA
374 TEQUILA
916 TEQUILA
1000 AGAVES
1519 - (central region)
1800
17.02.09 - (agave only)
ABREOJOS
ANTIGUO
ARETTE
ARTA
ASOMBROSO
AZUNIA
BLUE NECTAR
CABO WABO (ORIG)
CASA DRAGONES
CASA MAESTRI
CASA NOBLE
CHAMUCOS - (distillery- central region)
CHINACO - (neither region- Tamaulipas)
CORAZON MAYA
DOS ALMAS
DOS ARMADILLOS - (agave only- distillery is in southern region- far south of GDL)
DON ALVARO
DON EDUARDO
DON FULANO
DON LORENZO
DOS LUNAS - (central region)
DON NACHO
DOS LUNAS - (central region)
EL CABALLITO CERRERO
EL JIMADOR
EL RAY y YO
EL VIEJO LUIS - (distillery only)
FORTALEZA
FUENTESECA - (distillery only)
GRAN CAVA DE ORO
GRAN MAYAN
HERENCIA MEXICANA - (distillery-central region)
HERRADURA
HORNITOS
HUIZACHE
JOSE CUERVO
KAH
KIRKLAND
LA COFRADIA
LOS TRES TONOS
LUNAZUL
MAESTRO DOBEL
MALINALI - (distillery/agaves are midland/central region-southeast of GDL)
MANANA - (new distillery-lowlands/agaves from both regions)
MEXITAS
MI CASA - (agave from Michoacan highlands)
ONE WITH LIFE
ORO DE LIDIA
PAQUI
PARTIDA
PENCA AZUL
REALIZA MEXICANA
REVOLUCION
SAUZA
SENDA REAL
SIEMBRA VALLES
SIN RIVAL
SENOR RIO
SOL DIOS
T1 - (distillery only)
TANTEO - (central region)
TEQUILA 512
TEQUILA CELESTIAL
TEQUILANA
TRES AGAVES
TRES GENERACIONES

LOS ALTOS (highlands) TEQUILA: sweeter, fruitier, citrusy, soft agave notes
3 AMIGOS
3 CABALLOS
3 FUSILES TEQUILA - (central region)
3 GARANTIAS
3 MAGUEYES - (Cienega region- most southern area-Los Altos)
3 ONDAS - (Cienega region- most southern area-Los Altos)
4 MACHOS
5 ANOS
7 MARES
7 SIETE de COPAS - (central region)
8 MESAS - (neither region- Tamaulipas)
21 TEQUILA
29 TEQUILA TWO NINE
901
1921
1948 AZARES de JALISCO
1519 - (central region)
2012 LUNA NUEVA - (Cienega region- most southern area-Los Altos)
17.02.09 - (distillery only)
AGAVE TEQUILANA
AHA YETO
ALIEN
ALMA DE AGAVE
ALQUIMIA
ARTE NOM SELECCION
AVION
CABO WABO - (Sammy Hagar sold and Cabo moved here to Los Altos)
CALLE 23
CASAMIGOS
CAZADORES
CENTINELA
CHAMUCOS - (agave only)
CHAYA
CHINACO - (neither region- Tamaulipas)
CLASE AZUL
CORRALEJO
CORAZON
CORRIDO - (out of business)
CORZO
CRUZ DEL SOL
DE LEON
DESMADRE
DON JULIO
DON PILAR
DON WEBER
DONKEY PISS
DOS ARMADILLOS - (distillery is in southern region- far south of GDL)
DOS LUNAS - (central region)
DULCE VIDA
EL AGAVE
EL CAPO
EL CHARRO
EL ESPOLON
EL MAYOR
EL TESORO DE DON FELIPE
EL VIEJO LUIS - (agave only)
EXCELLIA
FAMILIA CAMARENA
FINA ESTAMPA
FUBAR
FRIDA KAHLO
FUENTESECA - (agave only)
G4
GRAN CENTENARIO
HOTEL CALIFORNIA
HERENCIA MEXICANA - (agave only)
JLP
KARMA
LOS 3 GARCIAS DE ARANDAS
MALINALI - (distillery/agaves are midland/central region-southeast of GDL)
MANANA - (orig distillery only-highlands/agaves from both regions)
MI CASA - (distillery only)
MILAGRO
MUCHOTE
OLMECA ALTOS/TEZON
ORO AZUL
PASOTE
PATRON - (Cienega region- most southern area-Los Altos)
PUEBLO VIEJO
PURA SANGRE
PURA VIDA - (Cienega region- most southern area-Los Altos)
QUI
RIAZUL
SAN MATIAS
SENDA REAL
SIEMBRA AZUL
SIETE LEGUAS
SUERTE
T1 - (agave only)
TANTEO - (central region)
TAPATIO
TEQUILA OCHO
TERRALTA
TRAGO
TROMBA
TRES CULTURES
VILLA LOBOS
VOODOO TIKI
YEYO
SEE OTHER GREAT EDUCATIONAL ARTICLES and HONEST TEQUILA REVIEWS along with REAL TOP TEQUILA LISTS- HERE ON- LONG ISLAND LOU TEQUILA - SEE all the tabs above, and PLEASE LIKE on Facebook- https://www.facebook.com/Long-Island-Lou-Tequila-641682619241422/